Sailors from aircraft carrier USS Carl Vinson (CVN 70) returned home to Naval Air Station North Island in San Diego, April 12, after completing a scheduled three-month deployment. More than 5,000 Sailors from Carl Vinson and...
The first female Marine students arrived at School of Infantry-West to begin the first phase of Marine Combat Training on Camp Pendleton on March 6.
Do you have a child getting married in the next two months? We're looking for a military father (currently on deployment) with a son or daughter getting married before May 1. We want to fly dad home early as a surprise and...
Giveaways
Filmmaker Jordan Peele, in conjunction with Universal Pictures, today announced free screenings of Universal's "Get Out" on Presidents' Day, Feb. 19, at 55 AMC locations nationwide. Each guest who requests a ticket the day of...
Marvel Studios will be releasing "Thor: Ragnarok," the God of Thunder's third installment in the Marvel Cinematic Universe, electrifying both audiences and critics alike reaching more than $845 million at the...
Coming to Blu-ray/DVD and Digital HD along with STX Films and Universal Pictures Home Entertainment is the return of our favorite ladies to show us how to be part of "A Bad Moms Christmas." The holidays have arrived and Amy...
Movies
In theaters from director Brad Anderson and Bleeker Street Media is a story with twists that lead to truth while in "Beirut." Mason Skiles (Jon Hamm) is a diplomat in Beirut keeping his finger on the pulse of what is happening...
Books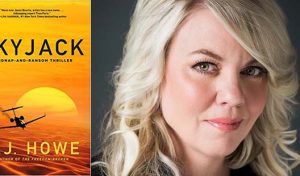 "Skyjack" will elevate author K. J. Howe to a level close to Tom Clancy. She follows up her riveting debut novel, "The Freedom Broker," with another gripping thriller featuring kidnap and ransom expert Thea Paris. Her...