After nine years of calling Naval Air Station North Island its homeport, the aircraft carrier USS Ronald Reagan departed San Diego for Yokosuka, Japan.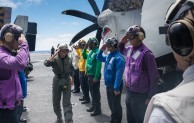 Story by Ensign Davis Anderson, USS John C. Stennis (CVN 74) Public Affairs PACIFIC OCEAN – Vice Adm. Nora Tyson, walked through eight rainbow sideboys Aug. 12, exiting USS John C. Stennis' (CVN 74) flight deck and commencing...
The Nimitz-class aircraft carrier USS George Washington (CVN 73) arrived in San Diego to conduct a 10-day hull swap with the Nimitz-class aircraft carrier USS Ronald Reagan (CVN 76) as part of a force structure change, Aug....
Giveaways
We've got your tickets to an advanced screening of "The Transporter Refueled." The screening is at 7 p.m. Wednesday, Sept. 2 in San Diego. Frank Martin (Ed Skrein) is living a less perilous lifestyle, or so...

We're giving away 4-packs of tickets for Stretch Run Admission to the Del Mar Races for the 2015 season!
Universal Studios Home Entertainment is releasing "The Gunman" June 30 starring Oscar winner Sean Penn. He has several wonderful movies under his belt. What's the name of your favorite Sean Penn movie and...
Comic-Con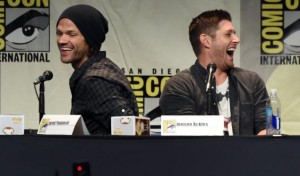 Well, we made it! The last day! Parking is much easier on Sunday as everyone begins to go home. Cars are pulling up to hotels, lots busy with box loading, acquaintances say goodbye and friends say "till next year." It is clear...
It is a weird feeling knowing that we are just 24 hours away from concluding San Diego Comic-Con 2015. Today was a marathon day that seemed to never end with film panels, television shows and more fun outside on the streets of...

Waking up each morning to prepare for Comic-Con comes with its own set of rituals. I will impart my years of information in hopes that it helps make your Con experience a little less stressful so read on fellow Con'ians....
Movies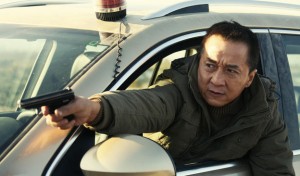 On Bluray this week from director and writer Ding Sheng with Well Go USA comes the hero we all have come to root for with "Police Story Lockdown." The story takes place in the Lockdown nightclub where Detective Zhong Wen...

Books
"A Pattern of Lies" by Charles Todd has the main character Bess Crawford deeply involved in solving a "who done it." As with all the books this strong female nurse is put in a situation where she has to help solve a case that...