Active Duty Vets
Navy Petty Officer Paul Resultan of San Diego, participates in humanitarian aid in Belize Hospital Corpsman 3rd Class Paul Resultan, a native of San Diego, Calif., assigned to Naval Medical Center Portsmouth, Va., ties a...

Petty Officer 3rd Class Maria Bailey is a hospital corpsman aboard the San Diego-based ship. By MC1 James Green A 2004 Kinnick High School graduate and San Diego, California native is serving on one of the world's largest...

Spain (Feb. 24, 2015) Gas Turbine System Technician (Mechanical) 1st Class Glen Williams, from Oceanside, California, prepares for in-port refueling aboard USS Laboon (DDG 58) at Naval Station Rota, Spain, Feb. 24, 2015....
Movies
Every year I wonder how CinemaCon, held in Las Vegas, will top itself each year. Well, this year was certainly no different as the convention held April 20-23 draws people together to talk – what else? – films in theatres!...

Books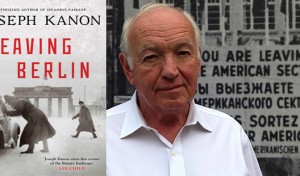 Leaving Berlin by Joseph Kanon is a gripping historical thriller.  The book's plot takes place in Berlin four years after the end of World War II.  What makes this novel special is that through an action-packed plot readers...