The Marine Corps birthday ball is a spectacle every year, a celebration of the military branch's founding more than 200 years ago. In recent years, some Marines have even tried to invite celebrities, such as actress Mila...
After nine years of calling Naval Air Station North Island its homeport, the aircraft carrier USS Ronald Reagan departed San Diego for Yokosuka, Japan.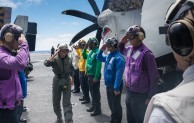 Story by Ensign Davis Anderson, USS John C. Stennis (CVN 74) Public Affairs PACIFIC OCEAN – Vice Adm. Nora Tyson, walked through eight rainbow sideboys Aug. 12, exiting USS John C. Stennis' (CVN 74) flight deck and commencing...
Giveaways
Lionsgate is releasing "The Last Witch Hunter" theaters Oct. 23, but we have a screening of the film on Tuesday, Oct. 20 at AMC Mission Valley at 7 p.m. To get your passes for two, to go LionsgateScreenings.com and enter code...
Universal Pictures Home Entertainment is releasing "Jurassic World" on 3-D Blu-ray, DVD and On Demand, Tuesday Oct. 20, and here's your chance to win your copy: One of the stars of this fantastic franchise has a very...
We've got free admission to the Silver Strand Half Marathon taking place Nov. 15. The race runs from Coronado to Imperial Beach and includes a Half Marathon, 10-Miler and 5K. For more information on the race, go...
San Diego Film Festival
It's hard to believe another year has gone by as the San Diego Film Festival comes to downtown San Diego from Sept. 30 to Oct. 4. The opening night, Variety presents Night of the Stars as the SDFF honors Adrien Brody with the...
Movies
In theaters is the highly anticipated film from director Ridley Scott and 20th Century Fox about a man who becomes "The Martian." Astronaut Mark Watney (Matt Damon) is with his crew including Lewis (Jessica Chastain), Martinez...
Books
"The Survivor," a Mitch Rapp novel by Kyle Mills, brings back the beloved Vince Flynn characters. All Flynn books are based upon action, suspense and very strong character development. It appears that at least with this book...