Giveaways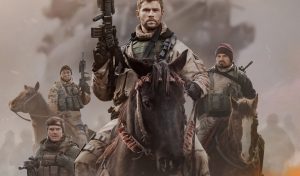 "12 Strong," starring Chris Hemsworth, tells the story of the first Special Forces team deployed to Afghanistan after the Sept. 11 attacks. Under the leadership of a new captain, the team must work with an Afghan...

"Mindhunter" is one of the most binge-worthy shows on Netflix. In the late 1970s two FBI agents expand criminal science by delving into the psychology of murder and getting uneasily close to all-too-real monsters....
"The Cold War isn't an easy time for spies, and one woman is about to discover just how difficult it can be to crack Berlin." "Atomic Blonde," starring Oscar-winner Charlize Theron, will be...
Movies
Coming to theaters from director Nicolai Fuglsig and Warner Bros. is the story of a group of soldiers who are dedicated to doing what is necessary by being "12 Strong." Cpt. Mitch Nelson (Chris Hemsworth) is ready to settle...
Books
"Death at Nuremberg" by W.E.B. Griffin and William E. Butterworth IV is more than a thriller. These authors have a knack for telling a riveting story that is intertwined with historical facts. It is a reminder of past history...