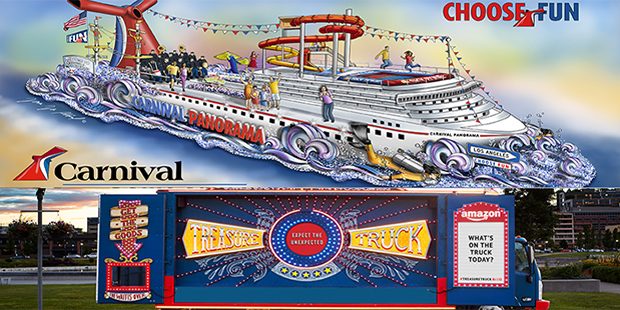 Sunday, September 15th from 12 pm – 6 pm PT
Amazon's Treasure Truck is teaming up with Carnival Cruise Line to provide a fun and interactive event, to preview Carnival's upcoming ship Carnival Panorama. Immersive activities, Instagram moments and a special replica of Dr. Seuss Bookville found exclusively on Carnival ship will be featured:
Guests can clock some serious hang time at Amazon's Treasure Truck version of Carnival Panorama's Sky Zone – the first at-sea trampoline park – engaging in slam dunking and other physical activities.
Ballers will have their IG fantasies come true with a slow-motion GIF capture of their perfect dunk, or they can choose to duel over the Battle Beams activation.
Treasure Truck will bring Carnival Panorama's Dr. Seuss Bookville to shore. The Dr. Seuss-inspired family reading venue will feature shelves filled with the author's most beloved books. Families can pick their favorite books and read them together on brightly colored couches. Dr. Seuss characters will interact with families at Dr. Seuss Bookville and take photos with the guests. These experiences will bring the features of Carnival Cruise Line's Carnival Panorama to land and excite fans to plan their next vacation.
WHEN: Sunday, September 15th from noon – 6 pm PT
WHERE:Belmont Park, 3146 Mission Blvd, San Diego, CA 92109
COST: Free and open to the public
Amazon's Treasure Truck is a unique rolling, immersive shopping experience with top-tier products. To find out when Treasure Truck will be out in your city, you can sign up for text message notifications at amazon.com/treasuretruck and @treasuretruck on social media.
Comments
comments