By Jeri Jacquin | January 9, 2015
R & R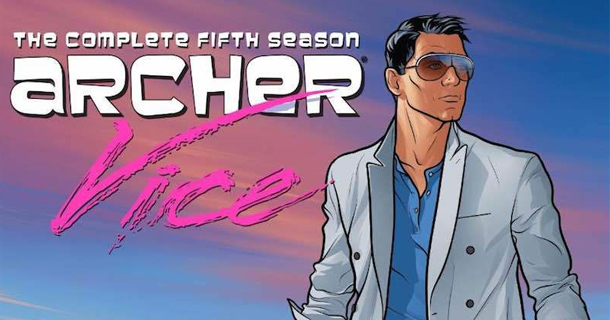 Available today on Bluray from FX and 20th Century Fox Home Entertainment comes the next installment of the animated series ARCHER.
This season we see Sterling Archer (voiced by the brilliant H. Jon Benjamin) showing us his Miami-Vice-super-Rico-suave side! But this season has a few more twists and turns to make life interesting.
As the US government calls it quits for ISIS, the gang including a pregnant Lana Kane (Aisha Tyler), Cyril Figgis (Chris Parnell), Cheryl Tunt (Judy Greer), Dr. Algernop Krieger (Lucky Yates) and Pam Poovey (Amber Nash) led by Malory Archer aka Archer's Mom (Jessica Walter) meet up to decide what's next.
Going to Cheryl's big home, they also take a huge amount of cocaine they've kept stashed from other missions. There game plan is becoming their own drug cartel and selling all the powder for retirement!
But that's all too easy because what really gives them pause are Cheryl turning country singer, the FBI sting, Kenny Loggins making his ARCHER presence known and the craziness of a South American dictator!
It couldn't happen any other way.
FINAL WORD: Adam Reed is a voice actor in his own right as well as a writer, director and producer. If the name seems familiar (and it should) perhaps you also know his work with ADULT SWIM, SEALAB 2021 and FRISKY DINGO. The later Reed did with co-creator Matt Thompson and together did Cartoon Networks show HIGH NOON TOONS in the 1990s.
Benjamin is just perfection as the voice of Archer Sterling. I mean seriously, try to think of any other voice that fits this character so perfectly. His line delivery is always filled with Sterling's own reality on things which is off-kilter and completely filled with narcissism. So why do we love him so much? Because Sterling Archer doesn't pretend to be anything other than who he is, even if he is a legend in his own mind, and he doesn't care whether anyone likes it or not! Perhaps we secretly admire him for it.
Tyler as Lana Kane is the exact opposite of Archer. Oh she may have moments of grandeur but she can usually back it up. She's strong, smart, and a total bad-ass in a short skirt. Tyler has that same 'it' in her voice that Benjamin does and there are phrases she has said that are iconic now. Yes, I have caught myself saying 'nope' as only Lana Kane can with a hand-on-hop-lip-curl!
Walters as Momma-in-Charge has her moments as well. She may have been in charge of ISIS but she has her own back story filled with reminiscences yet no regrets. I love the quips and ice-clinking in her glass as she continues to deal with her off-spring.
Greer and Nash as the backups that keep the insanity going making sure that nothing or no one gets in their way. These aren't your ordinary ladies of the crazy full moon evening. Yep, I adore 'em!
Parnell, Yates and Reed try to support Archer but end up going along to get along from the madness. I love when these three just stand there when being overrun by a room full of hormones (yes, I can say that as a member of the hormone-laden group!).
The Bluray includes Midnight Blues from the music video by Cherlene Tunt, Cherlene Tunt Interview on Wake Up Country and Old Pam Poovey Had a Farm, The Musical!
Other cast include:, George Coe as Woodhouse, Ona Grauer as Katya Kasanova as well as creator Adam Reed as Ray Gillette.
TUBS OF POPCORN: I give ARCHER: The Complete Fifth Season on Bluray five tubs of popcorn out of five. Are you kidding? This is animation at its funniest! The characters are insanely well done and voiced, the storyline goes places I'd never think to take it, and I can't stop laughing – as if I'd want to try.
ARCHER has been, since the first episode, part of what I look forward to when watching television. Trust me when I say there isn't a person I know who didn't get the "watch ARCHER!" lecture from me. This season was the fantastic bonus of Kenny Loggins finally getting to spend time in the daaaaaangerrrr zooooone!
ARCHER's first season began in 2010 and continues to be anticipated every season. FX even did a 3-special ARCHER entitled The Heart of Archness which is equally hilarious and if you missed it – get it quick.
You still have time to catch up on the last five seasons of the hit FX animated series ARCHER before Season Six gets under way. Trust me – you won't regret it in the slightest.
In the end – sex, drugs, espionage…animation!
Comments
comments