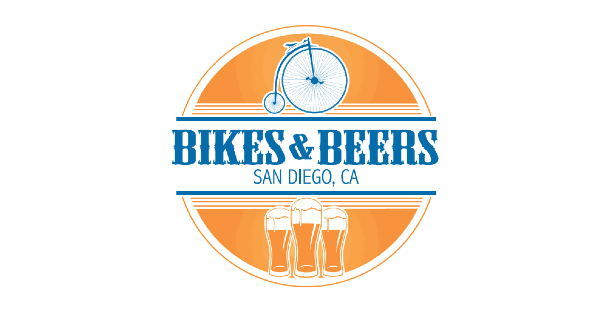 The 2nd Annual Bikes and Beers SD Returns on Saturday, March 28th
Popular annual event which raises awareness of cycling infrastructure and promotes craft beer tourism returns with new location!
The 2nd annual Bikes & Beers SD is taking place Saturday, March 28th. Last year's event drew nearly 700 riders and with a new host location and streamlined course an even larger turnout is expected in year two. Starting and ending in the East Village, at the newly opened Quartyard, an open-air, block sized gathering space, the 21 mile course will take riders through Balboa Park, Hillcrest, Mission Hills, Old Town, Presidio Park, Ocean Beach, Point Loma, Downtown, and East Village. The cruise will also offer riders glimpses of the majestic natural scenery that Mission Bay, Sunset Cliffs and San Diego Bay have to offer. Upon completion of the course riders will enjoy a couple pints from a selection of San Diego's finest craft beers(a list of few would be good here), sample food from local food trucks, check out booths filled with bicycle related gear from local vendors and listen to live music and interesting speakers.
Event proceeds will go to BikeSD, a non-profit bicycle advocacy organization working with policymakers, residents, and other local entities to create a more livable San Diego. BikeSD wants to make San Diego a "world-class bicycling city by promoting everyday riding" and Bikes & Beers is proud to support that vision.  BikeSD Executive Director Sam Ollinger adds:
"The most fulfilling way to truly experience all that a city has to offer is via a bicycle. With Bikes and Beers returning again, San Diegans and her visitors will once again have an incredible opportunity to experience all of San Diego's beauty from atop a bicycle saddle. The route is perfect in that it traverses geographical diversity and will also hint at the livability challenges that prevent most San Diegans from riding regularly and experiencing our largest public spaces: our streets."
The event route is predominantly flat and relaxing with only a couple of hills – the steepest portion is crossing from Sunset Cliffs to Point Loma.  Any participant with a geared bike will have a great time on this course.  Additionally, much of the event utilizes bike paths, like the Old Sea World Dr. bike path and trail, to expose participants to existing bicycle infrastructure of which they may not be aware.
Organizer Benjamin Robbins gives some background on the company and event: "Our company was started in November of 2013 by Tim Stempel (a founder of Tour de Brewtah in Salt Lake City), John Anderson and myself because we wanted to promote bicycling infrastructure while highlighting the exploding craft beer scene. We were overwhelmed last March when nearly 700 riders came to our first event and since that time we have held similar events in Philadelphia, Denver, Salt Lake City, and Vista. We are excited to host our 2nd annual event in a facility like the Quartyard that features lawns and plush seating for up to 1,500 participants. Also, we can't wait for riders to see this year's course because we put a lot of thought and time into mapping out a shorter and flatter course that still offers all the same amazing scenery as last year."
To learn more about Bikes & Beers SD go to our website: www.bikesandbeers.org or to register go this link: http://www.active.com/san-diego-ca/cycling/races/bikes-and-beers-sd-2015. For more information or media inquires please send email toinfo@bikesandbeers.org.
Comments
comments