With the new season now udnerway (10 p.m. ET), BOMB GIRLS has become a great addition to the REELZ.
BOMB GIRLS is a series about women who are working in a Canadian ammunition factory in 1941. This is truly a time when the role of women as the world knew it was about to change forever. As the world seems to have gone mad with war and the social norms begin to wash away, the women of BOMB GIRLS begin to see the possibilities of their lives.
The series tells the stories of Golden Globe winner Meg Tilly (Agnes of God) as the matron of the factory, Lorna. She watches the girls and fights to keep the norms that are slipping from her grasp. Lorna also monitors the "Blue Shift" of girls including – socialite turned crusader Gladys Witham played by Jodi Balfour, preachers daughter run away Kate played by Charlotte Hegele, glam girl Vera played by Anastasia Phillips and finally the tough as nails, no-nonsense poster girl Betty played by Ali Liebert.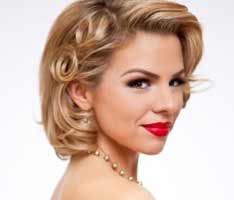 But even with the female dominated factory, the men aren't about to give away the power quite so easily. Factory manager Harold, played by Richard Fitzpatrick, tries to keep everything in line and the mysteriously handsome Marco, played by Antonio Cupo, makes a few ladies hearts skip a beat.
I was thrilled to have the chance to speak with Ali Liebert who plays Betty in BOMB GIRLS and get her perspective on portraying a time in history that changed women and what it's like creating a show with such a buzz!
Hello Ali, thanks for talking with me today!
Absolutely, thank you for wanting to.
I have to tell you Ali, I saw the first four episodes and I was so bummed when it was over!
There are six in the first season and we are doing twelve more now. That's been the general consensus that people want to see more so that's pretty positive.
It's really interesting because you watch the first episode and before you know it you are hooked.
It's the sneaky hook! It definitely focused on the lives of these women. I think the relationships make the show interesting.
When they came to you with the idea what did you think when you read the script?
I had a friend who told me that I would be good as Betty and I read the script and almost cried. I was a huge fan of the concept and idea, and the story Michael MacLennan and Adrienne Mitchell had created. As an actress Betty is just so fascinating to play as this type of layered character.
Do you have your own back-story to the character because you never know how Betty is going to react to any given situation?
You think you know somebody and they surprise you all the time. There are so many secrets on the show and characters reasons for hiding things. There were definitely some people that I drew on for inspiration for the role but I share a lot of the same characteristics as Betty so it's a combination of my imagination and similarities within myself.
How did you feel the first time you put on the costume?
Oh my gosh, it was the best! Joanne Hansen, who is our costume designer, nailed it and she nailed Betty. I have a lot of the Facebook and Twitter fans of the show who always make comments on Betty's 'lady pants' because I'm always wearing these incredible green pants. It wasn't uncommon for women to wear pants in their new factory role outside the home. Betty definitely wears pants more than the other characters.
But you look awesome in them!
Oh thanks. The first wardrobe fitting was a big exhale and felt incredible. That's what so fun about being on the show. Rather than being a modern show, it's a period piece and I like dressing up.
In the cast you have Meg Tilly playing a powerful role. How is that?
She is the warmest and kindest woman you'll ever meet. Sometimes you have to shake your head and forget her list of accomplishments and who she is. I am in awe of Meg and Betty is with Lorna so I use what I feel in my own life. I think it would be Betty's dream to keep going and keep working in the factory. The war has given her great opportunities.
You see Betty as the one that stands up for herself a little more than others. How hard was it to go from that to being the cute poster girl for the war? You seem so uncomfortable and it came across.
I loved that episode (Bringing Up Bombshell). That's one of the main advantages of working on BOMB GIRLS, they create such fascinating storylines. The different scenarios the girls find themselves in were so true. This stuff was really happening and that one was a lot of fun. In my real life I would say I'm more of the glamour type and when I got the role of Betty they dyed and cut my hair. My inner diva liked episode four so I could get all dolled up but then again, Betty hates this!
I knew we were hooked when we were hollering at the screen not to change Betty!
I love that!
Does having so many more men than women in the cast change the dynamic at all?
I have to tell you we are all friends. Not to be cheesy but Anastasia and I had a moment because I knew this job was going to be great but I didn't think I would get a whole new group of best friends. We are all tight. You think we'd be sick of each other after 12-hour days but we don't. The producers are always telling us that they are happy we are all so prepared. We all know our characters because we care about the show and are invested in it. We are all respectful of each other's work. Everyone cares about the stories and I noticed it right away. There was a positive energy around the show when we were shooting the first season. We knew we were working on something special. I think our friendships come across on screen too.
Did you do any personal homework about the era of the show?
We all sort of passed around great books, movie nights and did research sessions together. They gave us a bomb making boot camp tutorial. I'm continuing to learn and research the era. I was playing a quiz game the other night and there was a WWII question and I got it right so I think it's all sinking in. I was very excited to do a show around a slice of time in Canadian history.
Do you feel that the set is pretty accurate?
Yes, I do. The props and the production design and everyone who works on the look of the show – I mean they ordered vintage wallpaper and it's incredible. The first time I walked into Betty's room at the rooming house they had colors Betty would like and it was overwhelming. I've had some good parts over the years but Betty is my favorite. Just the costume, the hair and how the designers get inside all the characters heads when they are creating is amazing. I mean they are designing a character and they hit it out of the ballpark.
Do you feel now that you have really grasped who Betty is?
For season one definitely. My audition process took about five or six weeks and I was continuing to work on her and know her on my own time. It's like you have to time travel into that world and when I stepped into her clothes I felt closer to her. I think I'm still getting closer to her as we are into season two. Things that I thought I knew are totally blowing my mind. I think I know her as well as I know myself – I'm always growing. Acting isn't really right or wrong; you do your best and put your heart out there. There's no right or wrong answer when it comes to playing a character. You just have to open your heart and try your best.
With Betty, she's tough as nails but man, you look into your/her eyes the hurt is there. It's cool how you do that.
I think that's the whole thing that people like about Betty. She's titanium on the outside and a marshmallow on the inside. That's her survival, the "Betty Show."
I'm hoping we find out where all that came from with Betty. How did everybody get to where they are now? Betty didn't become a hard-core factory worker overnight?

She grew up on the family farm with a father and a bunch of brothers and I think everyone treated her like a dude. She hasn't had any sort of love or affection in a kind way that a mother or female friend would do for her. For her, what's new is the idea of having friendships with other women and that physical labor and determination has a lot to do with growing up on the farm. She didn't finish high school; she's just a worker and knows how to work with no time for whining and complaining. I get that. I grew up in a small town, working since I was thirteen or so. Obviously my life wasn't as hard as Betty's but I draw on that type of mentality in terms of this is someone whose been taking care of herself for a long time emotionally. She doesn't feel sorry for herself, she just keeps moving on. She saw the poster to come out for war and she needed to explore her horizons and explore to get out of her small town.
There's relatability there for you and that's what we are seeing I think. You're the first character we are drawn to and Meg's is the second. You know there is something else there! We are waiting for you to surprise us.
I know that we are talking about season one but there is more to be revealed as they keep writing them. It's hard to tell complete stories in six episodes but I think the first season of BOMB GIRLS whets the appetite.
You have done it and done an awesome job in doing so. You can see the growth from just the first four episodes.
We are trying to get into the groove and I think we've settled down and I'm curious to see what you think of the last two episodes.
It's got to be hard when you have to wait for the reactions, right?
Yes, I'm on set now and I grew up doing theatre so I'm used to instant feedback. I've been doing television and film for a long time but it's a lot different. You don't get the immediate feedback, you have to wait six months and you're not in the living rooms to see their reactions. It's nice to know that its affecting people.
When you go back to the set, please tell everyone that there are women here that are now true fans of BOMB GIRLS. You've done something memorable, it brings back such fondness, a woman oriented story that is also fun. You all should be congratulated and could you hurry up with the next season!
I know, I want to see it as much as the fans too! Men like the show too but women love the show so much because there is such a current of strength in these women and its positive for women to see these characters. This is a very feminine viewpoint that is empowering.
Also, it's a time period that no one saw the effects coming. No one saw that women one day, though at the time it was thought it was temporary, that it would change everything. It changes the definition of what a woman, wife, mother, lover was…it changed everything and who knew we would never go back.
Exactly! I think that's what is relatable. That people watching can relate and how there is a total metamorphosis that changes the story of how your life will unfold.
FINAL WORD: I honestly hated cutting our conversation but know that Ali needed to get back to work shooting the next season of BOMB GIRLS. This amazing series has so much to offer viewers. The costumes are fantastic, the sets are authentic and very much lends to the story being told.
There is such detail from the bottle of the glue used in the factory to the Victory cigarettes smoked by the BOMB GIRLS themselves. Another wonderful addition is the dancing and the amazing music of the time that includes Billie Holiday.
The cast must be noted: Meg Tilly as Lorna has such a harsh duality in her character as the mother to all and losing her identity as a woman. Jodi Balfour as Gladys has such defiance toward her well-to-do family wanting to be just 'one of the girls'. Charlotte Hegele as Kate is a sheltered girl who is finding her wings trying to fly away from an unpleasant past. Ali Liebert as Betty is strong, soft, tough, gentle, complex but at the same time elegantly simple as she discovers who she is and her own self-worth.
The two strong male leads are Antonio Cupo as Marco Moretti and he has already made a splash being the leading man with his dashing good looks only to discover he is quite the Italian momma's boy! James Dunn as Sebastian Pigott is going to have to work himself back into the good graces of BOMB GIRLS viewers! Finally, Peter Outerbridge as Bob is beginning to see life differently but is the damage already done?
I've also been told by REELZ Aaron Martinez of REELZCHANNEL that there will be specials airing before the premier with behind-the-scenes looks at the show and Hollywood Dailies (www.reelz.com) will cover a segment each day that will include interviews with Meg Tilly, the producers, set designs and all that are involved in the project. So hold onto your Victory smokes!
Stan E. Hubbard, CEO of REELZ Channel, put it best by saying, "BOMB GIRLS is powerful storytelling at its best. The series features enticingly flawed characters confronting monumental changes in society, their workplace and personal lives all set against the backdrop of a world at war. With an award-winning cast, plot twists, bold humor and captivating emotional situations, we're tremendously excited to take our viewers into the turbulent and exciting world of BOMB GIRLS."
The end of season one has viewers on Facebook and Twitter anticipating what will happen in the new season. I am now officially a fan of this original program that has story, history and most of all heart! BOMB GIRLS – add it to your 'must see' series list!
In the end – victory girls always hit their target!
Comments
comments