By Jeri Jacquin | October 13, 2017
Movies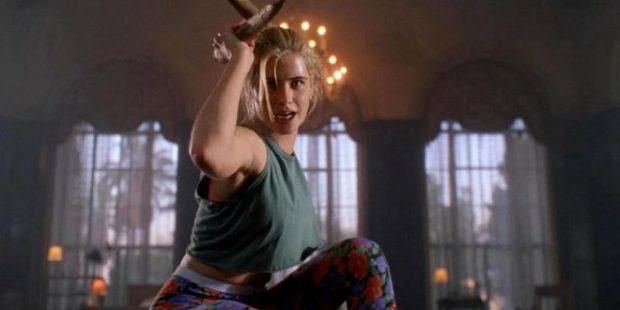 From writer Joss Whedon, director Fran Rubel Kuzui and 20th Century Fox Home Entertainment for the first time on Blu-ray and Digital HD is "Buffy the Vampire Slayer."
Buffy Summers (Kristy Swanson) is an Los Angeles cheerleading senior at Hemery High School. Hanging out with boyfriend Jeffrey and spending her day being a shopping teen, a man named Merrick (Donald Sutherland) changes her whole life. He tells her that he's come to guide her as The Watcher because she is a Chosen Slayer.
Discovering she has untapped abilities, her heart really isn't in what Merrick is telling her until she meets Lothos (Rutger Hauer). The local ruler of the vampires along with follower Amilyn (Paul Rubens), Buffy now knows who she is dealing with. When her friends Pike (Luke Perry) and Benny (David Arquette) are attacked one by one, Buffy starts to take her role as a Slayer seriously.
Where else would a confrontation happen but at the high school basketball game as Buffy realizes one of the players is a vampire. Merrick has to step in when Lothos attacks Buffy and the results continue to change her life. Realizing she can't go back to being the girl who just hung out with her friends, her so-called friends aren't very understanding either.
When she tries to work things out with Jeffrey at the senior dance but he's moved on but Pike makes his feelings very clear. Of course Lothos isn't going to let this be a touching moment as another attack overtakes the dance and Buffy remembers what Merrick told her.
Buffy knows it's time to put at end to the madness!
Other cast of well known names are also a part of the original "Buffy the Vampire Slayer" film — see if you recognize them: Hilary Swank as Kimberly Hannah, Stephen Root as Gary Murray, Paris Vaughan as Nicki, Natasha Wagner as Cassandra, Tom Jane as Zeph, Ben Affleck as Player #10 and Seth Green as a Vampire.
Twentieth Century Fox Home Entertainment brings award-winning global product and new entertainment to DVD, Blu-ray, and Digital HD. Their amazing collection offers fans an opportunity to expand their own home libraries with the best films. To discover what other titles they have please visit www.fox.com.
What can be said about "Buffy the Vampire Slayer" as it was a hit film that also became a smash hit television series. Swanson as Buffy brought the role to life and gave the character sass and originality. The film gave us fun, comedy and action that is easily enjoyable 25 years later and Swanson is responsible for that.
Sutherland as Merrick is an actor that can absolutely do no wrong as far as I am concerned. Playing this character was absolutely different for its time in 1992 but as an absolute van of Sutherland I just loved it then and love it still. Hauer as Lothos is an actor who can scare the bejeezus out of me one minute and crack me up the next. "Buffy the Vampire Slayer's" Lothos looks like fun to do and Hauer makes it look easy.
Rubens as Amilyn is hilarious, cool and only a few years out of his Pee Wee Herman character. See what happens when you peel away the layers? When I realized in 1992 who was playing this character, I cheered for Rubens! There is nothing better than seeing Pee Wee go rogue with a look that is epically cool.
The Blu-ray Special Features include a "Featurette," "Theatrical Trailer" and "TV Spots" which are actually cool to watch. There is also the Digital HD which means you can instantly stream and download to your TV, computer, tablet and Smartphone.
Having the chance to watch how it all began with Buffy and the gang is so much fun. I remember my own daughters going to see the film and then becoming big followers of Buffy. That's what a good storyline in a film will do, bring us all back years later for more.
So prepare to celebrate being an uber cool slayer as 20th Century Fox Home Entertainment brings "Buffy the Vampire Slayer" home!!
In the end — pert, wholesome and way lethal!
Comments
comments