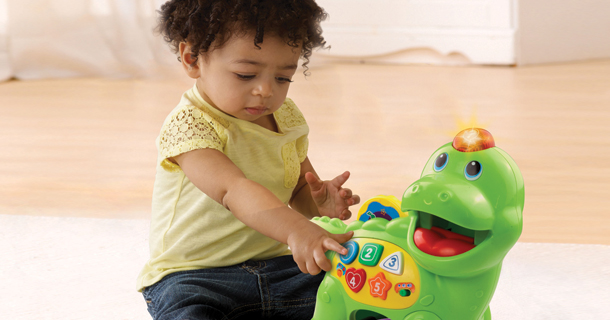 This holiday season, keep in mind the notion that what your children play with can have a large impact on their interests and brain development.  So when it comes to a walk down the toy aisle, parents are becoming more discerning, leading smart toymakers to design toys with a learning component that's equally as important as the fun.
VTech, a world leader in age-appropriate and developmental stage-based electronic learning products for children, works with a team of child development experts to assess toys and provide feedback before reaching store shelves.
The members of VTech's Expert Panel are offering some helpful holiday shopping hints to parents looking to foster their child's love of learning:
• Add it up: "Mathematical foundations provide the building blocks for future mathematical success, both in school and beyond," says Dr. Francis (Skip) Fennell, mathematics educator.
"Toys that emphasize numbers, counting and beginning concepts with whole number operations will develop, support and encourage these crucial concepts and skills."
The Count & Chomp Dino, for example, introduces children to numbers, colors, shapes and foods.
• Age-appropriate: "Children's brains are developing at a remarkable speed," says Dr. Lise Eliot, an early childhood development expert. "Their toys should keep up with that growth."
Keep kids challenged with educational toys that are age-appropriate, so they are never bored or frustrated. Consider child-sized, kid-friendly tablets, such as the InnoTab MAX, that are packed with educational, stage-based learning content.
• Full STEAM ahead: Science, technology, engineering and mathematics (collectively known as STEM) have gained more visibility in schools, along with the addition of arts to form STEAM.
However, says Dr. Carla C. Johnson, science and STEM expert, "It is still crucial to cultivate skills in these subjects and implement them in everyday learning. Educational toys can help kids develop self-confidence in the use and application of these important disciplines."
• Build vocabulary: "Children absorb new information like sponges. Take advantage of their blossoming interests with interactive toys that highlight letters of the alphabet, the sounds letters make and vocabulary," says Dr. Deborah Sharp Libby, early childhood language and reading expert. "Above all, don't forget the importance of reading to and with your children often!"
• Choose wisely: "Don't get carried away with the bells and whistles. You and your kids will quickly look past those. Instead, look for toys that actively engage your kids through technology, by deeply integrating games and learning," says Dr. Eric Klopfer, platform learning expert.
Remember, each child grows at his or her own pace, and there are few hard and fast deadlines when it comes to a child's milestones. For a detailed guideline, sorted by age group and area of development, along with other free parenting resources, visit www.vtechkids.com/milestones.
With toys as tools for learning, you can help children as they reach their educational and developmental milestones.
Comments
comments