By Jeri Jacquin | April 24, 2015
R & R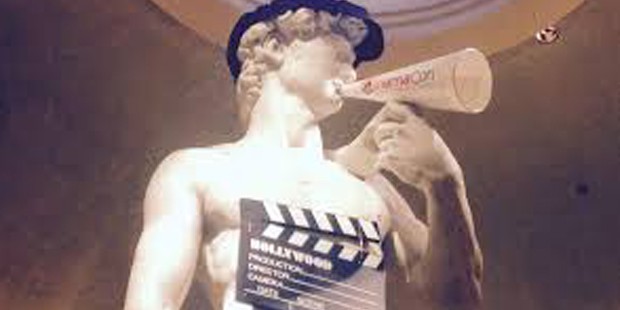 Every year I wonder how CinemaCon, held in Las Vegas, will top itself each year. Well, this year was certainly no different as the convention held April 20-23 draws people together to talk – what else? – films in theatres!
Beginning with the first day, Monday, brought keynote speakers that give an insight to what it takes to be a theatre owner and how to keep theatre-goers coming back and leaving happy. To make sure that happens, attendees were treated to tidbits from JURASSIC WORLD, MINIONS (love, love, love those yellow cuties), TED 2 as well as a ripple of craziness with FAST & FURIOUS 8! Also, Universal Pictures and director Elizabeth Banks brings PITCH PERFECT 2 to The Colosseum at Caesars Palace.
Resting up from an exciting first night, Tuesday morning brings an amazing presentation by Paramount Pictures with sneak peeks of what the studio will be bringing to theatres. Get ready as MISSION: IMPOSSIBLE ROGUE NATION and TEENAGE MUTANT NINJA TURTLES 2 gears up. In between studio presentations, is the truly amazing Trade Show. It is easy to get lost feeling like a kid in a candy story, literally, experiencing the goodies that will make their way to theatre lobbies and concessions very soon.
There isn't any time to stand around as Warner Bros. Pictures also brings a look at what they will be offering in theatres. From CREED, POINT BREAK and THE MAN FROM U.N.C.L.E. fans will get their fill! There is action, adventure, romance and every other genre a film lover could possibly imagine! The highlight was a sneak peek into the Johnny Depp film BLACK MASS playing mob boss James "Whitey" Bulger.
20th Century Fox is hot on the tails of conventioneers with a screening of the film SPY with Melissa McCarthy, Jude Law and Jason Stratham.
Wednesday brought something extremely special and exciting especially for me. Last year I saw a snippet of a little film called INSIDE OUT and was immediately taken in. This year Walt Disney Studios provided laughs and a few sniffles by showing a special screening of the Pixar Animated INSIDE OUT in its entirety. It was a thrill for everyone! What would a Disney presentation be without the thrill of knowing that STAR WARS: The Force Awakens is only a few months away (yes, I'm like a kid waiting for Christmas…literally!). Disney also has GUARDIANS OF THE GALAXY 2 and the live action BEAUTY AND THE BEAST in their very large line up. Remember TOMORROWLAND is also close to be in theatres!
"Legend of Cinema Salute to Clint Eastwood" was an amazing one-on-one talk with Eastwood about his process of filmmaking. Also, the Fandango Fan Choice Award for 2014 was given to the film AMERICAN SNIPER.
The afternoon also included Sony Pictures giving the audience a view of what is to come in 2015 and beyond. That includes SPECTRE, PIXCELS, the highly anticipated HOTEL TRANSYLVANIA 2 and my favorite GOOSEBUMPS!
On Thursday, 20th Century Fox presents their highlights of future releases with FANTASTIC FOUR, HITMAN: Agent 47 and so much more. Also, THE MARTIAN, THE REVEANT and my personal excitement about VICTOR FRANKENSTEIN. It is exciting to see what is coming to theatres and get that sneak peek. It is soon followed by Universal Pictures and all these have been working so hard on for film buffs.
The fantastic highlight of the final night is THE 2015 BIG SCREEN ACHIEVEMENT AWARDS hosted by Billy Bush from Access Hollywood fame. Here is a list of this year's well deserved award winners:
Lifetime Achievement Award – Alan Arkin
Breakthrough Filmmaker of the Year – Elizabeth Banks
2015 Star of Tomorrow – Britt Robertson
Director of the Year – Francis Lawrence
Breakthrough Performer of the Year – Amy Schumer
Rising Stars of 2015 – Nat Wolff and Cara Delevingne
CinemaCon Ensemble Award – Cast of FANTASTIC FOUR including Jamie Bell, Michael B. Jordan, Kate Mara and Miles Teller
Comedy Filmmaker of the Year – Paul Feig
CinemaCon Vanguard Award – Julianne Moore
Comedy Star of the Year – Kevin Hart
Female Star of the Year – Rose Byrne
Male Star of the Year – Paul Rudd
I have to tell you that watching these awards and listen to the speeches you can be dang well sure laughter is not only going to happen – it's going to happen a lot. That being said, each of the recipients are thrilled to be at CinemaCon!
The evening is capped with time for everyone to relax and enjoy talking about the entire weeks events. There is so much to take in but when you are sitting outside at Caesars Palace Pool of the Gods – having a good evening is the easiest thing to do. The Twins Dueling Pianos Show was so much fun to watch as well.
The final day of CinemaCon is always a little sad. Meeting so many amazing people and seeing old friends once again makes the whole week a special experience. Not only is it an opportunity to see what the studios are up to but meeting so many theatre owners who are just as excited as I about what is coming to theatres.
It is such a thrill to see what is new and exciting each year and CinemaCon 2015 doesn't disappoint! So hit the theatres often and next time you see a theatre owner/manager – give them a thumbs up at all they do to bring us the best experiences we could have in their theatre. Trust me – I do!
Comments
comments