By Jeri Jacquin | August 15, 2014
R & R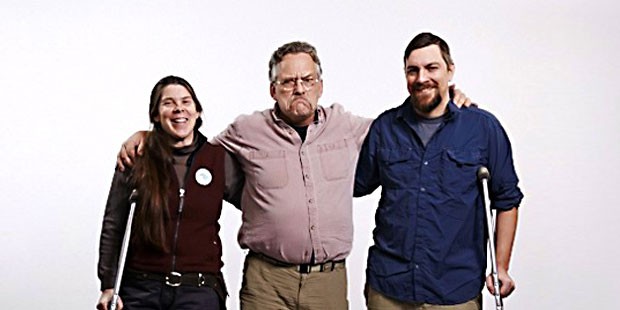 Coming to theatres, On Demand and Digital HD this Friday from director Todd Miller is the story no one knew about DINOSAUR 13. This film tells the journey of Paleontologist Peter Larson who, with his team from the Black Hills Institute, make a great discovery in 1990 of a Tyrannosaurus Rex.
What begins as jubilations quickly turns to jaw dropping craziness as Peter and his team fight a ten year battle with the United States government, museums, Native American tribes and others for the one thing they hold dear – a T-Rex named Sue.
I had the great pleasure of speaking recently with the director of the documentary Todd Miller and Paleontologist Peter Larson about the film that moved me in so many ways.
Good morning gentlemen, thank you for joining me! Honestly, I didn't know what to expect when I watched the film.
Peter: I hope we surprised you.
You went so far past surprising me that's for sure and brought out so many emotions. Have you found that to be true with others that have seen the film, that they feel such range of emotions?
Todd: Yes, I think everyone has really connected with Peter, not only as a scientist but as a person and human being who went through a series of very tragic events and has kept such a positive attitude about it all.
Peter: I certainly get emotional watching it. It takes me back to this truly wonderful time and then a bit of not so wonderful stuff. But watching all the kids yelling in protest always makes me cry. The scene with Christian I can't help but tearing up a little.
I think I was a little with you on that one. Going back to when you discovered Sue, tell me a little about that day.
Peter: It was one of the most awesome moments of my life. When Sue brought me those two pieces of bone I absolutely knew that it was going to be the find of the century and how lucky we were to be at that spot where this awesome, awesome creature passed away – very violently of course. We just happened to be in that time in history while she was starting to be exposed but not washed away and lost to us. I got to live a wonderful moment in history and feel so lucky. It's hard to express the excitement we all felt there. As we were digging we would find something new and the whole time was nothing but smiles and jubilation.
There is a delight in doing what you do. I had to imagine how it was for you, that childish 'oh my gosh' in every piece you find.
Peter: Absolutely. I always say that people go into paleontology because they have the Peter Pan syndrome in that they've never grown up. I'm certainly no exception!
A chance to dig in the dirt once again!
Yep, digging in the dirt and looking at dinosaurs, what gets better than that?
How was it that Maurice [the landowner where Sue was found] didn't know the law regarding giving you Sue?
We didn't even know. There was a law but it wasn't specifically geared to this. I grew up on the Rosewood Reservation and my father rented land from the Indian folks there. So basically this was land that Maurice had put into trust to steer from property taxes, and it's a break that they so deserve. No one would have guessed that the fossil would become real estate. It was beyond everyone's comprehension.
My other curious interest is how did the government even find out about you finding Sue?
We don't really know. Kevin Schieffer had to be alerted by someone. It's one of three things that either Maurice Williams alerted the tribe or another is some of my colleagues where working on reasonable regulations for collecting fossils to avoid something like this from happening. I was involved in many government committees including the National Academy of Sciences where we made proposals. There were a number of people who were making it vocal that they didn't want anyone collecting fossils except them. They eventually succeeded in that by causing a shadow of doubt to be put on my integrity.
What made you decide now to put this in a beautifully done documentary?
Todd: I read the book and that was Peter's book and I was blown away by it. I felt like the story really needed to get out there to a larger audience.
That's what I mean by you think it's about one thing and I didn't expect see this.
Todd: That's great!
I thought it was going to be a dinosaur story but not like this. I mean by the end of it I'm screaming at the screen.
Peter: That's fantastic.
Todd: After I had read the book and it is a complex read because it not only is about the events of the find but Peter's journey as a scientist and the science behind the T-Rex. For that it was exciting for me personally and the way Rex Appeal: The Amazing Story of Sue was written by Peter and Kristen [Donnan] it read so cinematic to me. I was infuriated at the end by what had happened to them. It's very much however Peter's character in the end because he is such a positive force of a person. The last part of the book is dealing with where they were at the time. They are going to be writing an updated version. Because the book ended on a positive note and I've discussed it with Peter and he always wanted it to end on a positive note.
Well, I was po'd by the films end [we all laughed] I was thinking 'how do I talk to these guys so they don't get upset again'. So I'm just going to ask, how did you feel when you realized where Sue would end up.
Peter: The main thing was to get her out of prison. The fact that she isn't in those crates is awesome for me. I've seen her a dozen or so times and given such access. That access has allowed me to learn more than I ever could about the T-Rex. Life is filled with many twists and turns and you have to pay attention. Even if bad things are happening you have to look for the good from it.
With everything that has happened, have you been able to change anything so that this doesn't happen again?
Peter: My attorney is trying to get me pardon by President Obama. Wouldn't that be something? I have a bit of worry for my colleagues though because we had worked to put a bill into Congress and one was pro-science giving people (both scientists and amateurs alike) access to public lands, the other side wanted to strict access to public lands. One of the bad things was they wanted to make it a crime to tell where a fossil is found. I mean how can you report science that way? It's a felony if a kid picks up a bone on public land! There are a lot of good people who are trying to make these rules that are livable for science. I'm worried that someone could end up facing jail time and confiscation and fines for not knowing, just for having scientific curiosity. I'm trying to help to make those regulations into something better and get the word out to help the science of paleontology. A lot is happening and we are keeping our fingers crossed.
All because of a bone!
Peter: All because of a part of a dead animal. It's so weird because you can protect some things but protecting a fossil from being collected is not protecting it. We need to get science out there and to encourage people, but you can't collect on public land – only private land.
Once again squashing the creativity of humanity!
Peter: All because of power. It's wrong.
I will say it again; the honor was completely mine to be able to talk with Peter and Todd about their stunning documentary DINOSAUR 13. I truly believe this is a film that people will be surprised at what they see but even more surprised at how they will feel.
It is an emotional journey for all involved but a fight they never gave in to and that is what makes it all so extraordinary.
DINOSAUR 13 opens in theatres, On Demand and Digital HD this Friday!
Comments
comments