By Elise Cooper | July 6, 2018
Books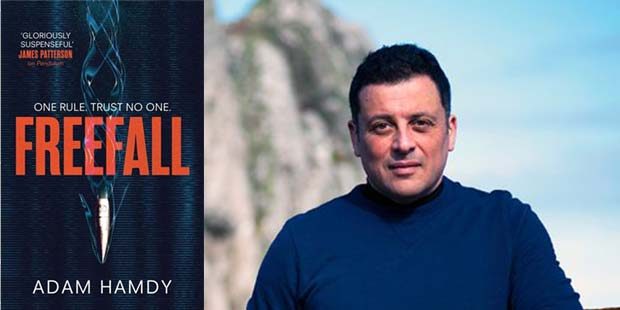 "Freefall" by Adam Hamdy is the second book of a three-book series. The "Pendulum" has swung to this novel, where all the main characters are trying to survive. FBI Agent Christine Ash is still trying to prove her conspiracy theory, English DI Patrick Bailey is trying to recover and war photographer John Wallace is attempting to escape his past. Although readers can probably figure out what is happening, it is better to read book one, "Pendulum."
"The first book, 'Pendulum,' looks at the consequences of how one person can do someone else wrong," Hamdy said. "It deals with anger and fear. This book, 'Freefall,' expands upon 'Pendulum' and explores how technology can subvert government and financial institutions. It looks on how each character can trust each other and the government. The third book, 'Aftershock,' looks at our belief system and how technology has changed the way others can manipulate our beliefs, creating an illusion of facts. I call it Fake News on steroids."
The novel starts out with the horrific scene of a London journalist, a mother, having hung herself. The death triggers an investigation that brings back together Ash, Wallace and Bailey, hurling them into the path of an unknown enemy. They have one rule: "Trust no one."
Each has encountered these masked men that target them for the kill. The investigation leads them to discover that the Pendulum killer was not working alone. As with the first book, the theme has Hamdy examining the internet and its excesses.
Should there be some sort of regulation and control? Hamdy "thinks technology is only in its infinite stage and will end up rivaling the Industrial Revolution.
"No one asks questions about what we want out of it," he said. "There are a number of parents who are upset that their children are addicted to social media. There is this perception that we are not living our lives for ourselves, but for an audience. Those on social media who are anonymous are far more rude and aggressive. I am pretty sure if they are in front of the person they are goading they would not behave in that way. It gives people license to go further than they normally would."
It becomes obvious that all three characters are still being put through the ringer, suffering physical and emotional pain as they find themselves in mortal danger. Suicide, attempted beheadings and IED explosions are all described in graphic detail. After being captured, Ash is tortured where the antagonist breaks her, forcing her into a state of pain, fear, fatigue, disorientation and detachment. A book quote, "But that machine had broken her, and trapped in the darkness, she wept at her failure, knowing that she would do or say anything to prevent them using it on her again."
The protagonists have been left with physical and mental scars from their previous encounter. Wallace is punishing himself with guilt over his girlfriend's death, Bailey has PTSD from his previous experiences with the criminal and Christine Ash is trying to overcome her childhood demons that have caused her to have trust issues.
"I wrote those scenes having more emotional torture than physical torture," Hamdy said. "I am a great believer that once you read the shock the fear is caused by the reader's imagination. I think I only suggested the pain, but the reader takes it from there with their mind filling in the gaps. What makes it terrifying are the psychological aspects, the loss of control and how it takes someone to their darkest places."
Tragedy, conspiracies and deadly encounters powers this adventure and action story. It is a pulse-racing read that is relentless and is not for the squeamish. Readers will empathize with the three heroes, hoping beyond hope that they come out of the danger with an emotional and physical strength.
Comments
comments