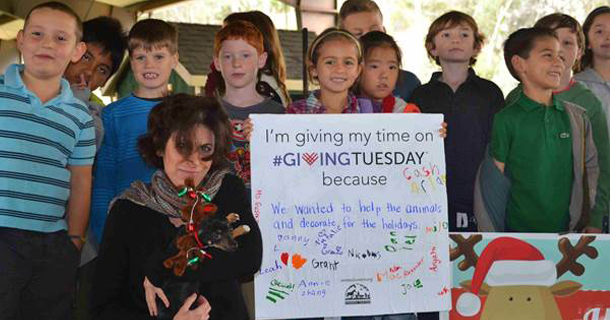 Solana Santa Fe Elementary Second-Graders Lend a Paw to Homebound Seniors and their Pets at Helen Woodward Animal Center.
Tuesday, December 2nd, 55 second graders from Solana Santa Fe Elementary School will team with Helen Woodward Animal Center for a very special Giving Tuesday. The annual day of giving, created as a juxtaposition to consumer-based "Black Friday" and "Cyber Monday," will employ good old-fashioned elbow grease to ensure that elderly AniMeals clients and their pets will have a wonderful holiday season. The Tuesday-Givers plan to create personalized cards for the homebound seniors and pack special holiday-themed meals for their pets with toys and treats included. The schoolchildren will also aid Helen Woodward Animal Center by prepping craft projects for the upcoming Frosty Farms Event on this national Opening Day for the End-of-the-Year Giving Season. The GIVING TUESDAY gener-PAWS-ity kicks off at Helen Woodward Animal Center at 9:00am on Tuesday, December 2nd at the Center's education building.
If there are any doubts that the true spirit of the season still exists, the children from Solana Santa Fe's Elementary School will put minds at rest. In the midst of holiday shopping, cyber sales and frantic must-haves, 55 schoolchildren cannot wait to pitch in and help those in need. Gathering around "giving stations" in the Center's Pavilion, the students from Solana Santa Fe will learn about giving back using their own hands rather than monetary means.
AniMeals is Helen Woodward Animal Center's pet-food-on-wheels program, providing regular meals free of charge for the dogs and cats of homebound elderly and disabled people. The mission of the program is to help keep people and their companion pets together by eliminating one of the logistical and financial impediments to proper pet care. The program, created in 1984, now works with five area Meals-on-Wheels centers and many other organizations, such as Aging & Independence Services and Angel's Depot, to serve over 500 pets throughout San Diego County. Each child will receive specific names of these special seniors and descriptions of their pets so that they can create personalized cards and holiday pet meal packages.
"We are always surprised by the wide variety of supporters we meet throughout the year," said Helen Woodward Animal Center Vice President of Development Renee Resko. "In particular, it is touching to meet children who share our belief in making the world a better place for people and animals. We are so grateful for their support and look forward to working with them on Giving Tuesday."
At Helen Woodward Animal Center, the spirit of the season can be seen in the kindness of those who volunteer to walk an orphan dog, assist with a Center fundraiser, or foster a litter of newborn kittens. Tuesday, December 2nd, the giving season will be in full swing on the Center grounds with the second-graders of Solana Santa Fe Elementary. As a result, hundreds of homebound seniors and their pets will experience the joy of the holiday season this year.
For information on how you can help Helen Woodward Animal Center, call (858) 756-4117 x 305 or click on www.animalcenter.org/volunteer! Those who would like to help support seniors and their pets can go to www.animalcenter.org/donate and make a gift by specifying "AniMeals" in the comment area.
Comments
comments