By Jeri Jacquin | March 20, 2015
R & R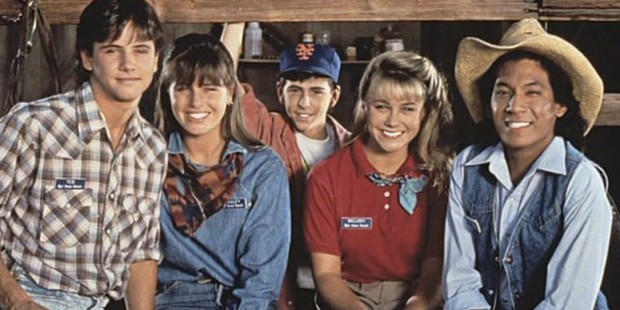 Are you ready for a round-up? On DVD from SHOUT! Factory comes a little yippee-kai-aie-ay! with HEY DUDE: The Complete Series.
Ben Ernest (David Brisbin) decides to change his life and with one stroke of a pen he buys the Bar None Dude Ranch in the desert. Once an accountant, he takes his son Buddy (Josh Tygiel), who isn't thrilled in the slightest about the move, and family dog Cassie to begin anew.
He meets the staff of the ranch – troublemaking Ted (David Lascher), the easy-going Danny (Joe Torres), the beautiful Melody (Christine Taylor) and horse trainer Brad (Kelly Brown).
It is all about work, play and a home, home on the range!
FINAL WORD: What a fantastic way to revisit a television show that would have otherwise been forgotten. Even the theme song is memorable and within the first few notes you know exactly what show they are singing about.
The characters each have their own parts to play – from a Dad that's running a ranch that changes his life, to each of the teens with their own problems and understanding friendships and relationships. This is one of the family driven series that actually had families in mind as far as I am concerned. It's such a fun and funny series that deserves to be in the family fun library.
HEY DUDE ran on Nickelodeon from 1989-1991 and has since become a cult sitcom favorite. Nickelodeon is the number one brand of quality entertainment for kids and they are in their 35th year seen in over 100 million households.
SHOUT! Factory is an amazing media company that brings DVD and Bluray to fans of classic films, television series, animation and comedy. For more of what they have to offer go to  www.shoutfactory.com.
TUBS OF POPCORN: I give HEY DUDE four tubs of popcorn out of five. This truly is the best of the late 80's and early 90's in classic television. When I told several friends I was reviewing the series they were so surprised and delighted. There are fond memories enough to go around for everyone.
There are 65 episodes, that's 25 hours of shows included in this DVD set and a new interview with Christine Taylor.
In the end – saddle up and mosey on over to the Bar None Ranch!
Comments
comments