By Jeri Jacquin | March 24, 2015
R & R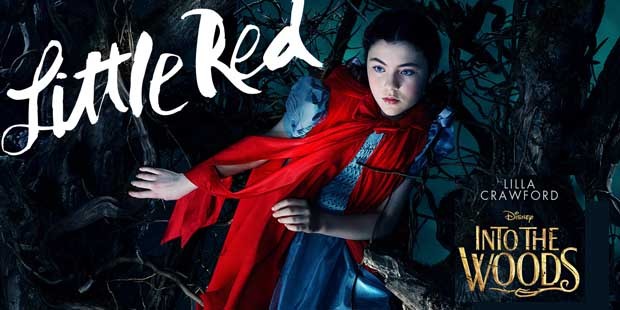 Coming to Bluray this week packed with amazing bonus features comes the wildly fun INTO THE WOODS.
Lilla Crawford portrayed Little Red Riding Hood and is also known for her 2012 Broadway revival of ANNIE. From commercial to theatre, Crawford has kept herself busy but also supports the Broadway Cares Equality Fights Aids and Broadway Barks.
I had the opportunity to speak with Lilla about the Bluray release of INTO THE WOODS, performing in an all star cast and what's next for the young star.
Hi Lilla, thanks for joining us today.
Hi, thank you so much.
INTO THE WOODS was such an amazing success in theatres and your character is very funny. How excited are you with the Bluray coming out, I mean it's like round two of more fun for the fans for sure.
Yes, especially all the bonus features that are on the Bluray absolutely.
I was going to ask you about that. There is a bonus feature called The Cast As Good As Gold as the cast talks about their experiences on the film. Have you seen it?
Yes, I did watch that.
How did you like hearing everyone elses' experiences?
Watching all the bonus features was like a refresher on what it was like being on the set. All of it that will be seen, I was there! Watching it all back was going down memory lane.
You worked with such a stellar cast and being one of the youngest cast members, how was it for you being around Meryl Streep, Anna Kendrick, Chris Pine, and Emily Blunt to name drop a few?
It was great, everyone was so nice and they are so talented. It was such an amazing cast and I was thrilled to be a part of it. I thought 'how did I get into the cast?' I still can't believe it happened. It's very surreal but they are super cool.
You are now a part of a film that started as a stage production, did you see it performed on stage?
Yes I did, I saw the Shakespeare in the Park production in 2012. It was a great production and I loved it.
Did you think 'hmmm, I can do that!'
The girl who played Red Riding Hood was older. Although she is suppose to be a young girl she is often played by someone older. When I found out for the film that they wanted kids I was excited because I knew I wanted to be part of it.
You have such a great history with theatre for such a young lady, how was it to make the transition from theatre to screen for you?
I have been on a set before and somewhat use to that environment doing commercials and I did a lot of them when I was little. So it wasn't to alien to me. There are a lot of differences in that theatre is live in front of an audience and you don't have a chance to change it. The film allows us to work on it until it's completed and then shown to an audience.
And I'm sure the differences between stage and sets as well.
Absolutely.
When you are speaking with people today do you sense the excitement once again as fans get ready to own INTO THE WOODS?
I am definetly excited and it's an exclusive package with so many bonus features, I mean there are a lot! It's almost a completely different thing which is cool.
We were thrilled to hear that Meryl's song that was taken out of the film is put back in the Bluray. How was your experience with her on the set?
She is amazing and so nice. I just saw her in Japan and it was nice hanging out with her.
Working with the songs, how was it for you knowing you'd be singing such iconic songs?
It's a dream come true to be associated with anything Sondheim. He is a god in the theatre world and his songs are so classic that it's kind of an honor being associated with him.
Your take on Red Riding Hood was charming, funny and it was a nice surprise and the response I got from you. I wanted to thank you for that.
Thank you so much.
Now that you've completed the film and the Bluray, are you staying with film or theatres?
It's where ever the wind blows me. I don't care what it is I just love performing. I'm happiest performing. I would love to do theatre and films. What ever becomes available I would love to do.
I appreciate so much you talking with us today and congratulations.
Thank you so much!
This week on Bluray packed with amazing bonus features comes INTO THE WOODS. It's been fantastic talking to James Lapine and Lilla Crawford this week about their experiences in making the film and equally excited that INTO THE WOODS arrives in stores on Bluray!
Comments
comments