By Jeri Jacquin | March 13, 2015
R & R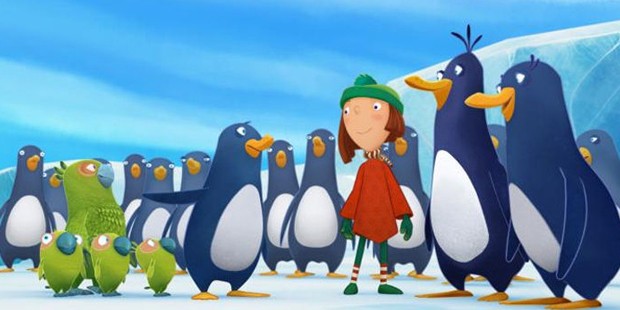 This week on DVD from SHOUT! Kids Factory is a family film directed by Eckart Fingberg with the tale of JASPER: Journey to the End of the World.
This animated film tells the story of Jasper, a young penguin living in the very cold South Pole. Life is nice and peaceful for everyone that lives there. Jasper, being a young and curious penguin, believes there is something else out in the big wide world.
When Jasper sees a ship, he tries to tell everyone about it but no one listens. Leaving little brother Junior in Jasper's care might have been more than his parents bargained for! Quickly the two penguins meet Kakapo, an exotic bird who tells the two that he is trying to get his bird eggs back.
Boarding the ships, all three meet Emma, a young girl living on the ship her father captains. They tell Emma about the evil Dr. Block who has stolen the eggs and she wants to help.
In a journey that takes all two little penguins and a bird away from everything they've known, it is an epic journey of learning, loyalty and the true meaning of family for all.