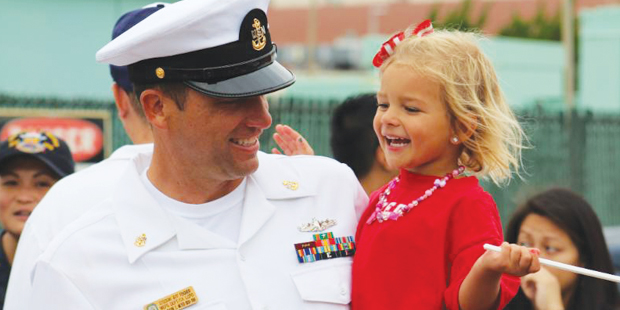 Children of military families serve too, and USO San Diego is proud to always be by their side. Every April, we honor and celebrate the sacrifice and service of our military children.
These courageous boys and girls stand in steadfast support of their military family member throughout moves and deployments. This year, USO San Diego thanks our brave military children's readiness and resiliency with a giant toy distribution. Each registered child will have the opportunity to select a new toy and book. #KidsServeToo
Program Details
Date: Wednesday, April 22nd
Time: 4:00 p.m. – 8:00 p.m.
Location: USO San Diego Downtown Center
Address: 303 A Street, Suite 100, San Diego, CA 92101
Parking: The ACE Parking Lot #12, located diagonally from our Downtown Center entrance, is available. Parking passes are located on our website and are available at the Center.Metered street parking is also available. No parking will be allowed inside USO San Diego's garage.
Program Requirements
A valid Active-Duty or Dependent Military ID
Open to legal dependents of active-duty military service member (Ages 0-18)
Registration Instructions
We will be holding an online registration process through SignUp Genius on Saturday, April, 11th at 9:00 AM until all 400 spots are filled. There will also be a Wait list with 100 spots. You will be able to choose your time slot during registration.
 Please include the following information:
"Available Time Slot": Please select a 30-minute time slot between 4:00 p.m. – 8:00 p.m.
"QTY": Number of Children Registering for Toy Distribution (Ages 0-18)
"Comment": Full name of registering adult, name of each registered child, their age and their gender
Please sign-up/register for ONLY your household. In order to accommodate as many children as possible, we ask all families to check their availability before registering.
WE WILL NOT ACCEPT ANY REGISTRATION'S VIA EMAIL OR VOICEMAIL – YOU MUST REGISTER ONLINE.
 If you have any additional questions, please direct them to Nichole Duarte via email nicholeduarte@usosandiego.org for the quickest response.
Comments
comments