By Jeri Jacquin | March 25, 2013
R & R
On DVD bluray in March from Disney come three of the most beloved films and as an added bonus their sequels!
MULAN – Mulan tells the story of a young woman who is trying to save her family. When her father is called to war, it is Mulan herself that takes his place. Training and living like a male, she becomes a force to be reckoned and her loyalty to the men, Shang and the Emperor becomes legendary. MULAN II reunited her with the gang to once again stand up for what is right and to save the land she loves.
FINAL WORD: Both of these films are amazing and filled with such girl power. Taking the ancient Chinese legend and bringing it into full animation brought fans to the theatre and now brings them to bluray DVD. Both films come with deleted scenes, Disney featurette, music videos and more. The combo pack includes bluray and DVD, which makes it even more of a wonderful way to enjoy this Disney film.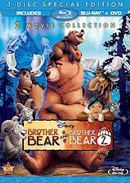 BROTHER BEAR – This film tells the story of Kenai, a hunter who loses his brother to the attack of a bear. Wanting revenge he tracks and corners the bear and takes its life. What happens next is nothing short of a lesson from the spirits as Kenai is himself transformed into a bear. Along with the young Koda, Kenai learns how the bears live, love and have their own feelings regarding those who hunt them. BROTHER BEAR 2 Kenai remembers Nita, a young girl he gave an amulet. Years later Kenai sees her once again and the bond between them is strong. Now Koda worries that he might lose his brother bear.
FINAL WORD: These films are amazing, and just as MULAN is empowerment for young girls; BROTHER BEAR is empowerment for young boys. Teaching the meaning of the spirit world, the northern lights and the power of friendship is not knocked over one's head but instead straight forward and simple – as all friendships and family should be. This DVD collection comes with deleted songs and scenes, hilarious outtakes, the making of BROTHER BEAR and so much more. This combo pack also includes a bluray and DVD set.
THE HUNCHBACK OF NOTRE DAME – These films tell the story of Quasimoto, a young boy with disfigurements who through a series of events is left to live in the bell tower of Notre Dame. As Quasi grows up he wants to see more that just the walls of the bell tower and as the town celebrates the Festival of Foods he secretly attends. While there he sees Esmerelda, a gypsy girl with a heart of gold. Phoebus, captain of the guard, also sees the young gypsy girl. When the governor decides he wants Esmerelda for himself, Quasi must decide how far out of the bell tower he is willing to go to save his friend. THE HUNCHBACK OF NOTRE DAME II continues the story of Quasimoto who is now an open part of the town. When the circus comes through the streets Quasi sees Madelline, a performer who is also being held by the thief Sarousch. When he discovers there is a bell in the tower that is worth a fortune, he forces Madelline to use her friendship with Quasi to help him steal it!
FINAL WORD: I truly enjoyed the first film so much. It is colorful, sweet and filled with lessons about the heart and appearance of people. The gargoyle friends are so much fun as well being the positive and supportive influence for Quasi. The second film has a little more trouble with its colors and visuals. It didn't seem to have the same care taken in its presentation. However, that being said, the story is equally as lovely and full of life lessons than the first and nothing is more important than that. The DVD includes the making of THE HUNCHBACK OF NOTRE DAME and behind the scenes as well as audio commentary. The pack comes with DVD and bluray copies.
TUBS OF POPCORN: I give MULAN, THE HUNCHBACK OF NOTRE DAME and BROTHER BEAR with their sequels five tubs of popcorn out of five. There is no way a Disney film in a family collection isn't a good thing, let alone all six of these magnificent animated stories.
The bluray offers a crystal clear and vibrant way to see these films on a home television. As Disney continues to open their vaults and release films, everyone can continue to expand their own library of family oriented features for kids, grandkids and, okay, the kid in all of the adults as well.
Look for these titles in stores today and keep up with what is coming soon at www.disney.com.
In the end – it's always the wonderful world of Disney!
---
For more information on films and television visit
Movie Maven.
Comments
comments