By Jeri Jacquin | April 24, 2015
R & R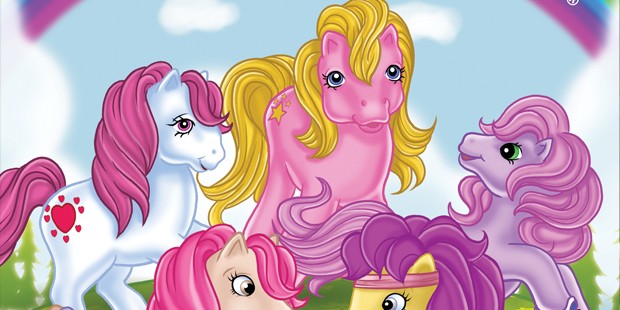 Coming to DVD is the world's favorite herd from Shout! Kids and Hasbro Studios with MY LITTLE PONY TALES: The Complete Classic Television Series.
When Ponies Starlight, Sweetheart, Melody, Bright Eyes, Patch, Clover and Bon Bon get together you can be sure fun and friendship is not far behind. Having grand Pony adventures means games, picnics, ice cream and even UFO's!
The Pony's even have a slumber party at Sweetheart's home, Melody and The Rockin' Beats ready themselves for a battle of the bands which is hard to do when twin sisters need tending.
Clover has to concert ball tickets and must learns it's not easy to please everyone, having a tea party in an abandoned house brings high drama, and Bon Bon's diary becomes an open book.
Patch visits a friend at an orphanage, a UFO is sighted in the mountains, Clover's sister Meadowlark is getting married, Bright Eyes visits a tropical island and Bright Eyes see's a pollution problem.
These are just a few of the tales the Pony's share and you can share them too!
The 2-DVD set comes with all 13 amazing episodes of MY LITTLE PONY TALES that originally aired on television in 1992 complete with sing-alongs. Disc One has Slumber Party/Too Sick to Notice, Battle of the Bands/And The Winner Is, Stand by Me/The Tea Party Clown, The Masquerade/Out of Luck, The Play's The Thing/Shop Talk, Impractical Joker/The Great Lemonade Stand Wars, Blue Ribbon Blues/Around the Clock.
Disc 2 includes Princess Problems/An Apple For Starlight, Up, Up and Away/Sister of the Bride, Birds of a Feather/Send in the Clown, Happy Birthday Sweetheart/Gribet, Bon Bon's Diary/Just for Kicks, Ponies in Paradise/Who's Responsible.
Hasbro Studios is an iconic brand with some of the best in animation and family programming with MY LITTLE PONY, and LITTLEST PET SHOP. Since its formation in 2009, Hasbro Studios has received seven Daytime Emmy's!
SHOUT! Factory brings the best to fans offering up feature films, classic television series, animation and specials. For more of what they have to offer go to www.shoutfactory.com.
TUBS OF POPCORN: I give MY LITTLE PONY TALES four tubs of popcorn out of five. It is fantastic to step back in time some and relive the original adventures in Ponyland. The stories are just as important today with universal messages as the series original airdate. This series is filled with themes of friendship, loyalty, family, and life lessons. MY LITTLE PONY TALES adds the fun bonus of a featured song for every episode.
The animation is still brilliant and so well done it is easy to see what drew fans in from the very beginning. This is also a great way to introduce a new generation to the amazing Pony Tales. This is definitely a must-have for any family library and I'm thrilled to have it as part of mine.
In the end – the classic is here once again!
Comments
comments