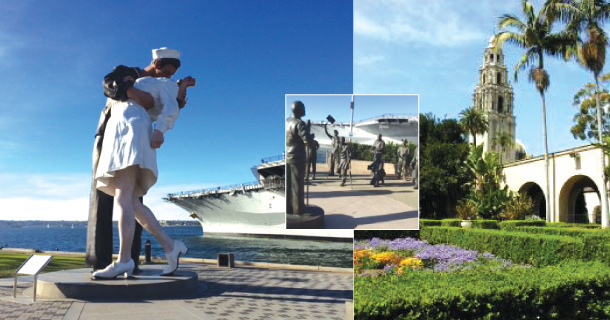 San Diego
Balboa Park is considered by many to be the "Crown Jewel" of the city. Its 1,200 acres are home to 15 museums, the Tony award winning Old Globe Theater, other art venues, the world famous San Diego Zoo, dozens of gardens, recreation and play areas, shops and restaurants. 2015 marks its centennial year, although its beginnings were in 1868 when land was set aside for a "City Park." A master plan was created in the early 1900s when taxes were levied leading to water systems and roads being built.
To promote San Diego's commercial possibilities as the first U.S. port of call for ships transiting the Panama Canal, city leaders organized the 1915 Panama-California Exposition. It was then that City Park was renamed Balboa Park after the explorer Vasco Nunez de Balboa. Almost four million people attended the Expo and it was such a hit that it was held over through 1916. During the two world wars, it was utilized for military purposes, e.g., training, hospitals and barracks, but always reverted to public use.
Today, over 13 million visitors a year enjoy Balboa Park. Logon to www.BalboaPark.org for a calendar of Centennial events, daily activities, exhibitions and general information. On Tuesdays, various museums are free to San Diego residents. Note: The iconic California Tower is now open to the public for the first time since 1935; advanced reservations are recommended. Go to www.MuseumofMan.org for specifics.
A Day at the Bay
San Diego's vibrant harbor is better than ever. It was my wife's birthday and we kicked it off at The Hideaway, www.ExquisiteHideaway.com, at the waterfront Marriott Marquis & Marina. Their focus is on wellness services including massage, skin care and body treatments.
Our choices were the hot stone and hot bamboo massages; both excellent. The Hideaway is just that; quiet and serene, a tucked away oasis. They also have mobile massage available.
After our relaxing 90 minutes of pampering, we were off to lunch. Walking from The Hideaway to Anthony's Fish Grotto, we were able to appreciate Phase One of the $30 million waterfront enhancements: new landscaping, a dramatic promenade, pavilions, plazas and public art.
The iconic "Unconditional Surrender" was especially meaningful since we had recently seen a version at the Caen Museum (D-Day) in Normandy, France. "A National Salute to Bob Hope and the Military" is a grouping of sculptures of servicemen "listening" to an actual roadshow recording of Bob Hope's monologue to the troops. Logon to www.portofsandiego.org/thebigbay for more.
The affable Craig Ghio, co-owner and executive chef of Anthony's, is also celebrating a centennial. His grandfather moved to San Diego 100 years ago. A fixture on the bay, Anthony's features an extensive menu; my choice was the salmon reuben accompanied by a Caesar salad. My wife opted for the roasted vegetable flatbread, paired with a quinoa salad; both meals were perfectly prepared. Anthony's has earned a long, well deserved run in San Diego's food scene. Logon to www.gofishanthonys.com for reservations.
Safe travels and enjoy the journey….
(Thanks to various organizations and online sites for information.)
Comments
comments