By Jeri Jacquin | March 20, 2015
R & R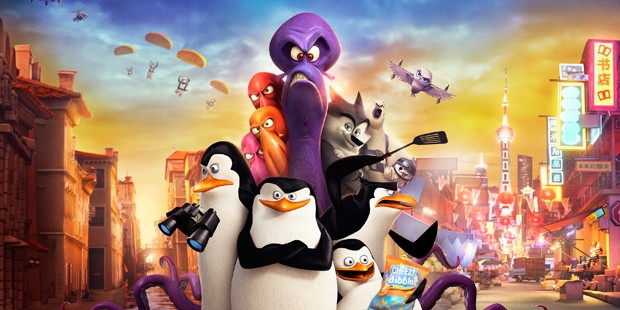 Yes, I have to admit it, I love a guy in a tux – but let's be clear that I'm referring to the two-legged-slappy-fin type of guy in a tuxedo as PENGUINS OF MADAGASCAR from DreamWorks comes to Bluray this week!
Skipper, Kowalski, Rico and Private share with us their humble beginnings and how the gang got together. Once done reminiscing, they realize they are a target for some strange and crazed scientist – oh that would be Daaaaaaaaaaave!
Dave aka Dr. Octavius Brine (voiced by John Malkovich), is an upset octopus who feels that he needs revenge for the attention the dapper gang took from him time and time again. No sooner than the tale as been told than a North Wind 'rescues' them.
Who is North Wind? An elite team led by Agent Classified, a husky who leads his team to stop Dr. Brine from using a serum created to make monsters. Agent Classified's team consists of Short Fuse (Ken Jeong), Eva (Annet Mahendru), and Corporal (Peter Stormare) and together there mission is clear.
Even clearer is Skipper's determination to prove their elite-ness is cool, doesn't need gadgets and runs on Cheezy Dibbles. Evil Dave's collection of globes is all the clues the flippered friends need to find the kidnapped Private and stop a goo from hitting New York.
The gang will stop at nothing to save their friend along with the world!
TUBS OF POPCORN: I give PENGUINES OF MADAGASCAR five tubs of popcorn out of five. Come one people! This is a no brainer as the boys in black & white once again show us how cool cool can actually be!
Every time I hear the voice of Skipper (Tom McGrath), Kowalski (Chris Miller), Rico (Conrad Vernon) and Private (Christopher Knights) I automatically smile because I know I'm in for fun.
The story is fast-paced and enjoyable filled with comedy and silliness that I actually love. The animation is crisp, clever and spot on fantastic. The Bluray pack gives families so many options with television, computer, tablet and even Smartphone.
With wit that is endless and adventure that is non-stop, DreamWorks continues to bring merriment into theatres and then into our homes. I've got a little back up on this since PENGUINS OF MADAGASCAR got a nod from the 2015 Kids' Choice Award for Favorite Animated Movie for directors Eric Darnell and Simon J. Smith.
The Bluray includes so much stuff, you ready? Besides two of the cutest penguin toys that look great on my office shelf (don't judge!), the Bluray includes Penguins of Madagascar in High Definition, Top-Secret Guide to Becoming an Elite Agent, "He is Dave" Music Video, Flipper Slap Shake Waddle and Roll, "Celebrate" music video by Pitbull, Do the Penguin Shake with TWitch, Deleted Scenes, Madagascar Mash Up, Global Flight Plan, Cheezy Dibbles Ad, World of DreamWorks Animation and Gallery. The DVD includes Penguins of Madagascar in Standard Definition.
I know I'm going to have to fight the grandkids to keep this in my collection; I might to get another copy to hide for myself! If you love having a library of family films in your home like I do then PENGUINS OF MADAGASCAR absolutely needs to be a part of that library. Its fun, funny, and a great way to spend 92 minutes with, what have become, family friends!
In the end – super spy teams aren't born, they're hatched!
Comments
comments