By Jeri Jacquin | March 20, 2015
R & R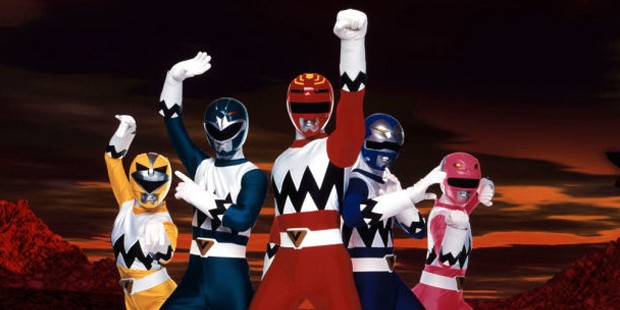 On DVD from Shout! Factory and Saban Brands is the uber-fantastic POWER RANGERS LOST GALAXY: The Complete Series!
After the Rangers have been in space, Leo, Mike, Kai and Kendrix leave Angel Grove for the Terra Venture space colony. The crew meets Maya, a young girl who takes them to the five mystical Quasar Sabers. These are on the planet of Mirinoi and once they are out of the stone things change!
Leo Corbett gets one of the sabers from his brother and the Power Rangers turn into the Galaxy Power Rangers. With these new powers the Rangers must now battle villains from two different galaxies. Including Scorpius, Trakeena, Deviot and Captain Mutiny, it would be Deviot that revives the evil Rangers.
But that's not all Deviot can do! Reading from the Galaxy Book, Deviot sends Terra Venture into a lost galaxy with plans to enslave all the inhabitants. Not happy with what he's done, Trakeena wants her own vengeance.
The Rangers are in the middle of a battle that might prove to be too much for them as an explosion has the colonists fearing the worst!
FINAL WORD: I have to admit I had fun watching the series once again. It did remind me of when my kids were young and, if truth be told, was a way to get the kids to clean their rooms. "No Power Rangers!" cause a whirlwind of clean to happen so they could watch the next episode.
It was enjoyable for me to sit with them each day and listen to them talk about the characters, the storyline, and who their favorite Rangers were. Very nostalgic and I wouldn't have it any other way.
The cast includes: Danny Slavin as Leo Corbett/Red Galaxy Ranger, Archie Kao as Kai Chen/The Blue Galaxy Ranger, Reggie Rolle as Damon Henderson/The Green Galaxy Ranger, Cerina Vincent as Maya/The Yellow Galaxy Ranger, Valerie Vernon as Kendrix Morgan/Pink Galaxy Ranger, Melody Perkins as Karone/Pink Ranger/Astronema, Russell Lawrence as Mike Corbett/Magna Defender.
TUBS OF POPCORN: I give POWER RANGERS LOST GALAXY: The Complete Series four tubs of popcorn out of five. Once again the Power Rangers are here with a complete series so there is no more waiting. Action, adventure, a story line that teaches friendship and loyalty along with character development and fun is everything the Power Rangers is about.
Originally airing in 1999, the 45 episodes written by Judd Lynn, Jackie Marchand, Carlton Holder, Jill Donnellan and Denise Skinner.
In 1993, Saban's live-action series was the most watched children's television program in North American. I can vouch for that since my own kids were sitting front and center each day to see what adventures their favorite Rangers would be going on next. Seen in over 60 countries and translated into several languages it has continued to be a favorite among children.
SHOUT! Factory brings the best to fans offering up feature films, classic television series, animation and specials. For more of what they have to offer go to www.shoutfactory.com.
This complete series is a 5-DVD box set that contains all 45 episodes of the show's seventh season. There is over 15 hours of story telling here with: Quasar Quest 1 & 2, Race to the Rescue, Rookie in Red, Homesick, The Lights of Orion, Double Duty, The Blue Crush, The Magna Defender, The Sunflower Search, Silent Sleep, Orion Rising, Orion Returns, Shark Attack and so many more.
This is a blast from the past for original fans from 1999 and their own generational fans in their families. I mean seriously, it's a great way to relive some fun using your kids as an excuse (that is if you even need one).
So add POWER RANGERS LOST GALAXY: The Complete series to all the Power Ranger DVD's family library.
In the end – they are becoming the Galaxy Rangers!
Comments
comments