By Jeri Jacquin | February 20, 2015
R & R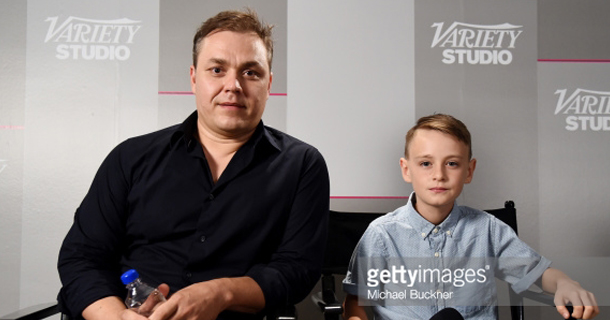 On Bluray this week from director Theodore Melfi and The Weinstein Company is the one-two combination of comedy and awwwww-ness with ST. VINCENT.
Oliver (Jaeden Lieberher) is a young man living with his mother Maggie (Melissa McCarthy). Recently moving into a new home to start over again, Oliver meets neighbor Vincent (Bill Murray). Vincent is an interesting fellow to say the least with his drinking, stubbornness and inability to be cordial.
But Oliver is drawn to the grumpy neighbor as Maggie is in need of a sitter for her son. Vince is more than happy to do the job as long as there is money involved and it doesn't get in the way of his time private with Daka (Naomi Watts).
Every day Oliver goes off to school to learn from Brother Geraghty (Chris O'Dowd), the priest trying to teach a classroom full of kids what it means to be saintly. Spending every moment possible with Vincent, Oliver might just teach everyone that lesson.
I had the opportunity to talk with director Theodore Melfi and Oliver himself, the young actor Jaeden Lieberher about the film, casting and having 2,000 pleased film-goers!
Hi Ted and Jaeden, thanks for talking with me today. First of all I have to say that I love, love the film!
Theodore: Thank you! We think it's the best film made in the last twenty or thirty years at least. (Jaeden is laughing in the background)
I love that attitude and I will back it 100%!
Theodore: Thank you!
What made you decide to delve in so deep with this project being both writer and director?
Theodore: It's a personal story so it's a story I wanted to tell. The character of Vincent is based on my wife's father who is a guy who drank too much, smoked too much and abandoned his kids. Then toward the end of his life he became saintly and reunited with my wife and became her father again. It is based on a true story and that's the story I wanted to tell and why I decided to do it myself.
Was casting Bill Murray a given for you?
Theodore: No, actually it was very easy. I called his cell phone and he called back and said 'yes'.
You have to love when you get a quick answer like that right?
Theodore: It's a miracle!
It's a good miracle. Jaeden, how was it for you working with Mr. Murray?
Jaeden: It was so much fun working with him. You don't know what to expect because he's just crazy.
And you mean that with love right?
Jaeden: Yes, definitely!
Did you know much about him Jaeden before being cast in the film?
Jaeden: Yes, I did. I love his movies. All of them are classics GHOSTBUSTER, GROUNDHOG DAY, MT. RUSHMORE, all of them I love.
GROUNDHOG DAY might be up there with ST. VINCENT you know?
Theodore: GROUNDHOG DAY is one of those twenty that might be up there with ST. VINCENT. It truly is a classic.
It's very close to ST. VINCENT.
Theodore: It's just below ST. VINCENT.
In casting the other roles, what made you decide to go with Melissa McCarthy?
Theodore: I think Melissa is an extraordinary actor, not a comedienne but an actor. She started with nine years of off-Broadway dramatic acting in New York and then moved to Los Angeles and found The Groundlings by accident really. So she started out as a dramatic actress and if you look at something as innocuous as Gilmore Girls and then look at Mike and Molly you can see how full her range is. She can do anything, literally. She was someone who I really, really wanted to work with in this part because I wanted to show that other side of her that is essentially a tangible quality about her. Her humanity is huge and that's who Maggie is.
Jaeden, how did you like having Melissa for a Mom temporarily?
Jaeden: Melissa I a good Mom, I can tell. She's super sweet and likes taking care of people. It was really nice to have her for my Mom. It was a nice experience.
Ted, what was it about Jaeden that you thought "this is Oliver"?
Theodore: Jaeden just exudes this honest about him, he is an honest human being. He doesn't manipulate or be any more than what he is. He's one of those rare humans who is comfortable in his skin all the time. He doesn't know how to do anything else. That is Oliver to me. Oliver, through it all, is a strongest character in the film because he believes in himself and believes he has value. When I met Oliver I thought 'this is the calmest kid I've ever met in my entire life'. It was a natural choice.
He absolutely exudes that doesn't he? It's almost eerie.
Theodore: It's really disturbing. In fact he's been training us all.
Then I need to take that class! Jaeden, what did you like best about being Oliver?
Jaeden: Oliver is a really nice and really sweet, just like Melissa. If you look at all the characters they are really sweet deep down. Oliver ha a really big heart and he can see things that other people can't, like the good in Vincent. He's a good kid.
I have to agree with you. I thought he was able to see things in the adults that they couldn't see for themselves.
Theodore: He can also see dead people but we didn't put it in the script.
Well, there was that moment, one little moment I'm telling you! Naomi Watts, didn't see that coming from her.
Theodore: Why would you?! I have to safely say it's the first depiction of a pregnant-Russian-prostitute.
Sometimes you have to cover your bases all in one character so go for it right?
Theodore: She has done something no one else has dared to achieve!
I adored her. She just brought that spunk, everyone is sweet and nice except for Vincent of course. She is the one that gets everyone going – kind of like a cheerleader. So we can add pregnant-Russian-prostitute-cheerleader.
Theodore: Personally, she's is one of the most courageous people I've ever met. She is so ballsy and brave. How many actresses would go on stage and do a strip tease while being pregnant. She is so bold to me and it was inspiring working with her.
I adored her performance. Chris O'Dowd, here is an actor that just comes in being comedic when it seems he doesn't mean to be comedic.
Theodore: He's like that in person as well. You sit with him and he can go off on tears and make me laugh for 20 minutes straight. He is a genius. We only had him for two weekends. He was doing a television series in Ireland so he'd come to us on Friday night on the red-eye, shoot Saturday and Sunday morning and go back to Ireland on Sunday night. That could have been a train wreck because I'm sure he was exhausted. He came with every single ounce of preparation and nailed every one of his scenes. It was unbelievable, his performances work and his work ethic is amazing.
You also got some amazing people to jump aboard like Anne Dowd, Nate Corrdry and Terrence Howard. Did it seem like everyone just wanted a piece of this?
Theodore: Yes, everyone wanted to work with me. I sent an email out saying this was the best script ever written. I had to beat people off with a stick! <Jaeden and I are laughing> No, really it was Bill Murray, when you have Bill Murray even the cat called and said he wanted to be part of this.
So basically he's a Bill-Murray-magnet?
Theodore: Yes, he's a magnet and a magnet for everything that comes into his life.
Did you see SNL40 on Sunday?
Theodore: Yes! Jaws was the best.
Only Bill could have pulled that one off! When you finally saw the end result because you are in this heart and soul, did you have the same gut-wrenching Kleenex reaction we all did?
Theodore: You become, strangely enough, immune having sat in a room for a few months seeing it over and over about 500 times. It's a bizarre feeling, then you see it on the big screen and you think 'what am I watching?' I finally saw it in Toronto and after the film was finished, 2,000 people stood up an applauded for over three minutes. They applauded the cast with Bill, Melissa, Naomi and Jaeden; we all stood up in the aisles and hugged each other. I had tears in my eyes and the moment I knew the movie was having an effect on people and people enjoyed it. It was the first time I really got that!
What was that like for you Jaeden to see all those people stand up and applaud for you?
Jaeden: That was a really, really, really great feeling. To see everyone so happy and crying and laughing, it was amazing.
Theodore: It confirmed that it was the best movie ever made!
I have to say that I absolutely love when a director and cast member take the time to talk about a film but even more so when there is lots of laughter. ST. VINCENT is a beautifully written, acted and shot film that reaches into the heart of people. The characters are filled with every human emotion and that's what comes across to audiences.
The film has garnered two wins for actor Jaeden Lieberher from the Las Vegas Film Critics Society and the Phoenix Film Critics Society. It also won Truly Moving Motion Picture Award for director Theodore Melfi, Chernin Entertainment and The Weinstein Company from Heartland Films. It has also been nominated again and again for awards including two Golden Globe nods for Best Motion Picture and Best Performance for Bill Murray.
TUBS OF POPCORN: I give ST. VINCENT four tubs of popcorn out of five. Yes I'm all for it because of Bill Murray but also because of the story and the young actor who manages to keep pace with Murray line for line. That being said it is also an amazing storyline with an ending that will drop a tear and cheer whether you mean to or not. This is a very well done film from beginning to end so owning the DVD is a plus!
The DVD includes the special features of Deleted Scenes and Bill Murray is St. Vincent: Patron Saint of Comedy which I highly suggest watching.
In the end – with neighbors like these who needs family?
Comments
comments