By Jeri Jacquin | August 14, 2015
R & R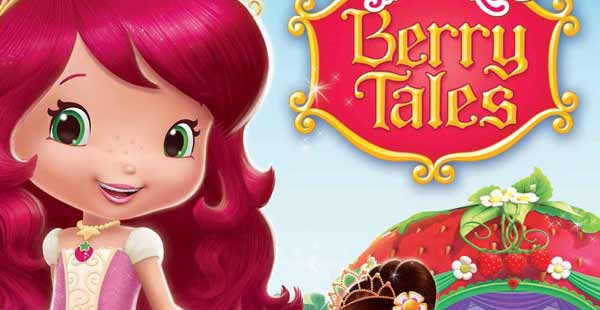 On DVD and Digital HD from 20th Century Fox Home Entertainment is the return of the iconic "Strawberry Shortcake Berry Tales."
Strawberry has come up with a great idea for the berrykins! Seeing how they love story time she thinks it would be a great idea to put on a simple play for the kids to enjoy.
Plum gets a huge idea and decides the play they should do is "Snowberry and the Seven Berrykins!" Casting Raspberry in the title role, Plum's ideas get grander and grander. Everyone thinks the show will be fun, even Lemon who is thrilled to play the part of the Berry Mean Queen.
But, Strawberry and Blu are worried that Plum is taking things a bit to far as the stage and story production seem to be getting out of control. When it all comes crashing down, Plum discovers that her friends truly do want her to succeed.
So, change in plans! They begin rehearsing to do "Berryella and the Prince Berry Charming." Now, Strawberry, Blue, Orange, Lemon, Plum, Raspberry and Cherry need to look for a Prince Berry Charming who doesn't have two left feet.
When that doesn't work out they try one final play but this time Strawberry discovers what story is the berrykins favorite. "The Littlest Berrykin" brings everyone together and they all learn a valuable lesson – even the littlest berry can do big things!
Once again 20th Century Fox Home Entertainment brings only the best home for the family library. Strawberry Shortcake is an iconic character along with all her friends and I should know – my own daughters loved the series and now my granddaughter does as well.
It is so amazing that the stories still ring true of friendship, love, being true to who they are and working together as a community for the benefit of everyone who lives in the berry best place!
TUBS OF POPCORN: I give "Strawberry Shortcake Berry Tales" four tubs of popcorn out of five. I love that the characters have stayed true to what fans have always loved about the series. Each character has such a unique personality that is endearing and you smile even if you don't realize you're doing it.
All of those are pretty awesome reasons to add "Strawberry Shortcake Berry Tales" DVD & Digital HD to the family library. The DVD also contains the special feature of Party Pack Printables for even more fun!
Twentieth Century Fox Home Entertainment continues to bring amazing films that can be added to the family library. To find more of what they have to offer visit www.foxconnect.com.
In the end — they believe in good times and good friendships!
Comments
comments