By Elise Cooper | November 8, 2017
Books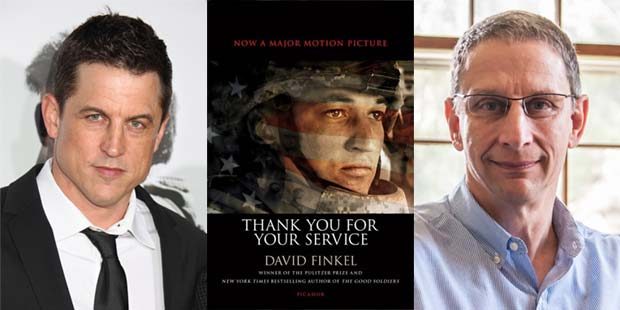 Veterans Day should honor the soldiers and their families who have made sacrifices. They are asked to lay their life on the line in service for their country and to keep Americans safe.
But some who have come home are still fighting a war. This "second war" has them changed and profoundly affected by combat. The movie and the book "Thank You For Your Service" explores the psychological scars of some of those who fought.
The movie's screenwriter and director Jason Hall has impeccable credentials. He wrote the screenplay for the powerful movie about Chris Kyle. He calls this recent film the spiritual sequel to "American Sniper." His next project will also emphasize an American hero. It will be about George Washington's time fighting in the French/Indian War where he learned how to be a leader.
The book's author, David Frankel, has embedded twice with the men of the 2-16 Infantry Battalion, once in Iraq during the surge, and the other time on the home front after these men returned. His first book, "For The Good Soldiers," chronicles their tour of duty during the 2007 surge where they saw their peers injured or killed. His follow-up book, "Thank You For Your Service," and the movie based on the book, shows what happens to these men after their deployments have ended. He is working on a third book, continuing their story.
The following is an interview with both writers.
Elise Cooper: Do you think the book and movie stereotype those soldiers coming home as having psychological issues?
Jason Hall: I am by no means saying everyone who comes home suffers from PTSD. I think it is one in four or one in five. It is certainly the minority. Yet, we have to be aware of those who have the state of mind that everything feels different and looks different, with a different texture and meaning.
David Finkel: I just do not buy it. Of course, not every vet is broken, but every vet is affected. When I embedded with these guys for about eight months, I saw a lot of them injured and lost. I think it is fair to say that there was not a man of those 800 that were not affected in some way, but this does not mean they were all broken.
After my first book, some who returned from deployment contacted me, telling me of their hard time with divorces, DUIs, depression, anxiety, medication and suicidal thoughts. They came home with various psychological and moral injuries, and some were broken. The fact is they were changed and it will take some time to recover, but it certainly does not mean they were broken forever. It is a shame for people to say, "Don't tell this story because it buys into the broken vet idea."
EC: One scene in the book has an officer going through the VA saying to Staff Sgt. Adam Schumann, "You are my hammer." Do you think in some ways people do not want to realize these men need help adjusting?
DF: Although that did not actually happen, there is a version that is very similar. Not everything in the movie is true, but Jason found the true heart of the book. In the real-life version at a Memorial Ceremony, a general came in and said to his driver, "Am I going to see boo-who and cry babies?" There are way too many people that feel that way and do not understand the nuances that these soldiers are truly injured.
JH: We shuffle them back into the civilian life as if they are going to adapt to it. We don't give them a new set of tools for this world. I do think they are doing a little bit more of it now. My brother-in-law is getting out of the Army, having gone to Iraq four times. They have him taking some classes to figure out what he is going to do. But in between the classes they are trying to get him to re-enlist, putting pressure on him.
EC: Another scene in the movie has Adam making chocolate chip pancakes even though his daughter dislikes chocolate. Are both the soldier and family strangers to each other?
JH: I describe it as having these guys stepping through a door as they go off to war. When it closes the veteran has extraordinary experiences, profound and meaningful relationships. Their families back home are waiting for the door to open up and for the veterans to step back in their lives. In some instances, the veteran has changed with the family left to grapple with and unravel the mystery of who is this person.
DF: This is happening right now in households across the country. One of the soldiers, Specialist Tausolo Aieti (Solo), really did smash up his apartment and put his fist through the door with his pregnant wife on the other side. He has dreams of when he was in a Humvee blown up by three buried shells. Even though he had a broken leg he still rescued two of the three guys inside.
In the movie, the third guy was Sgt. First Class James Doster, but in real life, his name was James Harrelson, who burned to death. As the movie so powerfully conveys, Solo began having a dream where "Henderson" asks why didn't he save him. He never dreamed of the guys he did save. He told no one and finally broke in the apartment — his own version of shame.
Another example is in chapter four of the book. There was a guy in the therapy session who said his wife told him, "You knew what you were getting into. I don't feel sorry for you at all."
EC: A powerful line in the movie has the spouse of a dead comrade telling Adam to honor her husband by living. Please explain.
DF: A lot of guys I know came into close proximity to death and had survivor's guilt. They thought, "How can I be alive and he is dead?" Sometimes a therapist asks if that is what their dead buddy would want? And follows it up with, "Don't you think they would want you to live?"
JH: There is a huge disconnect from the civilian population. We cannot create empathy without understanding, and there is not always a desire to do that. As Americans, we need to feel the sacrifices of those who served.
EC: What do you want viewers and readers to get out of "Thank You For Your Service?"
JH: This is a story of hope and brotherhood. We need to think about what we are thanking them for and hopefully engage them.
DF: I hope someone who fought in Korea, Vietnam or Iraq will see the movie or read the book and finally think it is OK to talk out loud about this. One of the most moving parts of the movie to me is when Adam was asked if he is all right, and he replies no. He then says they need to get help. He needed support in adjusting to coming back home. The book and movie are an act of understanding.
EC: Do you want to say anything about Veterans Day?
DF: I hope that on this day Americans realize war is profound and the soldiers are noble people. This is not just a one-day deal, buteveryday day deal. Americans who want to say something to a vet should understand a little more by asking how they feel.
JH: Americans should think about the continued war these guys are fighting. They sacrificed for us and we need to understand that these guys are trying to find their way back home because they were altered by the war.
Comments
comments