By Jeri Jacquin | April 24, 2015
R & R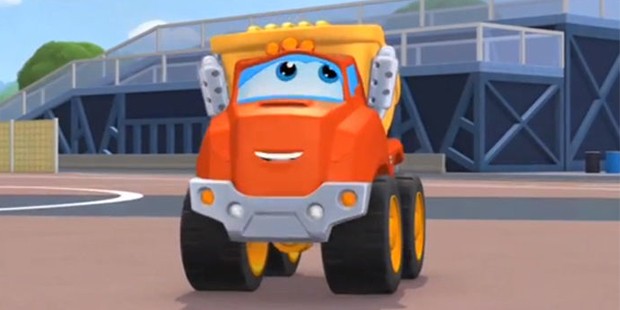 Start your engines! From Shout! Kids Factory and Hasbro Studios it's time once again for THE ADVENTURE OF CHUCK & FRIENDS: Day at the Races.
Once again Chuck and his best buddies Digger, Handy, Rowdy, Biggs, Boomer and Flip take on all the adventures they can handle. Under the watchful eye of Mom Haulie, Dad Porter and big brother Chuck there are adventures everywhere.
This time the gang race one another to win a radio contest, form an astronomy club, create the perfect Mother's Day present and more.
I always enjoy the next DVD of Chuck & Friends because I know there is quality programming in each and ever episode. The characters are delightful and the animation is filled with color and action. I've come to expect nothing less from this amazing series.
The DVD includes Contest Countdown, Tough Break, The Short Cut, Race to the Race, Join the Club, Rowdy's New Rigg, The Regifters, Mother of All Gifts, Wallbashers, and Kid Stuff. In this 110 minute DVD there is also the bonus feature of a brand new sing-along!
SHOUT! Factory brings the best to fans offering up feature films, classic television series, animation and specials. For more of what they have to offer go to www.shoutfactory.com.
Hasbro Studios is an iconic brand with some of the best in animation and family programming with MY LITTLE PONY, and LITTLEST PET SHOP. Since its formation in 2009, Hasbro Studios has received seven Daytime Emmy's!
TUBS OF POPCORN: I give THE ADVENTURE OF CHUCK & FRIENDS: Day at the Races four tubs of popcorn out of five. I think I have a soft spot for this particular series because my grandson took to the gang so quickly. He was thrilled with the songs and the characters every time they came on the screen. There is no better endorsement than that!
The characters are just so endearing and Chuck especially is a truck that is learning about life, family and growing up. His friendships means so very much to Chuck just as his family is always there to support him. Even when Chuck and his friends sometimes get into trouble, they can always rely on each other and family to set things straight.
This animated series truly is fun to watch and the tunes are catchy. I must admit that I have so much fun seeing what the four-wheeled gang will do next. In this 110-minute DVD, families will be in for a great time with plenty of laughs along with life lessons. Not a bad way to spend family time!
In the end – Ready…Set…GO!
Comments
comments