By Jeri Jacquin | August 21, 2015
R & R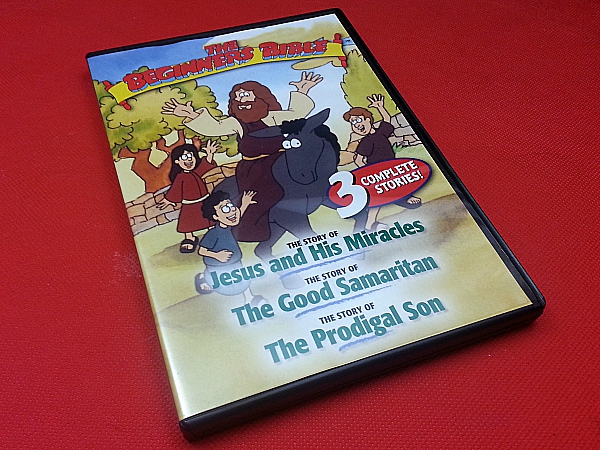 On DVD this week from Time Life is an amazing animated series that teaches the stories of people who reach out to others with "The Beginners Bible: Volume 3."
"The Story of Jesus and His Miracles" tells the tale of those who don't believe in miracles and the disciples sharing their faith. Recounting how Jesus helped those with illness, giving site to the blind and being able to calm the sea, it would be the greatest miracle of all that bring many believers great joy.
"The Story of the Good Samaritan" tells the story of a man who is left on the side of the road. Many pass him by but it is the Good Samaritan who stops to do what is right by his fellow human being. The lesson is to love your neighbor as you love yourself.
"The Story of the Prodigal Son" as a father deals with a son who refuses to be part of the family's farm. The young man would rather go into the world, but there comes a time when going home can be the greatest joy of all.
This 90-minute DVD includes both English and Spanish language versions is not only an amazing learning experience for families, but entertaining as well. The original theme song is sung by Kathie Lee Gifford and adds a musical richness to the disc.
StarVista and Time Life bring this animated family-friendly story telling DVD. This isn't the only amazing collection this company brings to expand the family library. I love seeing what collection is released next and you can find out for yourself when you visit http://timelife.com.
TUBS OF POPCORN: I give "The Beginners Bible: Volume 3" four tubs of popcorn out of five. I truly love when a company, such as Time Life and StarVista, bring beloved stories of faith in a way that is relatable, very sweet and entertaining wrapped up in animation.
Children are receptive to every one of those things and are in for an experience but don't forget to add Mom and Dad to the mix and make it a family film night. Done in a non-denominational production, these stories and animated DVD are important life lessons that are told with kindness and simplicity.
In the end — these are the stories about miracles!
Comments
comments