By Elise Cooper | June 1, 2018
Books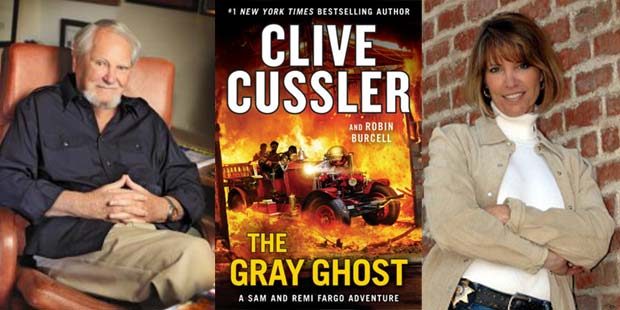 "The Gray Ghost" by Clive Cussler and Robin Burcell takes readers on a thrilling car ride as they race to find a valuable antique car before the bad guys get to it. Amateur sleuths Sam and Remi Fargo, smart and philanthropic self-made multimillionaires, find adventure at every turn.
Burcell describes the two characters, "People have referred to them as a modern Nick and Nora Charles from the 'Thin Man Series.' For me, I think they are more like the couple that was in the 'Hart to Hart' TV shows.
"I think the Fargos are the vehicle for the plot," Burcell said. "They are able to be sleuths because of their background. Sam is a CIA type who knows hand-to-hand combat, while Remi is a linguist and an expert marksman. Together they are a force to be reckoned with."
The authors brilliantly explain the backstory through a journal that becomes almost a secondary character. The back and forth between 1906 and the current time makes the story even more riveting.
A distant relative of theirs seeks their help in finding a rare 1906 Rolls Royce prototype, The Gray Ghost to clear his uncle's name. In the course of their investigation, they find that it might contain a rare treasure of money stolen in a train robbery more than a century ago.
Much to their detriment, they find others are also looking for the car, and are willing to do whatever it takes to recover the car and the treasure. The body count mounts up as Sam and Remi search for the auto while trying to avoid getting killed.
Because Clive Cussler is such a fan of antique cars, Burcell told of how the story came about.
"He actually has a museum in Colorado full of his collector cars," Burcell said. "I saw him bid on two different cars, including the Ahrens-Fox fire-engine, the one written about in this story. While watching him bidding on it I thought it would be cool if we wrote it into the plot. As I was doing the research the idea of writing a plot around something that has been lost was formulated. We decided on having the artifact a prototype to the Rolls Royce Silver Ghost. This story takes real history, tweaks it and has a 'what if' aspect: What if it is about a car that never made it to the car show."
Clive Cussler fans have fun spotting him in the story. It should remind people of what Alfred Hitchcock did in his movies. He will come in and help the protagonist with the investigation. In this book, there are two references, one where his name is mentioned outright and one with a cameo appearance where readers have to figure out by the description.
This is a fun story. Besides the banter between the characters, readers learn some interesting facts about cars. What the authors have done is maintain a balance between what is interesting with what is necessary for the story, creating an exciting mystery.
Comments
comments