By Military Press | December 26, 2014
R & R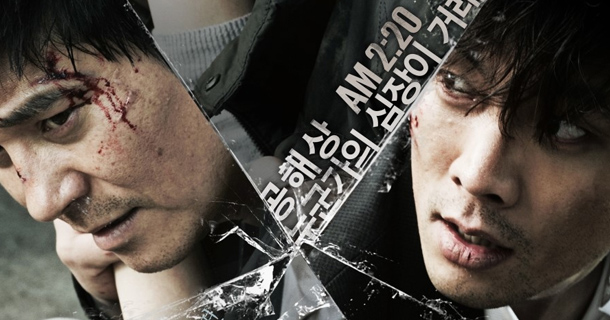 On Bluray from writer/director Kim Hong-sun and Well Go USA Entertainment comes a film that will keep you on the edge of your seat with the South Korean thriller TRAFFICKERS.
Young-gyu (Im Chang-jung) deals in the black market. When his friend is killed he tries to start a new life and that includes falling in love with the beautiful Yu-ri (Jo Yoon-hee). But Yu-ri is to busy for love taking care of her father who needs a transplant. When the surgery falls through, Yu-ri must now seek out an organ broker for help and books a six hour trip to China.
Young-guy wants to help and agrees to do one final black market job for a larger cut of the money. Gathering a group together for the last haul on the ferry between Korea and China, all he can think of is his lost friend.
Boarding the ferry is Sang-ho (Choi Daniel) and his wife Chae-hee (Jung Ji-yoon), who is in a wheelchair, take a little vacation together. Within several hours Chae-hee goes missing and none of the officials aboard seem to take it seriously. Sang-ho runs into Yu-ri who tries to help.
What happens on board the ferry will follow them all to land!
FINAL WORD: Im Chang-jung is awesome as Young-gyu. There are moments where he is totally trying to understand how this "love" thing works and the next he's working out his next heist. He is exactly the bad guy trying to do the right thing by doing the wrong thing. When this character figures out what's gone on – he reacts exactly like he should.
Jo Yoon-hee as Yu-ri is a loving daughter who has pretty much given up on having a life of her own taking care of a sick father. On the ferry she wants to help find the missing woman but getting her father to where he needs to be takes precedent. Yoon-hee has the look of innocence needed to pull this off and does so fantastically.
Daniel as Sang-ho is just absolutely brilliant. Trying to find his wife on a boat in the middle of the ocean surrounded by people who think he's a little off his rocker, Sang-ho carries off the role so well.
Dal-su as Old Man is just a creepy character that I couldn't stop watching. I just never knew what he was up to and when I did I wasn't sure he was doing what I thought he was doing. Confused? You should be because I want you to WATCH the film!
Other cast include: Oh Dal-su as Old Man, Jo Dal-hwan as Joon-sik, Lee Young-hoon as Dae-woong, Shin Seung-hwan as Dong-bae, Lee Moon-soo as Dr. Oh and Kim Jae-hwa as Gong Choon-ja.
TUBS OF POPCORN: I give TRAFFICKERS four tubs of popcorn out of five. This was one of those unexpected films that has a little something for everyone! It has action, twists, turns, characters, a little horror and unexpected revelations. Writer/director Kim jumped right in throwing everything but the kitchen sink into this film and for all I know he did but I didn't see it going overboard.
The action sequences are well done and the bloodiness never ends really. I wasn't quite expecting the film to take the turns it does but not disappointed either. It's a thrill to get wrapped up in a film wondering which way things are going to turn out and being completely wrong. Gawd I love that!
The Bluray comes with a 111 minute running time in Korean with English subtitles. It also won the 2012 Blue Dragon Film Award for Best New Director Kim Hong-sun and a nomination for Jung Ji-yoon for Best New Actress. It also received a Top Excellence Award for Im Chang-jung at the 2012 Korean Culture and Entertainment Awards.
In the end – everything is for sale!
Comments
comments