By Jeri Jacquin | March 13, 2015
R & R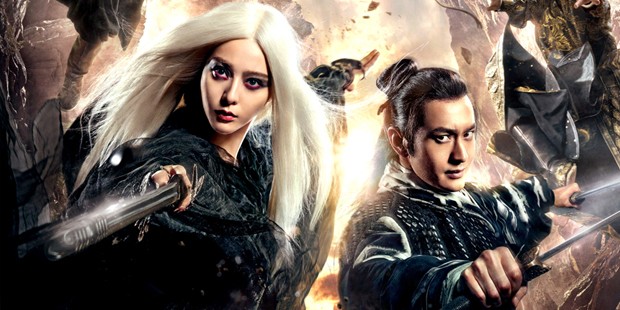 On Bluray this week from director Jacob Cheung and Well Go USA Entertainment is the mystical world including the WHITE HAIRED WITCH.
This film tells the story of Zhuo (Huang Xiaoming), a member of the Wudang in the Ming Dynasty who is sent to deliver medicine to the Emperor. Along the way he meets Nian Yishang (Fan Bingbing) and falls a little bit in love with the lovely water warrior.
Nian hates the political corruption and the abuse the soldiers levy on the people but hides at their compound in Fort Luna. Zhuo delivers the red pill as ordered yet the Emperor dies and he is blamed.
The conspiracy begins with Zhongtian (Ni Dahong) who wants the throne for himself yet there are other wheels turning toward the throne. Zhuo runs to Fort Luna and helps all the refugees who have fallen to an illness.
As the soldiers move toward Fort Luna, Nian and Zhuo are in chains. Nian knows there is only one things that will save them and her people as her transformation erases her feelings for Zhuo turning her into the white haired warrior witch!
FINAL WORD: Ziaoming as Zhuo is the handsome non-violent by nature Wudang. He is quick witted and charming that is disarming to Nian and pretty much any female watching the film. The fight scenes are fast and his character is actually quite compassionate.
Fan as Nian is very much a warrior, and a beautiful one. She wants her people to be safe and able to live a life that is not ruled by abuse and starvation. Fan gives a strong performance mixed with chance to find love. Of course the relationship between Nian and Zhuo is difficult, but that's to be expected when war gets in the way.
Dahong as Zhongtian is a character filled with greed and no conscious what so ever! Blaming Zhuo for the death of the Emperor he's going to take everyone down that can possible stop his greed for power.
Well Go USA Entertainment specialized in the best of action and independent films from all around the world. Well Go USA Entertainment releases films in theatres, digital and VOS along with television. For more on what is being released and trailers to each go to www.wellgousa.com.
TUBS OF POPCORN: I give WHITE HAIRED WITCH three and a half tubs of popcorn. The film is filled with beautiful costuming and swordplay mixed with mystical martial arts. I am a big fan of period pieces and costuming. To me that makes the film authentic in the era and just beautiful to watch.
The performances by Ziaoming and Fan are equally nice to watch. The repartee between them is fun, charming and adds to the build up of the ending. No I'm not going to tell you how it ends – that something you have to see for yourself. Just know I liked it because it wasn't cookie cutter!
WHITE HAIRED WITCH Bluray comes with bonus features of The Making of White Haired Witch and original trailers. Coming in at 104 minutes, the film is in Mandarin with subtitles.
The films script is adapted from the novel Baifa Monu Zhuan by Liang Yusheng.
Comments
comments