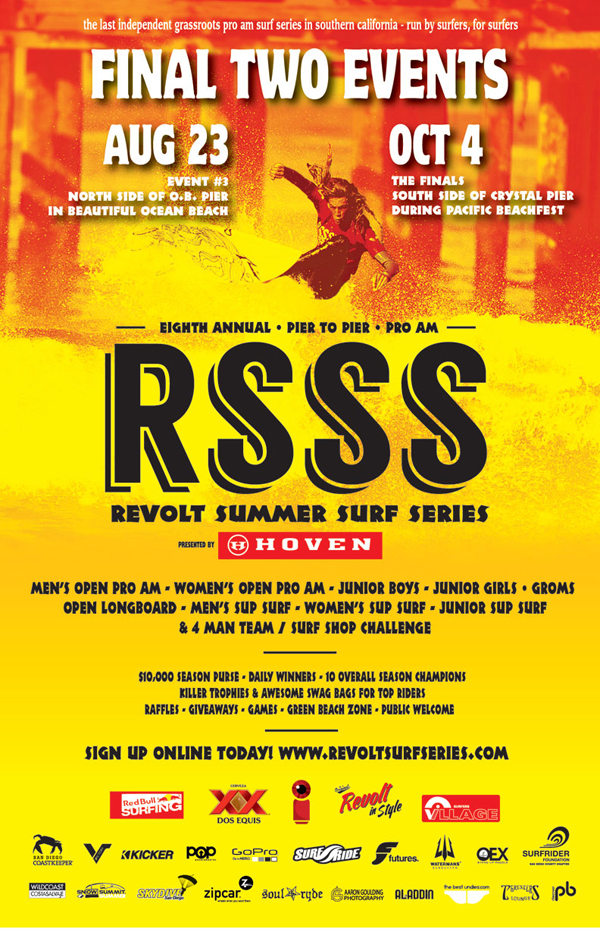 Just days away from the third stop of the RSSS Pro Am presented by Hoven Vision – Avasin Surfboards and Planet X TV join other official sponsors including Red Bull, Dos Equis, Go Pro, Kicker Audio & Surf Ride Surf Shops to support the events & further the experience for athletes as well as the spectators & fans.
Avasin Surfboards joins the series, bringing their line of high performance boards into the spotlight. Seasoned shaper Scott Sherwood, teamed up with Seth Stuckert & pro surfer Ricky Whitlock to create this new surfboard manufacturing company. A growing roster of Avasin team riders includes Ricky Whitlock & brand ambassador Austin Ware.
Revolt in Style magazine joins forces with Planet X TV to produce and air a TV special from the upcoming RSSS event in Ocean Beach on August 23. Planet X, already operating a local media bureau office in Ocean Beach will be on-site with a full video crew to feature the surf event in its fast growing roster of TV channels worldwide.
Stop #3 of four events in the 2014 RSSS series will attract elite surfers from around the globe –  Surfers from as far a way as Brazil, South America, Mexico, Japan, South Africa and the Hawaiian Islands, now compete regularly against local high performance surfers including Jeff Lukasik, Austin Ware, JD Lewis, Brent Reilly, Johny Noris, Jay Christenson and Vince Boulanger.
Stop #2 earlier this summer saw Willian Cordozo (second place 2014 Vans US Open of surfing) and Neco Padaratz (infamous ASP competitor) showing up to throw down with the talented So Cal surfers. Both brazillians were knocked out in early heats, but countryman Luan Wood was on fire and captured first place in both Junior & Men's Pro Am divisions. With two events to go it's really anyone's guess who will take home the title.
Local and International media supports the event including, 105.3 fm, SurfersVillage.com, Revolt In Style Magazine, Planet X TV, Aladdin Surf Mag and San Diego Surf Mag. A $10,000.00 prize purse, killer custom handmade trophies and the now famous 'Swag Bags' for top riders keeps the RSSS Pro Am at the top of any shortboard, longboard or SUP surf competitors' list.
DJ FISHFONICS will perform live at the event from 11 to 5pm under the signature Red Bull 'Star' Tent. Red Bull will set up an extensive surfer's lounge where athletes & fans can relax & re-fuel while keeping an eye on the RSSS competition. Thor and Rock 105 will be live at Wonderland Ocean Pub from 5-7pm – with $4 Drink Specials all day and night!

Later that evening The Local Pacific Beach will open their doors for the RSSS Official After Party. Red Bull Threestyle finalist & Sleeping Giant DJ Chris Cutz is scheduled to rock the house from 9 to 2am.
For more information, signups or sponsorship opportunities check out: www.revoltsurfseries.com
Comments
comments