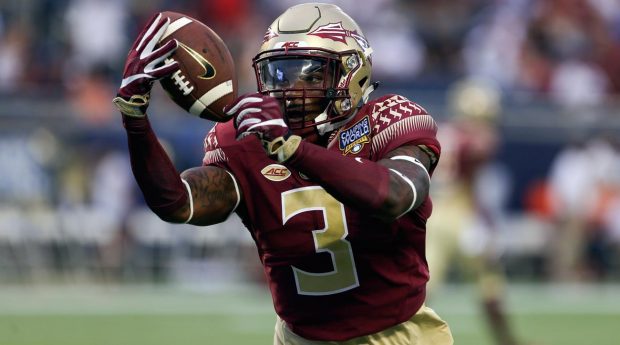 In our last issue, we examined the various mock drafts and which players the pundits believe the Chargers will take with the 17th pick. Here, we look at some of those potential picks and where each player ranks amongst Daniel Jeremiah's (The NFL Network) top 50 draft prospects.
No. 9 — Vita Vea, DT, Washington
"Vea is a massive defensive tackle prospect with remarkable power, quickness and agility. He's a dominant run defender, routinely resetting the line of scrimmage against both individual blockers and double-teams. He's quick to shoot his hands, latch on and toss opposing blockers before quickly pursuing the football. He has rare lateral range for a 340-pound defender. He also flashes the ability to use his quickness to split gaps and create negative plays. As a pass rusher, he has a nasty slap/swim move. He can roll his hips and generate pocket push with his power. There are times where he plays too tall and consequently gets controlled. That can be improved. Overall, Vea is a more athletic version of Haloti Ngata and should quickly emerge as a Pro Bowl player."
In his first mock draft, the Union-Tribune's Draft Analyst Eddie Brown says Via is the Chargers pick at No. 17.
No. 11 — Derwin James, S, Florida St.
"James is a versatile talent with exceptional size, speed and physicality. He lined up all over the field for the Seminoles. He took snaps at both safety spots, nickel cornerback, sub-package linebacker and was asked to rush from the outside linebacker position on occasion during his collegiate career. In my opinion, he's more valuable when he plays closer to the line of scrimmage. He excels covering backs and tight ends and is a dynamic blitzer. When he lines up as the deep safety, he lacks ideal anticipation and needs to improve his angles to the alley in run support. He doesn't have a ton of ball production, but that will improve once he settles into a more defined role. When he's aligned in the box, he is quick to key/read against the run; he explodes to and through ball carriers. His lateral range is outstanding and he makes a lot of plays from the back side. To see his game speed, watch him run down Lamar Jackson in the Louisville contest. Overall, I see James as a box safety or weak-side linebacker at the next level."
Jeremiah thinks the Chargers select James in his first mock draft.
No. 13 — Baker Mayfield, QB, Oklahoma
"Mayfield lacks the ideal height for the quarterback position, but he has a muscled-up/square build similar to Russell Wilson. He operated in the shotgun for the Sooners. He has a unique setup: He's very frenetic, but he's consistently accurate despite throwing from a variety of platforms and arm angles. He generates a lot of torque from his lower body. You need to see him play in person to fully appreciate the way the ball jumps out of his hand. His offensive line did a nice job of keeping him clean at OU, but when pressured, he showed the ability to extend plays while keeping his eyes down the field. He's accurate on the move and while he lacks top speed, he is very effective on designed QB runs. The biggest challenge in his evaluation involves the lack of tight-window throws he's had to make. It will take some time for him to adjust to the lack of space at the next level. There are some questions about his maturity on and off the field. Long story short, Mayfield might lack ideal size, but I love his accuracy, playmaking skills and toughness. He has the tools to be a quality NFL starting quarterback early in his career."
ESPN Draft Analyst Todd McShay has the Chargers taking Mayfield in his first mock draft.
No. 17 — Connor Williams, OT, Texas
"Williams lined up at left tackle for the Longhorns and that is where I'm projecting him to play at the next level. He has excellent height/bulk for the position and average length. In the passing game, he's fluid out of his stance. He possesses the foot quickness to kick out and cover up speed rushers. He's a very easy mover and plays with excellent knee bend. He has a sharp punch, but occasionally, he is late to shoot his hands and allows defenders to get into his chest. In the run game, he can latch and generate movement at the point of attack. However, he gets overaggressive at times, lunging and whiffing. He is very athletic working up to the second level. Overall, Williams didn't play as well last fall (he also missed significant time with injury) as he did the previous season, but I still view him as a quality starting NFL tackle."
USA Today's Michael Middlehurst-Schwartz believes Williams is the Chargers pick at No. 17.
No. 24 — Da'Ron Payne, DT, Alabama
"Payne is a powerful, run-stuffing defensive tackle with pass-rush upside. Against the run, he launches out of his stance and quickly shoots his hands to generate knock-back against single blocks. He will also use a quick slap/swim to disrupt. He holds up well vs. double-teams and has tremendous lateral range. As a pass rusher, he has a quick get-off, but he needs to develop a plan. Most of his pressure is the result of his swim move. He needs to work on counter moves. His effort is excellent. Overall, Payne is built to dominate on run downs right now. He has the athletic ability and power to emerge as a much better pass rusher in the near future."
ESPN Draft Analyst Mel Kiper Jr. believes the Chargers select Payne in his first mock draft.
No. 27 — Rashaan Evans, LB, Alabama
"Evans is a versatile, playmaking linebacker. He moved all over the field in the Alabama defense. He aligned off the ball in the middle of the defense, stood up outside and even occasionally put his hand in the ground as a defensive end in pass-rush situations. Against the run, he's a tick late to key/read, but once he makes up his mind, he closes in a hurry. He runs right through blockers and if he doesn't make the tackle, he creates a pileup to slow down the ball carrier. He has outstanding speed to range sideline to sideline. He will miss an occasional tackle in space because he rarely breaks down, instead looking for the big hit. In coverage, he can easily mirror tight ends and backs. He will even match up in the slot at times. He isn't a polished pass rusher, but he can win with pure speed and effort. Overall, Evans is a tone-setter on defense and his versatility is a huge asset."
Bleacher Report's Adam Wells has Evans being the Chargers first round pick.
No. 31 — Orlando Brown, OT, Oklahoma
"Brown is an enormous left tackle. In pass protection, he lacks ideal foot quickness and knee bend. However, he's effective because of his size, strength and length. He plays upright, but has quick hands to keep defenders away from his chest. He runs speed rushers around the quarterback and anchors against power rushers very easily. He will get beat on inside counters, but he uses his length to reach out and get just enough contact to provide the quarterback room to operate. He's a mauler in the run game. He completely washes defenders down the line of scrimmage on down blocks. He has tremendous upper-body strength to torque/turn and dump defenders lined up over him. He's surprisingly effective on second-level blocks because he takes proper angles. I see Brown as an ideal starting right tackle. He isn't a pretty athlete, but he gets the job done."
In his second mock draft, Steve Palazzolo (Pro Football Focus) says Brown is the pick. In his first mock prior to the draft order being officially set, Palazzolo had the Chargers selecting Oklahoma State QB Mason Rudolph with the 13th pick overall.
No. 35 — Mike McGlinchey, OT, Notre Dame
"McGlinchey started at right tackle and left tackle during his collegiate career. He has outstanding size for the position. In the passing game, he has average quickness out of his stance but uses his length to keep his chest clean and anchor vs. bull rushers. He does get too narrow at times, which causes him to struggle vs. both speed and counter rushers. I think he'll benefit from a move back to the right side. In the run game, he does a good job of getting underneath opponents and generating movement at the point of attack. He's very aware vs. twists and stunts. McGlinchey had some games where he struggled (see: Miami), but he has all of the desired traits to emerge as a quality starting right tackle at the next level."
The Endzone: In his latest mock draft dated Jan. 29, CBSSportsline's Chris Trapasso believes the Chargers make a surprise pick by selecting Kolton Miller, OT, UCLA. "Miller is flying under the radar now, and that's fine. His athleticism will be on full display at the combine, and his film is rife with textbook pass-blocking sets. Miller's what the Chargers need." Ourlads' NFL Scouting Services ranks Miller No. 9 out the top 10 offensive tackles available in the draft.
Comments
comments