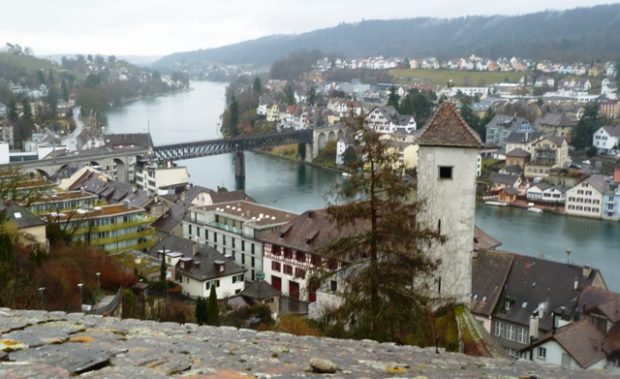 Preparing for two and a half weeks in Switzerland took time and careful coordination. Here's the blueprint of my Swiss adventure and, hopefully, useful for any journey.
Getting there — Always look for the quickest route with the fewest stops. The good news for San Diego residents (like me): Edelweiss Airlines has seasonal nonstop flights to Zurich, beginning in May and ending in November. What could be easier? For their complete schedule and cities served, logon to www.FlyEdelweiss.com.
The big picture — Next, decide which areas to cover and how to get around. The Grand Train Tour of Switzerland stretches over eight different routes, including the four distinct regions of Switzerland (Swiss, German, French and Italian). Swiss trains are world famous for being on time as they glide through (and up) some of the most spectacular scenery in the world.
The Swiss Travel Pass is a must. It's available to purchase in 3-, 4-, 8- or 15-day increments. This all-in-one ticket allows travel by rail, bus and boat throughout the whole country, free entry to more than 500 museums and 50 percent discounts to many mountain excursions. More can be found at www.sbb.ch/en or www.MySwitzerland.com.
Where to go — After carefully studying the map of Switzerland, an itinerary evolved. Remember, it's a small country — only 1.5 times larger than the Dallas/Fort Worth area — so everything is within reach in a few hours.
After landing in Zurich, the plan was to head directly to Schaffhausen (site of the largest waterfall in Europe) and spend the night. From that point, each stop was usually for two nights, three days. St. Gallen was the next city to visit, followed by Lucerne, Interlaken, Geneva, Lausanne, Montreux, Lugano, Pontresina, and winding up back in Zurich. The best place for travel information is www.MySwitzerland.com.
Micro-planning — It's no surprise the Swiss have first-rate travel websites. Each Canton (region/state) has one, as do many cities and towns. All provide suggestions for sightseeing, historical facts and contacts. Where to stay? Depending on your budget, there are options for all lodging types from hostels to 5-star resorts and historic hotels. Once again, search www.MySwitzerland.com.
What to pack — My motto is "Go light and smart" by using only a backpack and a small carry-on. Clothing should be quick dry. Bring layers for weather and altitude variations. Here are a few of my favorite travel products.
Eagle Creek: The Lumbar and Neck Pillows keep me comfortable on the plane and trains. They offer everything related to luggage and packing accessories. www.EagleCreek.com
Brooks Running Shoes: Although better known for running, Levitate is my choice from many models for walking and/or light hiking. www.BrooksRunning.com
Craghoppers: The Vertex windbreaker and Kiwi Ranger hat will keep me warm, dry and provide sun protection. www.Craghoppers.com
Kleen Kanteen: Since hiking is on the agenda, proper hydration is essential. This is my go-to company for high quality, insulated and durable water bottles, cups, tumblers and food canisters. www.KleenKanteen.com
Chico Bag: Their Travel Pack is my lightweight daypack. Unused, it folds up into its built-in small pouch. This trip, VITA is traveling with me. It's a full-size, shoulder-length shopping bag that fits in my pocket. www.ChicoBag.com
myCharge: The HubPlus portable charger is a necessity. Smaller than a deck of cards, it provides a quick charge for up to three devices at one time: tablets, smartphones, MP3, eReaders, etc. www.myCharge.com
Here are a few miscellaneous items to bring: notebook, super glue and a strip of duct tape for repairs, bungee cord, carabiner, seam ripper, small scissors, antibiotic ointment, clothespin to keep drapes shut and spare copies of passports, credit cards and drivers licenses.
Hope this helps for your next trip…
Comments
comments