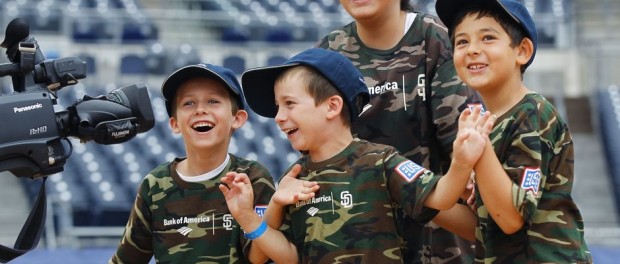 Children of active-duty military personnel have a chance to be a Padre for a day through a USO San Diego essay contest.
The USO will pick 40 winning entries, giving the young writers free entry to the San Diego Padres Youth Camp on June 19, hosted by Bank of America and USO San Diego.
The contest, open to children age 7–12 years old, asks, "What makes you the No. 1 San Diego Padres fan?"
Entries will be accepted via e-mail between May 22 and 5 p.m. May 28. The winners will be notified by 5 p.m. June 2.
The 40 selected participants will visit Petco Park for a behind the scenes look at what it takes to be part of a Major League Baseball team. The event will include on-field activities, a stadium tour and a lunch reception. Each participating youth may bring up to two adult spectators — though adults will not be allowed on field. Parking is free, and each youth must bring their own baseball glove.
Entries must be written by the youth. Essays can be typed by the youth or an adult can type it. You can also submit a handwritten essay by the youth to the Downtown Center or scan and attach it to an e-mail.
To enter, answer the question, "What makes you the No. 1 San Diego Padres fan?" and submit the entry to programs@usosandiego.org with the subject line "Padres Youth Camp."
Entries must include the following information to qualify:
Youth's Full Name
Age of Youth
Youth's Shirt Size (Youth Small – Adult Large)
Spectator #1's Full Name
Spectator #2's Full Name (if applicable)
E-mail Address
Contact Phone Number
Before submitting your entry, please ensure that the youth and adult spectators are flexible for an orientation (date and times to be announced) to receive your camp registration folder. At this orientation, the active-duty dependent Identification Card will have to be presented. Also, please ensure that the youth and spectators are flexible regarding times for the camp on Friday, June 19.
Click here to enter, or for more details, to go http://usosandiego.org/become-a-san-diego-padre-for-a-day/.
Comments
comments