Well, we made it! The last day! Parking is much easier on Sunday as everyone begins to go home. Cars are pulling up to hotels, lots busy with box loading, acquaintances say goodbye and friends say "till next year."
It is clear that it's Sunday, Family Day at San Diego Comic-Con 2015, and it's visible everywhere. Parents toting in their children for a day of fun and the chance to see their own icons in such characters as a Ninja Turtle or Elsa and Anna from "Frozen," Superman, My Little Pony and Bumblebee just for starters. It is fantastic to see their eyes light up and heartwarming, especially when I see a little boy run up and hug Batman. I mean, how epic is that when you're 6?
That's what San Diego Comic-Con is about really — feeling like a little kid and this year was no exception.
So let's get to it!
"The Vampire Diaries" took to the stage to discuss its seventh season with Ian Somerhalder and Paul Wesley. The panel began discussing the departure of Elena with creator Julie Plect saying, "Of course it's bittersweet."
Fans can also expect to see Elena's death affecting Damon (Somerhalder). He says of this, "It's the old Damon, the Damon that we really fell in love with. That's the goal, let's bring that back, that energy and that sexy, volatile, fun, scary, dangerous – that made you guys fall in love with him to begin with. I'm bringing it back!" Somerhalder also announced he will be directing an episode.
Caroline and Stefan may be causing a stir! Accola says, "I love a good slow-burn relationship in a television series that you get to watch build." That doesn't mean it's all roses and darkness as bringing a villain into the next season. Fans are promised new characters that are nasty — take that as you will.
With no end of the series in sight, much to the delight of every single fan in Hall H, "The Vampire Diaries" will be returning to The CW Oct. 8!
Every year I know that the next panel is going to be fun, funny and very special. The show "Supernatural" is going into its 11th season — yes, I said 11th! The panel is moderated by Jeremy Carver as he introduces Jensen Ackles, Jared Padalecki, Mischa Collins and Mark Sheppard to a screaming level that gets louder and louder every year.
Only four days into shooting, "Supernatural" didn't bring any footage to share but the very famous 'blooper reel' more than makes up for it and the Christmas sweaters killed me!
It seems the new season will have an "epic feel," says Padalecki as Sam and Dean will be united. "We're back to normal, so to speak and we have a common target," says Jensen — and that target is Mark of Cain. Even Castiel says they will all come together. It seems there will be favorites making appearances in Season 11 as well. "Supernatural" returns to The CW on Oct. 7.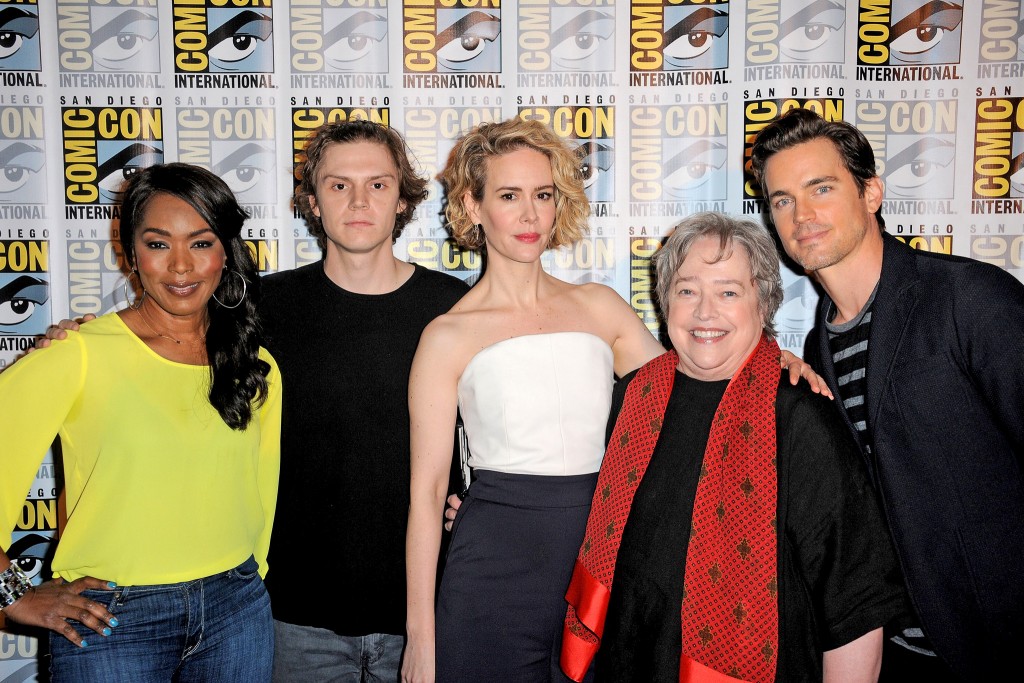 The FX hit series "American Horror Story" took the stage as the audience got a big surprise with Ryan Murphy walking on stage. Returning to the next season of what those in-the-know call AHS is Sarah Paulson, Kathy Bates, Evan Peters, Emma Roberts, Angela Bassett and new comer Matt Bomer.
It is clear that all the AHS seasons have commonalities and the new series Hotel will have past characters checking in. Murphy revealed the names of the guests with Bates playing Iris, Paulson as Hypodermic Sally, Peters as Mr. March and Bomer as Donovan.
Also, if you're looking for something to cheer about from the comfort of your own home, Murphy made a suggestion that although Jessica Lange has announced she won't be doing AHS again, the hint was she could return in a season or two which sent fans into a fever pitch of screams. Oh yes, we do love our Miss Jessica!
Murphy was also part of the panel for the new show "Scream Queens" along with Brad Falchuck and Ian Brennan. The cast including Jamie Lee Curtis, Emma Roberts, Lea Michele, Skyler Samuels and KeKe Palmer came to the stage.
Sharing his idea for the creation of "Scream Queens" he described it as "''Halloween' meets 'Heathers' and from that came 'Scream Queens.'" This was Curtis' first Comic-Con as she speaks about her character Kathy Much. "You think you know who Kathy is, but then more is revealed and the reason we are all here is the writing."
Roberts describes her character Chanel, "You're going to love her, hate her, love to hate her and all the above." Michele's character of Hester is a bit of a nerd. Palmer plays Zayday and describes her, "she's spunky and she's cool."
Murphy considers the story as a mystery with the killer in the premier episode but none of the actors knows who the killer is. Personally, I'm going to enjoy that aspect of the series.
Starting its 7th season, the hit series "Childrens Hospital" (Adult Swim) brought cast members Rob Corddry, Erinn Hayes and Rob Heubel out to talk to fans. The audience was treated to a trailer from the next season and cameos of recurring characters and new faces. Per usual, the laughter was definitely easy as Corddry calls out the "Vampire Diaries" saying "you're on notice!"
NBC is all over SDCC and previewed many of its upcoming shows but what brought fans to screams is the "Heroes Reborn" panel. With a fan base that is already in super hero mode, this series trailer was exciting to see. Creator Tim Kring knows that with the passing of time (a decade if your curious and see grey hairs) he needs to bring his game and bring it good.
Kring says, "We've had a long rest, a good sleep, and we're ready to save the world again" and the crowd loved to hear it. Moderated by Greg Grunberg, yes hero Matt Parker the cast also included introductions for Jack Coleman, Zachary Levi, Robbie Kay, Kiki Sukezane, Ryan Guzman, Gatlin Green, Henry Zebrowski, Judieth Shekoni, Danika Yarosh and Rya Kihlstedt.
Coleman returns as Noah Bennett, the guy with the glasses I always called him and he says, "The first time I wore the glasses was for that Super Bowl spot." It was when he got his gun that Noah returned in full. Jimmy Jean-Louis surprised the audience and with cheers a plenty and excitement Masi Oka as Hiro ran onto the stage!
When asked about the characters Sylar and Claire played by Zachary Quinto and Hayden Panettiere, Krig said, "By the time that thirteenth episode airs, you will have a big chunk of that answered for you." Set your calendar as "Heroes Reborn" hits NBC Sept. 24.
The FX show "Sex&Drugs&Rock&Roll" stars Denis Leary as Johnny Rock and this is his return to FX since the show "Rescue Me." Leary plays a man who wanted to be in a rock band in his earlier years but his ego got in the way. Bitter, he is trying to 'get the band back together'. Life had other plans for him when an unknown daughter Gigi played by Elizabeth Gillies shows up!
Also in the cast are Elaine Hendrix as Eva, Robert Kelly as Bam Bam, John Ales as Rehab and Josh Pais as Ira Feinbaum, finally, John Corbit as Flash plays a lead singer of the band. Leary describes the series as dark yet hilarious but anyone who has followed Leary's career wouldn't expect anything less. "Sex&Drugs&Rock&Roll" airs July 16 on FX!
Also on the FX Comic-Con train is one of my favorite shows, "The Strain." Created and produced by one of my personal favorite people (probably more so 'person' than director) is Guillermo del Toro. "The Strain" is a seriously crazy tale of vampires but with so many twists and turns it keeps me watching.
Along with del Torro, the stage was graced with Chuck Hogan, Carlton Cuse, Corey Stoll, David Bradley, Mia Maestro, the dead Sean Astin, the every sexy rat guy Kevin Durand, Jonathan Hyde, Richard Sammel, Natalie Brown, Miguel Gomez, Ben Hyland and Jack Kesy.
The series is taken from a book by del Toro and Hogan and with the showing of the episode "Gone Smooth" it is clear nothing is sacred. Also, del Toro spoke about how much he liked vampires and his collaboration with Hogan. Cuse said, "There is more freedom in television" knowing "The Strain" wouldn't work as a movie. Also, the audience learned that there will only be five seasons of the series with an ending that is already known to them.
The panel also talked about casting Stoll and Bradley and thought it would be "funny to have a sidekick of all time be the betrayer" which would be actor Sean Astin. There was discussion about the sets, about the story line and the infamous worms!
What I thought was cool was the wave of love the panel had for FX. Nothing wrong with giving a great shout out to a network that has brought television some of its most amazing shows and I, for one, send my own shout out! Well done FX, "The Strain" keeps us creeped out and tuned in for Season Two! "The Strain" airs on Sundays on FX — the network that thinks seriously outside the box.
Look, I love Katey Sagal, truly I do so I hope she forgives me when I say I absolutely adore her husband. Kurt Sutter brought me the greatest gift with "Sons of Anarchy" and with its ending last season I have been in mourning. Trust me when I tell you that with the announcement of his new series "Bastard Executioner," I knew FX wasn't going to let this beautiful and brilliant mind get away from them.
Debuting the trailer for "Basterd Executioner" for Hall H fans, the series stars uber wonderfully talented Mrs. Sutter aka Katey Sagal, Lee Jones, Stephen Moyer of "True Blood" fame, Flora Spencer-Longhurst, Danny Sapani, Sarah White, Sarah Sweeney, Sam Spruell, Darren Evans, Elen Rhys, Ethan Griffiths, Matthew Rhys and my favorite Irishman Timothy V. Murphy.
The series is set in the time of King Edward I as a knight walks away from war and vows no more. That doesn't last as he is forced to pick up the bloodiest sword of all.
Well, this year's Comic-Con has flown by (no cape puns intended but it happens) with a look favorite shows, super heroes taking on the world and in some cases each other, scary films just around the corner, the return of the Force! So much to do outside the Convention Center as well with the chance for people to meet and greet with activities.
I look forward to 2016 not only for what SDCC presents but the people who are responsible for keep Comic-Con the wonderful event that it is. So, I thank each and every one of you that has made this journey so remarkable. Both myself and Jenise (aka Film Brat) had a stellar experience this year and it means so much to us that you follow our work, especially our Military men and women who can't be with us at SDCC right now.
Until next year — have a safe trip home if you happen to be travelling and most of all, be good to one another!
Comments
comments