Only a small slice of the American population has connections to those actually serving, which can cause a disconnect between the civilian and military populations. Not so in Major League Baseball, especially with the San Diego Padres — a team who has a long history of supporting and honoring the military.
Retired Admiral J. J. Quinn, a 1974 graduate of the U.S. Naval Academy, who served for 30 years, is now the Padres Military Affairs Advisor. He told how the Padres had the first and now have the largest military outreach program in baseball.
"We were the first team to wear camouflage uniforms, and over time, transitioned to the Marine desert brown digital pattern. Then two years ago we started to wear the Navy blue digital version," he said.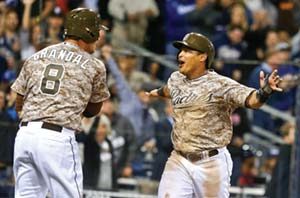 "Every Sunday the team wears one or the other depending on the theme. On any particular Sunday, the Marine recruits due to graduate are honored in the fourth inning. It is their first opportunity to wear their Marine uniform and sing their hymn.
"This year we also had a Padres Alumni Group play a softball game against an active duty Navy team, and on Sept. 21 they will play the Marines on family day at the Marine Corps Recruit Depot, the day before recruit graduation. In addition to honoring and thanking those that make up the military community in San Diego, any active duty, dependent, retired, veteran and civil servant gets a 50 percent discount for any available ticket on Sundays, and a 25 percent discount for any other home game."
It is not just the organization who feels this bond, but also the players who also are actively involved with those serving. Many were willing to speak about their connections.
Tony Gwynn Jr., a retired Padre outfielder and current broadcaster, saw "from an early age the love and respect my dad, (Hall of Famer Tony Gwynn) had for those serving. When I played here, I was super excited to wear the military uniform. I think it was a way for me to show my gratitude.
"My dad always instilled in me that there is a big difference between a hero on the baseball field and one on the battlefield. After the Alumni Softball game, where they whipped our butts, I spoke to many and realized they are just like us with the same joys, dislikes and family concerns. We need to put a face on the individual serving."
Glenn Hoffman, the Padre third base coach, said he feels "very proud when I put on the camouflage military uniform. I think we are saluting them with that gesture, and hope they understand we think they are pretty awesome.
"My dad was a Marine back in the Korean War, and we realized how proud he was to serve. I remember as a young boy how he taught us the correct way to fold the flag and never let it touch the ground. My brother Trevor (the Hall of Fame relief pitcher) flies the Marine flag in front of his house. When it gets frayed my mom gets him a new one. While playing here he would feed the Marines, and on Christmas we hand out gifts at Camp Pendleton. I know I can relate to them on a small scale because they are part of a team as we are, making sure we have each other's backs, while encouraging and pushing each other."
Will Myers, the Padre first baseman and former All Star, thinks, "It is great for our baseball community to give something back to the military. I enjoy meeting and interacting with those in the military when they come out to the game. My dad was a Marine so I feel a huge honor when we put on the Sunday military uniform, a symbolism for showing our support." Recently he visited the Marine Corps Air Station where he flew an F-18 simulator and felt that was pretty cool.
Craig Stammen, Padre relief pitcher, is privileged to have "played for two military towns, San Diego and Washington, D.C. I am lucky to be around so many people who are serving.
"I hope we, as Americans, never forget that they put their nation first. When I wear the Sunday uniform I think about my childhood days and how we all wanted to be in the military. Now I think about my two college roommates at the University of Dayton, one went into the Army and the other into the Marines. They played baseball with me all through college and then enlisted. I think how my best friends made these sacrifices to help keep us safe."
Matt Szczur, Padre outfielder, remarked that his "favorite time of the game is in the bottom of the second inning when we honor those who have served and are serving. It is great to see the fans, my teammates, and the Padre organization, single them out. I am excited to see them come to a game and cheer us on. By wearing the Sunday uniform it is my way to cheer them on."
The day the interview took place the Padres were playing the San Francisco Giants. Many of the visiting players were very willing to speak about their connections to the military.
Bruce Bochy, Giants manager, played, coached, and managed the Padres before moving to San Franciso. He could be considered a military brat since he grew up on many bases.
"At the age of 7, I started playing Little League baseball and we traveled to different bases to play other teams. I think we must have traveled to about 10 bases. The skills I took away from my dad who served in the Army was being disciplined, organized, and prepared, which serve me now as a manager. I really believe if he were not serving in the military he would have managed a baseball team. When we honor those in the military I think about my father. It means a lot to me that many of the players show their appreciation. I think it is important to thank those serving and show our gratefulness for all they have done for this country and the sacrifices they have made. Lets not forget the families, because I know from experience that it was my mom who did the heavy lifting, because my dad was gone a lot. I want to thank them each and every day for all they have done."
Matt Cain, Giants pitcher, wants to "thank those serving. I cannot imagine what it would be like without those soldiers who lay their life on the line for all of us. I am glad teams honor them, because without them we would not be doing what we are doing for a living. They are protecting us so we can play baseball. To wear the baseball military uniform is humbling."
Matt Moore, Giants pitcher, understands, "we are playing a kids game, but the reality hits home every time we as a team honor those serving. At those times I think about my mom and dad who served. My dad was Air Force and my mom in the National Guard. They taught me to be thankful and grateful for living in the freest land in the world. We should realize they make a special sacrifice and that includes being stationed in different places throughout their career. This is out of their control but they do it for the greater cause."
Hunter Pence, Giants outfielder, feels "honor and lucky to be part of this great country. My cousin served in the Navy and my dad in the Air Force. I enjoy shaking hands and saying thank you and I hope wearing the military baseball uniform will bring awareness to those serving. When we do that I consider it a special day."
Everyone interviewed expressed the same sentiment of wanting to tip their baseball cap to those serving, past and present, for the many sacrifices they made. They understand they would not be able to play this game and enjoy their time in the Major Leagues without those out there protecting everyone's freedom each and every day.
Comments
comments