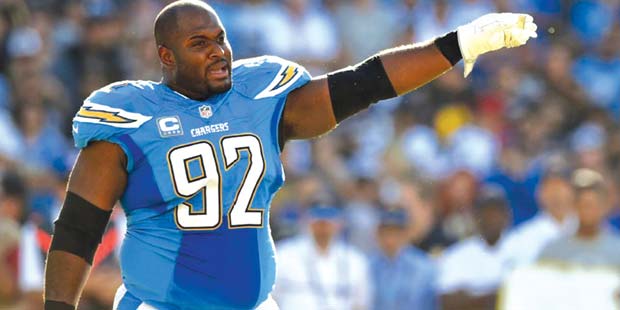 Entering a bye week with a record of 3-5, the Los Angeles Chargers have a number of voids to fill if they have any hope of getting into the post season. One area in particular is their run defense, which ranks 31st at the midpoint of the season. As the team prepared to face the Jaguars, MP reporter Art Garcia Jr. caught up with nose tackle Brandon Mebane to ask him a few questions.
Art Garcia Jr.: This is your 11th year in the NFL — can you believe you've been in the league this long?
Brandon Mebane: Yes. I've always set high goals for myself as far as playing this game, and I'm thankful for the man upstairs — I thank God for letting me play this long.
AG: You guys were on a three-game win streak before losing to the Patriots last week, how is the team doing right now?
BM: We're doing pretty good right now. We're just preparing for the Jacksonville Jaguars. They have a pretty good team, and they do some things pretty well that we have to try and stop.
AG: It looks like you'll be facing a tough one this week in rookie running back Leonard Fournette — he looks like the real deal?
BM: Yeah he's a pretty good running back. So the thing is, is you can't let him get going because he's the real thing.
AG: The defense has struggled against the run and has been ranked near the bottom of the league all year. What is the key to improving your run defense?
BM: I think the main thing is to get things locked down and to go out and make tackles — just make tackles, have everybody play their gaps and do their job, get off blacks and pursue the ball carrier.
AG: Do you think that could be one of the problems — guys not disciplined in playing their gaps and maybe over compensating for someone else?
BM: No, I don't agree with that. I think we all collectively just have to tackle.
AG: How happy are you to be playing under Gus Bradley again?
BM: I love playing under Gus Bradley because it's the same system I've pretty much played in my entire career — so I love playing in this system.
AG: In addition to getting some rest over the bye week, the defense gets Denzel Perryman back on the field for the first time this season. How great is that?
BM: Yeah, Denzel is a great football player, a great person and we're happy to have him back. So he's going to go in there and we can't wait to see him make some plays.
Perryman's return
The bye week couldn't have come at a better time for the Chargers. First, it gives the team some time to regroup, study both the successes and the mistakes they made over the first half of the season and develop a successful game plan where they capitalize on the positive aspects they displayed during their three-game win streak.
Secondly, it gives the players time to rest up and heal before retaking the field for the final eight games of the regular season. And third, as mentioned previously, middle linebacker Denzel Perryman was activated from the Reserve/Injured-Designated to Return list and will see his first action of the season against the Jaguars.
A second-round pick out of the University of Miami in 2015, Perryman missed the first half of this season due to an ankle injury he suffered in the first preseason game this year. Perryman's return should give the defense an immediate boost both mentally and physically.
Since becoming a starter halfway through his rookie year, Perryman quickly earned the respect of his teammates through both his leadership and the tough, physical play he displayed on the field. Per Zach Aulakh (Pro Football Focus), Perryman finished his rookie year with high marks — his overall grade of 82.4 ranked 15th at his position and his 18.3 run-stop percentage was top-rated amongst all linebackers. Although his production slipped slightly his second season, his run-stop percentage of 9.4 percent did remain among the top 20 inside linebackers in 2016. He also made an improvement defending the pass, going from 1.13 yards per coverage snap allowed as a rookie, to 0.96 in his second year.
Prior to the Jaguar game, the Chargers rush defense was second-worst in the NFL, ranked No. 31, allowing a whopping 135.1 yards per game. Although the defense is ranked No. 8 in both passing (201.9 yds. per gm) and points (19.0 pts. per gm), respectfully, they sit in the middle of the pack for total defense with a No. 19 ranking (337.0 yds. per gm).
Despite their 20-17 overtime loss to the Jaguars, Perryman made an impact on the run defense by leading the team with eight total tackles and one assist. The defense held Fournette to just 33 rushing yards and a 1.9 yard average — both season lows for the rookie. Returning to the starting middle linebacker position, Perryman replaced Hayes Pullard, who earned a grade of just 31.4 so far this season — which ranked last among linebackers (Z. Aulakh PFF).
The Endzone: Last week Pro Football Focus' Nathan Jahnke listed two Chargers on his 2017 PFF Mid-Season All-Rookie Team — LG Dan Feeney and CB Desmond King (listed as a Flex D — Slot CB). Here is how he ranked both players:
LG: Dan Feeney — PFF Grade: 79.5
Elite Stat: Feeney allowed no pressures across 30 pass-blocking attempts in his first start in Week 8 (vs the Patriots). Said Jahnke, "Feeney has spent most of the season coming in sparingly before finally receiving his first start in Week 8. He has yet to allow a sack this season and has been equally good in run blocking as he has been in pass protection. No rookie guard has started more than three games this season, which is why Feeney can make the team with one start."
Flex D – Slot CB: Desmond King — PFF Grade: 84.0
Elite Stat: King is 1-of-6 cornerbacks with 170 or more coverage snaps in the slot, and no touchdowns allowed from the slot. Said Jahnke, "King has emerged as the Chargers slot cornerback in their nickel defense, and has played well especially over the last month of the season. Since Week 5, he's allowed 6.8 yards per catch, which is the lowest for cornerbacks who have allowed 10 or more catches."
Comments
comments