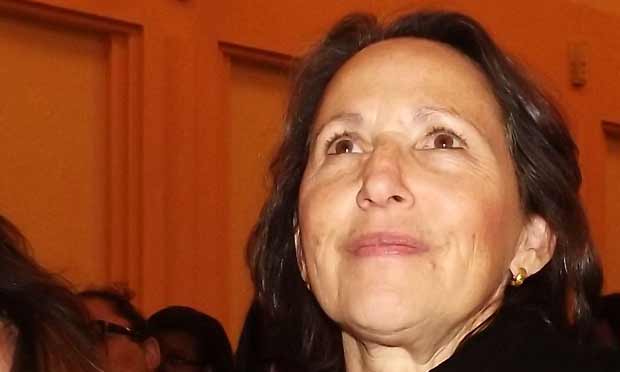 Many people might not have heard of Sally Oren, but she is a very special person who has led a very unique life.
A native of San Francisco, she graduated from U.C. Berkeley with a degree in Hebrew/Arabic Literature and modern dance. She moved to Israel in 1981, where she taught dance and met her future husband, Michael Oren. After giving birth to three children, she became a working mother.
In 2009 she and her husband moved to Washington, D.C., after he was appointed the Israeli Ambassador to the United States.
Sally talks about her experiences and how she blended American and Israeli culture.
The Grateful Dead, Jefferson Airplane, Jim Morrison and Janis Joplin are musicians Sally came into contact with during her teenage years. In the mid-1960s, she attended, with her sisters, concerts at the famous Fillmore Auditorium.
"It was designed as a dance hall with a very intimate setting," she said. "A lot of the musicians were very sweet to me. I would often sit on stage and between sets we would have coffee at the upstairs snack bar. The founder of the Fillmore, promoter Bill Graham, a Holocaust survivor, became a close family friend. It was a magical time. I got a thrill when the lead singer for Jefferson Airplane, whom I had a crush on, wrote two songs about me, one that was recorded. I became friendly with all the band members. While in Washington as the ambassador's wife I took my kids to a Jefferson Starship concert. Afterwards we went backstage and schmoozed. I think my children and their friends always got a kick out of hearing about my sixties experiences." (For more details on this part of her life read this article in The Atlantic.)
Currently, she says she is disheartened and hurt by musicians that refuse to perform in Israel because of a boycott.
"It comes out of not understanding the real Israel, its history and what it is actually like here," she said. "I was thrilled that the Rolling Stones came and played here last year. You could tell that they really connected with the audience. I think they were genuinely moved by this country and realized you see a totally different country than what is inaccurately and incompletely portrayed in the media."
She also feels that the personal trauma of Israelis is downplayed in the press.
"My children lived through a lot of anxiety," she said. "During the second Intifada in the early 2000s there was often the background noise of missiles and bombings in public places. I would give anything that my children did not have to experience such real life trauma.
"Yet, in August 1995, we experienced terrorism first hand, when a Hamas suicide bomber killed my older sister Joanie. It is hard to explain what it is like to have someone taken from you instantaneously in such a violent way. After Joanie's death and the deaths of two classmates, my son commented shortly before his Bar Mitzvah, 'I have been to more funerals than Bar Mitzvahs.'"
She also commented, "In 2011 there was an Iranian plot where they threatened to bomb our embassy in the U.S. It was a pretty terrifying time. I was very concerned, especially for Michael. Today we are threatened again with the Iranian Nuclear Deal. It is difficult for me to comprehend how Americans are willing to trust the Iranians, the largest state sponsor of terrorism in the world."
Even though her children wondered if Americans understood what Israelis must endure each and every day, they still thought of themselves as part Israeli/part American, that is, until they actually spent time in America and realized just how different they were. Yet, she and Michael were determined to fuse both cultures.
"The children are fluent English speakers and are bi-lingual," Sally said. "We still have a lot of family in America: Michael's parents, my sister, and cousins. The only American holiday we celebrated over the years was Thanksgiving, when we would get together with other Americans who made Aliya, immigrating to Israel."
As the ambassador's wife she had to juggle her children and her duties. As with many mothers who had to relocate because of a job, she had mixed feelings. She and Michael consulted with their adult children and made it a joint family decision.
It was particularly difficult to leave her youngest son who was just going into the army. She was saddened that there were times when she was not able to participate in all of her children's achievements, and equally saddened that they were unable to participate in the many outreach programs held at the Israeli Embassy.
She also participated in an "Ambassador's Wife Club," where spouses of diplomats, U.S. Congressmen, Senators, Supreme Court Justices, Obama Administrative officials and prominent journalists met monthly. Her last year in the U.S. she was voted the group's president.
Currently she is back in Israel and is involved in IsraAID, a humanitarian organization supporting victims of natural disasters. She is also on an advisory board at Hadassah Hospital, which educates women about heart disease. She is the president of Hadassah International Board of Trustees, Israel, and also sits on the board of the Batsheva Dance Company.
This is besides being a grandmother of two, a mother of three, and the wife of a Knesset member. She ended the conversation by hoping people will come experience Israel for themselves.
Comments
comments