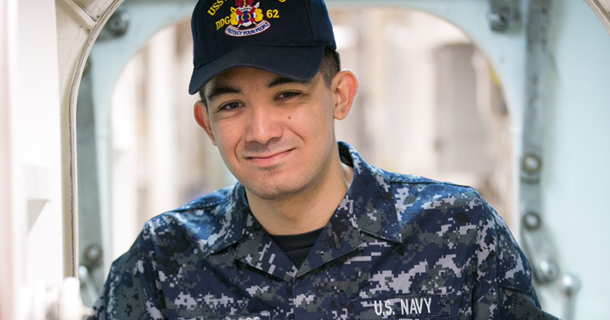 Seaman Apprentice Shingo Douglass is in an undesignated position aboard the destroyer operating out of Yokosuka.
---
A 2010 Fallbrook High School graduate and Oceanside, Calif. native is serving aboard the U.S. Navy destroyer USS Fitzgerald (DDG 62), living and working at the Navy's forward-deployed base south of Tokyo.
Seaman Apprentice Shingo Douglass is in an undesignated position aboard the destroyer operating out of Yokosuka, which is located approximately 35 miles south of Tokyo and accommodates the United States' furthest forward-deployed naval forces.
An Arleigh Burke-class guided-missile destroyer, Fitzgerald is 505 feet long or more than 1 1/2 football fields. The ship is 66 feet wide, weighs more than 9,200 tons, and its four gas turbine engines can push the ship through the ocean at nearly 35 miles per hour. The ship is named in honor of Lt. William Charles Fitzgerald, who was posthumously awarded the Navy Cross for extraordinary heroism on August 7, 1967 in Vietnam.
As a Sailor with numerous responsibilities, Douglass said he is proud to serve his country aboard a destroyer in Japan. He added that it is an exciting time to be in the military, and serving in the world's greatest.
"I maintain the outside of the ship by sanding and painting, line handling and raising and lowering the rafts," said Douglass.
Douglass also said he is proud of the work he is doing as part of the Fitzgerald's 300-member crew, living thousands of miles from home, and protecting America on the world's oceans.
"I enjoy being in Japan, working with the Japanese Navy and getting underway frequently," said Douglass.
"Fitzgerald sailors represent every state in the union as well as a diversity of ethnicities. It is an honor to lead and serve with the finest sailors the nation has to offer," said Cmdr. Chris England, the ship's Commanding Officer. "These sailors should be justifiably proud of their accomplishments – a direct reflection of their dedication to mission accomplishment, motivation, and commitment to the Navy."
Approximately 40 officers and 260 enlisted men make up the ship's company. Their jobs are highly specialized and keep each part of the 2 billion dollar destroyer running smoothly — this includes everything from washing dishes and preparing meals to maintaining engines and handling weaponry.
Fast, maneuverable, and technically advanced, destroyers provide the required warfighting expertise and operational flexibility to execute any tasking overseas. With multi-mission capabilities in surface warfare, anti-submarine warfare, anti-air warfare, ballistic missile defense, and humanitarian assistance, Arleigh Burke destroyers excel as the Navy's premier fighting warship.
Assigned to U.S. Seventh Fleet, Fitzgerald sailors are continuously on watch throughout the Indo-Asia-Pacific region, acting as America's first responders in that part of the world.
As a member of one of the U.S. Navy's most versatile combat ships, Douglass and other Fitzgerald sailors understand they are part of a forward-deployed team that is heavily relied upon to help protect and defend America across the world's oceans.
"The Navy is allowing me to travel, get a better understanding of how they operate while out at sea," said Douglass.
"Why Being There Matters"
On our planet, more than 70 percent of which is covered by water, being there means having the ability to act from the sea. The Navy is uniquely positioned to be there; the world's oceans give the Navy the power to protect America's interests anywhere, and at any time. Your Navy protects and defends America on the world's oceans. Navy ships, submarines, aircraft and, most importantly, tens of thousands of America's finest young men and women are deployed around the world doing just that. They are there now. They will be there when we are sleeping tonight. They will be there every Saturday, Sunday and holiday this year. They are there around the clock, far from our shores, defending America at all times.
Thank you very much for your support of the men and women in U.S. Navy, deployed around the clock and ready to protect and defend America on the world's oceans.
By Navy Office of Community Outreach Public Affairs
Comments
comments