Will new picks deliver? Can veterans shake old injuries?
With the Chargers opening training camp, there are many questions surrounding this franchise — aside from a potential move to Los Angeles.
Can General Manager Tom Telesco convince Philip Rivers to sign a contract extension that will keep the 33-year-old quarterback in a Chargers uniform his entire career?
Will rookie running back Melvin Gordon be the impact runner the Chargers hoped for, having moved up two spots to secure him with the 15th overall draft pick?
How quick can the offensive line gel together as a cohesive unit to establish a dominant running game and keep Rivers upright throughout the season?
Is this the year some high-round picks from recent drafts stay healthy enough to finally produce more turnovers and establish this unit as a dominate defense?
Can the Chargers finally find a defensive tackle capable of stuffing the gaps and freeing up the linebackers so they can successfully perform their tasks in a 3-4 scheme?
And what kind of effect, if any, will the Eric Weddle and stadium issues have in the locker room?
As the Chargers enter their third training camp under the leadership of Telesco and Head Coach Mike McCoy, here are a few players to keep an eye on as the team prepares for its home opener versus the Detroit Lions on Sept. 13.
Melvin Gordon (RB) — Although expectations are high for the 2014 Doak Walker Award recipient (college football's best running back), the pressure replacing former first-round pick Ryan Mathews doesn't come close to the scrutiny Mathews faced while trying to replace future Hall of Famer LaDanian Tomlinson. One of the favorites among football pundits to win Rookie of the Year, Gordon rushed for 2,587 yards and 32 touchdowns last year at Wisconsin.
Chris Watt (C) and Orlando Franklin (LG) — As a rookie last season, Watt started five games at center and the team was 3-2 over that span. Having never played center at Notre Dame, the 6-foot-3-inch, 310-pound Watt replaces 11-year veteran Nick Hardwick.
Franklin was the big free agent signing for Telesco during the offseason. In addition to getting him away from a division rival (the Broncos), Franklin's experience, versatility and nastiness both in the locker room and on the field should pay dividends in Watt's development.
Stevie Johnson (WR) and Jacoby Jones (WR/KR-PR) — Having lost slot receiver/returner Eddie Royal to the Bears, Telesco signed Johnson to a three-year deal. Following a forgettable one-year stint with the 49ers last season, the 6-foot-3-inch, 207-pound Johnson could be the free agent signing of the year if he can duplicate his years in Buffalo, where he gave Jets cornerback Derrelle Revis headaches in man coverage situations.
Like Johnson, the signing of Jones gives the Chargers another weapon and one of the most dangerous returners in the NFL. During his nine-year career with the Texans and Ravens, the 6-foot-4-inch, 215-pound Jones has nine total returns for touchdowns (4 punt/5 kickoff).
Corey Liuget (DE) — Following a 2014 season where he posted 4.5 sacks, Liuget signed a five-year contract extension with more $30 million guaranteed. Although the amount of money surprised many (Pro Football Focus ranked him the 25th 3-4 defensive end in 2014), the Chargers believe the 25-year-old Liuget has tremendous upside and that he is a team-leader both on and off the field. Despite lacking the numbers of other top defensive ends in the league, Liuget's versatility allows him to move inside and be an effective tackle as well.
Donald Butler, Manti Te'o and Denzel Perryman (ILBs) — Looking to rebound following a disappointing 2014 season, Butler needs to return to his 2013 form where his play at the end of the year had a big impact during the team's run to the playoffs.
Thanks to two foot injuries during his first two years in the league, Te'o has yet to show the play-making ability that made him an All-American at Notre Dame. Despite being slowed by injuries, the team does like the direction he is heading, particularly in pass coverage.
The X-factor surrounding the inside 'backer position is Perryman, a second-round pick out of the University of Miami. The book on Perryman is that he is simply a hard-nosed, physical football player who has great range and lays the wood on opposing players. Expect him to push both Butler and Te'o for playing time and make an immediate impact on special teams.
Melvin Ingram and Jerry Attaochu (OLBs) — Finishing 29th in sacks (26) last season, the Chargers are looking for impact plays from both players this season. Despite showing flashes of talent that made him a first-round selection in 2012, Ingram has missed 19 games during his short three-year career. In an effort to help avoid more injuries, Ingram dropped 20 pounds during the offseason and hopes to be more explosive playing at 246 pounds.
As for Attaochu, after a dominating performance against the Cardinals in the season opener last season, nagging hamstring injuries threw a wrench into what appeared to be the start of a great rookie year. If this pair can stay healthy, the Chargers could become one of the dominant defenses in the league.
Jason Verrett (CB) — Although a torn labrum cut short his rookie year, Verrett has been the talk of the offseason for how good he performed throughout the OTAs (Organized Team Activities) and mini-camp. He's shown the instincts, footwork and speed which made him the Chargers' first-round pick last season. Blessed with the physical tools to compete at this level, the 5-foot-9-inch, 178-pound Verrett credits fellow cornerback Brandon Flowers and Weddle for his progress in the mental part of the game. Many believe that if he can stay healthy, Verrett will be mentioned as one of the bright young stars in the NFL.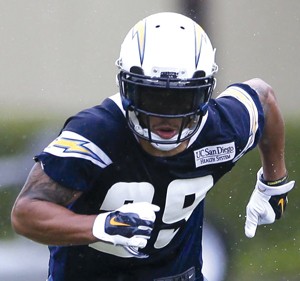 The Endzone: Two other intriguing players to keep an eye on are rookies Craig Mager and Kyle Emanuel. Mager, a physical cornerback out of Texas State, was one of those players who shot up the charts on draft day thanks to post-season workouts. Projected to be a fourth or fifth-round selection, Mager's play impressed Telesco so much that he chose him in the third round. At 5-feet-11-inches and 200-pounds, Mager has the versatility to play both cornerback and safety.
Emanuel, taken in the fifth-round out of North Dakota State, won the Buck Buchanon Award (FCS' top defensive player) after logging 19.5 sacks his senior year. He was also selected first-team FCS All-American, Missouri Valley Defensive Player of the Year and selected first-team All-Missouri Valley.
Despite garnering 41 career sacks as a 4-3 defensive end, scouts believe the 6-foot-3-inch, 250-pound Emmanuel projects better as an outside linebacker in the NFL.
Comments
comments