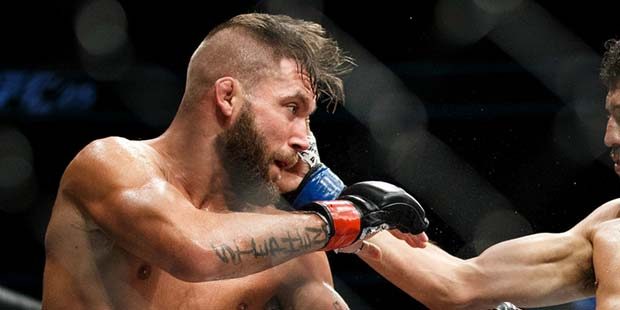 There will be plenty of explosive action on July 28 when former UFC Featherweight Champion Jose Aldo faces Jeremy Stephens in the co-main event of UFC on FOX 30.
Looking to rebound from the first losing streak of his 30-fight career, Aldo (26-4) is currently ranked No. 2 in the featherweight division despite losing three of his last four fights. In his prime, Aldo was widely regarded as the top pound-for-pound fighter in the world while riding an 18-fight winning streak when he reigned as the champion of the UFC and the World Extreme Cagefighting (WEC) promotions at 145 pounds.
Ranked No. 4 in the featherweight division, Stephens (28-14), is quickly climbing to the top of the division by gaining three straight wins over very respected opponents. Although his latest victories didn't really surprise anyone, the ferocity in which he finished those bouts has many believing a win over Aldo would justify a title shot sometime this fall.
Training under the direction of Eric Del Fierro at Alliance MMA in Chula Vista, Stephens has put up some impressive numbers in the UFC. Per Fighters Only, his 28 UFC fights are 2nd most in UFC history and just one shy of Michael Bisping's overall record. His 18 knockdowns are tied with the great Anderson Silva for the most in UFC history and his 5:46:04 Octagon fight time ranks the third highest all-time in the UFC.
As he prepares for his upcoming showdown with Aldo, Stephens sat down with MP reporter Art Garcia Jr. for a two-part interview. You can read part one at here.
In part two of his interview, Stephens, known as "Lil' Heathen," talks about his self-determination, being a role model and possible long-term plans he might like to pursue once his MMA career comes to an end.
Art Garcia Jr: You mentioned how opponents don't like to feel the power of your punches. Have you ever nailed someone with what you thought would be a knockout punch only to have him shake his head no?
Jeremy Stephens: Yes, Sam Stout when I fought him. Trust me I've loosened up a lot of chins too, and I've had people who have been able to take my shots, and that's O.K. because I'll keep dishing them out all night. It's a different fight when they fight me, people don't fight me the way they fight other people because they don't want to get hit by it (his power). Now I'm a lot more dialed in, in figuring the game out and it's just the experience I have in the bank and having confidence in that experience.
AG: I know you had a pretty rough childhood where you transferred to a number of different schools and actually lived out of the family car at one point, what kept you on the straight-and-narrow as opposed to getting into trouble?
JS: Just the fact that I learned what not to do. I realized that at very young age and, I made a choice that I didn't want to live like that. I didn't want to tolerate that type of life. So basically it was me not tolerating it and raising my standards that, "Hey, when I'm able to do something I'm gonna do something about it," and I was able do that at a young age. So, really it just clicked in my mind the fact that I wasn't going to tolerate trash for a living.
AG: Was there someone that influenced you like a coach, your mom, your dad or someone else?
JS: No, it was really just my relationship with God and staying committed to my dreams and being real with my heart. You know at times your mind can play tricks on you, but if you stay true to your heart, you pray, meditate or whatever it is you do, if you stay true to that and you're just not going to tolerate that type of living then you will make changes in order to live the life you want. It will happen because you won't settle for less — so that's the mindset that I have.
AG: That is a great story, especially for many kids out there that are growing up under similar circumstances. Has anyone told you that you're an inspiration and how do you feel about kids looking up to you?
JS: Yeah, of course. Some people do look up to me and there is always fans and young kids and that's cool as hell because growing up I used to watch The Ultimate Warrior and Hulk Hogan and I was kind of like, "Man, those guys would be great (to meet)," but you never really saw those guys on the outside signing autographs or at least I never did. So when you meet people like that and they tell you they want to be like you, that's awesome. There is a good quote that I heard by Michael Jordan that said, "Don't be like me, be better than me." There is always something you can learn and take from our generation and possibly improve on when it's your time.
AG: Speaking of being recognized, being a professional athlete do you find it hard to trust people on the outside of your inner circle?
JS: You know, I point them in the direction of Leah (public relations assistant) and my head coach — people who kind of run those things for me. I trust my family and the small circle that I have around and I point those who want to talk business to them. Other than that I try to focus on me and what I can do to become a better person, a better man and a better fighter.
AG: You mentioned your family, how did marriage and becoming a dad change you — if it did at all?
JS: That's kind of hard to explain, but it's something where when you become a father your life changes right away. You're not just providing for yourself you're providing food for them — especially living in today's society. Living out here in San Diego is not cheap, you have to bust your ass in order to provide and keep a roof over their head and keep them going. I'm trying to put my knowledge into them so by the time they're 15 they have a mindset of a 34-year-old like their dad and their mom.
Eventually, they are going to make their own choices and hopefully we can guide them to the right path and a better future.
AG: If you weren't a fighter what would you be?
JS: If I weren't a fighter, I don't know — maybe I'd become a firefighter or kick in the door for the DEA or something like that … maybe a drug smuggler (he says jokingly), I'm not sure. I'm a really good shot, too. I like to hunt when I go back to Iowa with my dad, my grandfather and all those guys as well. But I've always thought about being a firefighter or someone with the discipline to go in there and take bad people out.
Ringside: When featherweight champ Max Holloway abruptly canceled last weekend's title fight against Brian Ortega because of concussion-like symptoms, Stephens immediately offered to step in against Ortega at UFC 226. However, when UFC President Dana White proposed the idea to Ortega's camp, they declined the offer.
This has been a very tough year for Holloway. Currently ranked No. 3 as the best pound-for-pound fighter in the UFC, Holloway (19-3 MMA, 15-3 UFC), has had three fights scratched in the past five months.
Whether his health issues are a result of head trauma, frequently having to cut weight or other issues yet to be determined, it is clear Holloway will not be defending his title anytime soon. In this scenario, look for the UFC to book an interim title fight sometime this fall between the top-ranked Ortega and one of the top three fighters ranked below him — Frankie Edgar (No. 2), Aldo (No. 3) or Stephens (No. 4).
Comments
comments