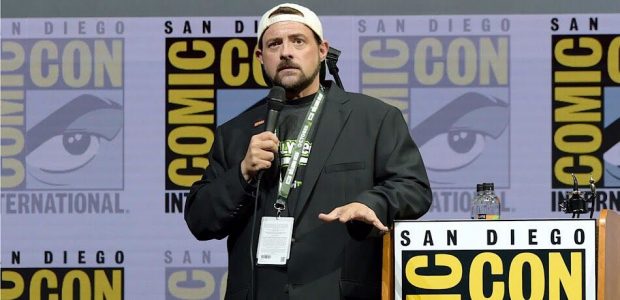 Saturday at San Diego Comic-Con 2018 is no different than any other Saturday at San Diego Comic-Con — meaning there is something for everyone badge or no badge! Saturday's bring a flood of people who just want to see and experience everything that is fun with weather that cooperated beautifully.
Outside at every turn there were things to see and so from AMC's "The Walking Dead" zombie sausage making, Southpark's gang with their own bit of fun, FX rumbled out their fantastic motorcycle for the new series "Mayans M.C." and the parking lot of Petco Park had a shark of a tale to share. That's just a minute portion of everything to be found.
Of course I am on the inside looking out for panels and people to find out what and who is visiting our city so lets get to it because it was a long day!
In Hall H the morning began with Warner Bros. and a lot of unexpected surprises for the fans who had been waiting all night. Aisha Tyler handled the job as mistress of panel with Eddie Redmayne and the cast of "Fantastic Beasts and Where to Find Them:: The Crimes of Grindelwald." What came next send Hall H into a wave of tizzy.
As Tyler utters the name Grindelwald the hall goes dark which gave us all the opportunity to view the bracelets given upon entry glowing. The next thing we all see is Grindelwald himself (aka Johnny Depp) who announces "My brothers, my sisters, my friends, the great gift of your applause is not for me but for yourselves. Therefore applaud yourselves. It has been said that I hate the non-magic — the Muggles — I do not hate them, I do not. I say the Muggles are not lesser, but other."
He continues slowly, "Not worthless but not of value, magic blooms only in rare souls. It is granted to those who live and what a world we would make. For all of humanity, all of humanity, we who live for freedom, for truth, the moment has come to rise up and take our rightful place in the world." The crowd took it in and ate it up.
Of course "Wonder Woman 1984" was given its moment in the hall but it was the cast of the upcoming "Aquaman" that sent another wave of fun through the crowd. The panel included writer/director James Wan, Amber Heard, Patrick Wilson, Nicole Kidman, Yahya Abdul-Mateen II and, of course, the very hard to miss Jason Momoa.
The trailer fans were shown is of Mera and Aquaman having a go at one another with Momoa telling the crowd that "Mera's a very strong, strong character" giving a thumbs up to Heard.
Following the long "Aquaman" panel which the crowd absolutely didn't mind one minute of, "The 19th Annual Animation Show of Shows" gave the crowd a few moments to sit back and recover.
RZA: Movies, Music & Martial Arts was the next panel to talk about his movie "Cut Throat City." Part of the Wu Tang Clan, RZA (or Robert Fitzgerald Diggs) makes a film about a robbery in New Orleans that stars Terrence Howard, Wesley Snipes, T.I. Harris, Eiza Gonzalez, Rob Morgan, Kat Graham, Demetrius Shipp Jr. and Denzel Whitaker.
EW: Women Who Kick Ass had a full panel this year with moderator Jessica Shaw speaking with "Doctor Who's" Jodie Whitaker, Regina King, Chloe Bennet, Camila Mendez and "The Darkest Mind's" Amandla Stenberg.
For those who haven't seen "Deadpool 2" (and if you haven't don't tell me or you have to be summarily erased from my Christmas card list!), Hall H was the chance to make that right in your life.
The day in the hall ended with "An Evening with Kevin Smith" who seemed to be working overtime. He could also be found at the IMDB boat interviewing celebs from the panels all over Comic-Con. Fans of Smith's were doing everything humanly possible to get a seat to see Smith.
Indigo at the Hilton Bayfront spent the day hosting to some of the most popular television shows. Beginning with Steven Universe, the morning continued with NBC's "The Good Place," "Kypton," "Manifest," "Legacies," "Cosmos: Possible Worlds" and "The Orville." TV Guide brought the "TV Guide Magazine's Fan Favorites" which is always fun.
The afternoon ended with "Deadly Class," "The Magicians" and a delight to my senses "Twin Peaks and the Revival of the Classic." Nothing made my year more than the successful return of Agent Cooper and last years return of "Twin Peaks: The Return." This was a chance to hear from the cast about also returning to the iconic show.
One of the spookiest characters that still haunts my brain in the return series was actor Robert Broski's portrayal of a man I still can't figure out but has brought new meaning to the line "Got a light?"
Creator David Lynch wasn't in attendance but I would expect nothing less of him to find a way to be there in some form. I wasn't wrong. Sabrina Sutherland, executive producer, read a note that said "I am working with Phillip Jefferies to see if I can get there. 'Twin Peaks" fans are the best fans. I got my days mixed up and I'm going to be there yesterday if not sooner. It's slippery in here. In the red room, Special Agent Dale Cooper has already won the Emmy."
Adding her own sentiments, Sutherland gave credit to the fans for making it possible for "Twin Peaks" to return. I couldn't agree with her more! That leads to the big question — will we see more of Agent Dale Cooper and the motley crew of the town known as Twin Peaks? The answer is still floating out there in Lynch's universe because they certainly didn't give up anything at the panel.
That's okay, we will all be here when (not if) it's time to go to our favorite town — and we always have pie to keep us company.
Back in Ballroom 20, the day there was no less hectic. The panels consisted of "Black Lightening," "The Simpsons," "American Dad!" and "Family Guy" (I mean really, how can you have Comic-Con without them?), "The Gifted," "Supergirl" and "Arrow." The crowd became really excited as "DC's Legends of Tomorrow" and "The Flash."
The evening in Ballroom 20 ended with YouTube's "Origin" Presents The Comic-Con International Masquerade.
Of course these are just tidbits of the adventures waiting to be had at the Convention Center and all places surrounding San Diego Comic-Con 2018. There will be more in depth information in the weeks to come but for now — we have one more day of panels and tomorrow is family days!
Stay tuned!
Comments
comments