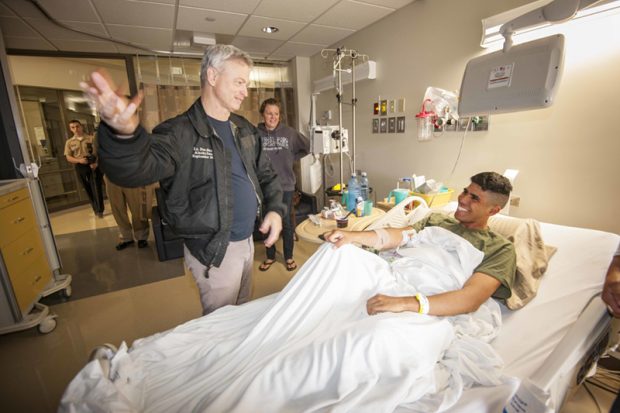 By Petty Officer 2nd Class Indra Beaufort
Hollywood actor, musician, humanitarian and honorary chief petty officer Gary Sinise and the Lt. Dan Band performed a free concert for wounded warriors, patients, staff members and families during the Invincible Spirit Festival held at Naval Medical Center San Diego on Feb. 10.
Sinise began his tradition of entertaining the military community in San Diego in 2012.
"It all began at Naval Medical Center San Diego," Sinise said. "I love being able to visit Naval Medical Center San Diego and meet patients and the families."
Prior to the festival, Sinise visited retired and active-duty patients in the wards.
During the visits, Sinise, whose family has strong ties to the military, personally invited all the patients to attend the concert.
"I want to say thank you," said retired Lt. Cmdr. Ted Farrel to Sinise. "You sacrificed your time away from your family and you are out here supporting us."
Sinise has raised millions of dollars for various charities dedicated to helping the military and veterans through his Gary Sinise Foundation, launched in 2010. He has also performed free concerts all over the world for service members with the Lt. Dan Band, named after his role in the 1994 Oscar-winning movie "Forrest Gump."
Sinise said that he "is blessed to be in the movies," and his role as Lt. Dan Taylor sparked a mission of his own to support and entertain military families through his concerts.
Sinise and the 14-member Lt. Dan Band put on a three-hour performance to show his appreciation and support those who serve and their families.
"It's wonderful seeing people today," Sinise said. "We stand up there and see everybody having a good time and it's a very, very good feeling."
The Invincible Spirit Festival also included a classic car show, face painting, rock wall climbing, food cooked by team Irvine, and 149 volunteers who set up and served food to all the visitors.
NMCSD staff Aviation Structural Mechanic 1st Class Andrea May said she is a fan of Gary Sinise, and this is the second time that she has attended the Invincible Spirit Festival.
"There's definitely a lot more people this year," May said. "I like what Gary Sinise does. He takes care of the veterans, he takes care of the troops. He's one of the few celebrities who care."
Comments
comments