By Elise Cooper | September 3, 2018
Books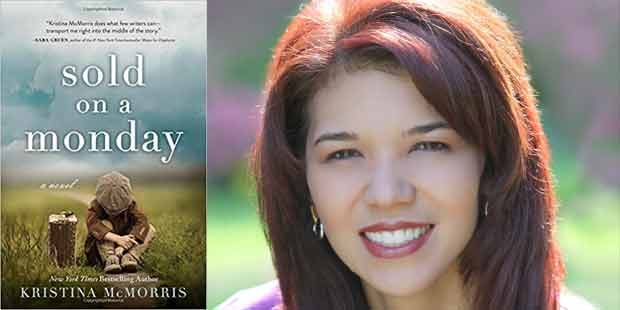 "Sold on a Monday" by Kristina McMorris brings to life a story anchored in reality by an actual photograph. The saying "a picture is worth a 1,000 words" springboards the plot. The mystery is jumpstarted by a photograph taken as readers wonder what happens to all those in the picture?
"I saw this photo circulating online," McMorris said. "It was of four children huddled together on a stoop in Chicago in 1948 with their mother in the background. There was a sign next to them that read, 'Four children for sale inquire within.' As a mother of two young boys, I was haunted by that photo for months and months. After I understood there is a story to write, I revisited it. They say 'a picture is worth a 1,000 words,' but for me, it ended up to be 90,000 words — a whole novel. I think any strong and powerful art piece or photo after someone looks at it, can tell a story that might even raise questions."
It all started with a picture that became the inspiration for an article by a struggling journalist, Ellis Reed, as it expressed the desperate days of the American Great Depression in 1931. He took a picture of two boys sitting under a sign that read, "2 children for sale."
After the picture is brought to the chief's attention by his secretary, Lillian (Lily) Palmer, Ellis is offered his chance to write worthwhile stories that begin with this one about the boys. But his chance to advance seems to go up in flames after the picture is accidentally destroyed just prior to publication.
Knowing the article would be meaningless without a photo, Ellis stages another one with a different family. Lily feels responsible for the aftermath because it was her idea to show the original picture to the newspaper editor in the first place. Ellis' story launches his career, but it also creates a chain of events that end up with a mother selling her children after receiving an incorrect terminal diagnosis. Now, both Ellis and Lily, feeling responsible, are determined to make things right.
"I wanted to write Lily as strong, vulnerable and someone who carries a lot of guilt, shame, as well as secrets," McMorris said. "I think her son, Samuel, helps to drive her decisions. She connects to the children in Ellis' story, seeing parallels to her own life. Ellis is a good person who makes poor choices. He wants his father's approval and to get it has the need for tangible accomplishments. Through his career achievements, he gains self-confidence and self-esteem. All the characters in this story tried to forgive themselves for past deeds. They are searching for what they really want out of life."
Readers will take a journey with all the characters as they ponder what they would do if they could give their children a better life. Set in 1931 during the Depression, people were desperate to feed their families. This brings into focus the question of how far would a parent go to ensure their children survive? On a similar note, McMorris also explores the struggle Lily had with trying to succeed professionally and being a single mother who wanted the best for her son, Samuel.
This novel takes readers back in time and allows them to have a vivid picture of the desperation. It is an engrossing story of love, family, ambition and the struggle of each of the characters with their personal beliefs, how life's circumstances can push people to do the unthinkable.
Comments
comments