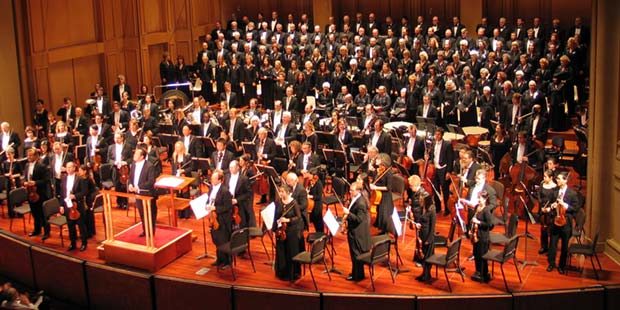 Over the years, I have experienced many a memorable night with the San Diego Symphony. But every now and then a performance is so good it will become a life-long night to remember that will be ranked with favorite nights and talked about for years to come.
The recent performance of "Mozart's Requiem" was one of those nights! To call it a spellbinding tour de force from the first to the final note would be an understatement.
The power the Symphony displayed in "Requiem" simply states, "We're back for our new season, and we're ready to play." Looking through the season, which ends in May, there is something for everyone on the schedule. Below are a few of the highlights for December.
"It's A Wonderful Life" (Dec. 3 at 2 p.m.): An unforgettable and magical experience for the entire family, nothing is more festive than the beloved "It's A Wonderful Life" that will be screened while the cherished score is performed by the Symphony orchestra LIVE!
"Noel Noel" (Dec. 16 at 8 p.m., Dec. 22 at 8 p.m., and Dec. 23 at 2 and 8 p.m.): You don't want to miss San Diego's favorite holiday music tradition that's returning with your favorite songs of the season and a quest for the true meaning of the holidays.
"Noel Noel – A Family Concert" (Dec. 17, 2 p.m.): In one short afternoon concert, the orchestra will perform loved holiday tunes alongside the San Diego Master Chorale, the San Diego Children's Choir and maybe even a certain jolly North Pole resident. Arrive early for fun pre-concert activities beginning at 1 p.m. in the lobby where the kids can try their hand at playing an instrument in the Discovery Zone, meet the Symphony's musicians and more.
"Fanfares And Celebrations" (Dec. 20 at 7:30 p.m.): Another opportunity to feel very merry, the talented musicians of the San Diego Symphony orchestra will perform an additional array of holiday music with that special festive sparkle.
All of these performances will take place at the Copley Symphony Hall located at 750 B Street in downtown San Diego. For tickets and a full listing of all the upcoming events, visit the Symphony's website at www.sandiegosymphony.org.
A night with the Symphony is definitely something the whole family can enjoy! Merry Christmas, and see you at the Symphony!
Comments
comments