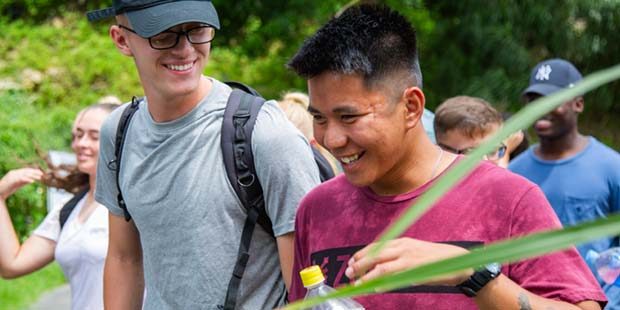 By Lance Cpl. Isabella Ortega | 3rd Marine Logistics Group
URASOE, OKINAWA, JAPAN — On April 1, 1945, the Battle of Okinawa began as U.S. Marines and soldiers made their way to the Ryukyu Islands, including Okinawa. Faced with attacks from Japanese kamikaze pilots, Japanese soldiers positioned in underground tunnels and the Yamato, the heaviest and most powerfully armed battleship ever constructed, the Americans fought a grueling 83-day battle and ultimately suffered over 82,000 casualties.
The Battle of Okinawa was the last battle of World War II. One of the most historic events during the Battle of Okinawa took place at Maeda Escarpment, Okinawa, Japan, or Hacksaw Ridge. The battle on Hacksaw Ridge took place on a 400-foot cliff and lasted 11 days. The Japanese soldiers utilized underground tunnels and bunkers across the ridge, which forced American troops to scale the cliff-like terrain to get to the enemy. Both sides bore heavy losses, but on May 6, 1945, the Americans gained control of Hacksaw Ridge.
Over 73 years later, U.S. Marines and Sailors revisited the battleground to pay their respects and learn the history of Hacksaw Ridge. Service members with Headquarters Company, Headquarters Regiment, 3rd Marine Logistics Group hiked through the hallowed battleground September 7, 2018. While ascending the ridge, the tour guide helped them discover what transpired at each historic location.
"When you come to Okinawa and come to these battle sites, you get a chance to stand in their footsteps on these fields and understand more about what happened," Chris Majewski, a tour guide with Marine Corps Community Services Tours+, said.
Majewski led the group atop Hacksaw Ridge and explained details of the battle. He told the group about Cpl. Desmond Doss, a U.S. Army Medal of Honor recipient, who, as a private first class, single-handedly saved the lives of over 75 people on Hacksaw Ridge during the Battle of Okinawa.
Majewski said Doss was one of many soldiers who led to the success of the Americans. He explained that the battle site represents more than just the efforts of those brave troops.
"It's important to take the tours because this is our history, our background, this is why we're here," he said. "If you don't learn your history, you're doomed to repeat it."
According to one of the tourists, Lance Cpl. James C. Craghead, a data systems administrator with HQ Reg., 3rd MLG, his experience at Hacksaw Ridge helped him learn more about the men who shed blood for their country. He said the tour reminded him that the troops who fought at Hacksaw Ridge were service members just like him.
"It takes going there and seeing it, for most people, to imagine what we could potentially go through ourselves," Craghead said.
Craghead said it was a reality check to get the Hacksaw Ridge tour because it made him realize that it wasn't too long ago that troops were making sacrifices in the very place he stood.
Majewski said he has dedicated the past 20 years of his life to telling people about the brave actions of the Americans who fought on Hacksaw Ridge. He said he conducts tours of the battle site twice a month, or whenever he is requested by a specific unit because it is important to him that those troops are never forgotten.
Comments
comments