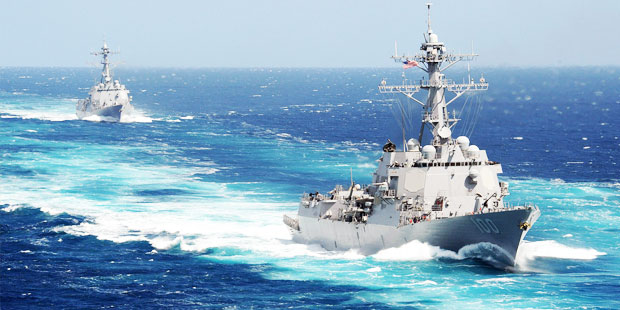 The guided missile destroyers USS Pinckney (DDG 91) and USS Kidd (DDG 100) are scheduled to return to Naval Base San Diego Aug. 21 following completion of separate deployments to the Western Pacific and Indian Oceans.
Kidd and Pinckney were conducting training and maritime security operations in the South China Sea when called upon to assist in the search for Malaysian Airlines flight MH 370 in the Indian Ocean.  Both ships employed their embarked MH-60R Seahawk helicopters to conduct search operations looking for the missing aircraft.
"Lending support to our regional partners in a time of difficulty is what we do," said Cmdr. Frank Okata, Pinckney's commanding officer.
The embarked helicopters, based at Naval Air Station North Island, were able to expand their search area to approximately 1,500 square miles per day.
"Our helicopters are an extension of the ship's capabilities and provided us with the best chance to find aircraft debris," said Lt. j.g. Eric Bachtel, Kidd's Combat Information Center Officer.
Returning home is now the focus of each Sailor as they come to the end of their seven-month deployment.
"The beauty of San Diego Bay is indescribable," said Fire Controlman 1st Class Bethany Buchanan, Pinckney's Junior Sailor of the Year.  "The final portion (of the deployment) leads to our family and friends waiting on the pier to welcome us home. It's an overwhelming experience."
For more information on USS Pinckney visit:
http://www.public.navy.mil/surfor/ddg91/Pages/default.aspx
File photo of USS Pinckney:
http://www.navy.mil/management/photodb/photos/130916-N-ZU025-050.JPG
For more information on USS Kidd visit:
http://www.public.navy.mil/surfor/ddg100/Pages/default.aspx
File photo of USS Kidd:
http://www.navy.mil/view_image.asp?id=65678
Follow Pinckney on Facebook at:
https://www.facebook.com/home.php#!/pages/USS-Pinckney-DDG-91/309421115737996
Follow Kidd on Facebook at:
https://www.facebook.com/pages/USS-KIDD-DDG-100/20613824608265
Comments
comments