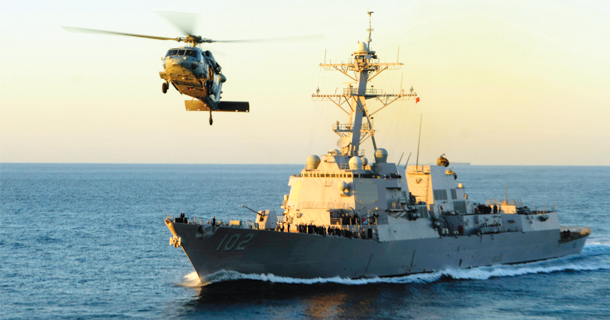 By Commander, U.S. Third Fleet Public Affairs
The guided missile destroyer USS Sampson (DDG 102) is scheduled to depart, Oct. 31 on an independent deployment to the Western Pacific Ocean.
The ship and crew of more than 300 Sailors, assigned to Destroyer Squadron Two Three (DESRON) 23, will conduct various presence operations and goodwill activities with partner nations.
Sampson is a multi-mission ship with anti-air warfare, anti-submarine warfare and anti-surface warfare surface combatants capabilities; designed to operate independently or with an associated strike group.
"I am very proud of our Sailors who have worked extremely hard over the past year to ensure Sampson is ready for deployment," said Cmdr. Steven Foley, commanding officer of Sampson. "They have truly embraced the spirit of pride and professionalism and look forward to representing our Navy's missions."
Detachment Seven from the "Magicians" of Helicopter Maritime Strike Squadron Three Five (HSM-35) will embark Sampson during the deployment.
"It is a real privilege to be the officer in charge of HSM-35's first deploying detachment," said Lt. Cmdr. Chris Laufman, HSM-35, Detachment 7's officer in charge. "Our maintenance team and aircrews have worked really hard to prepare, and we are very excited to be embarked on such a great ship. We are excited to represent all 'Magicians' on the squadron's inaugural deployment."
Sampson is the fourth U.S. destroyer named after Rear Adm. William Thomas Sampson, whose naval service lasted from 1857 until 1902, including command of the North Atlantic Station during the Spanish-American War in 1898.
The ship is homeported in San Diego and is part of Naval Surface Forces, U.S. Pacific Fleet and U.S. 3rd Fleet.
U.S. 3rd Fleet leads naval forces in the Eastern Pacific from the West Coast of North America to the international date line and provides the realistic, relevant training necessary for an effective global Navy.
For more information please visit the ship's website: http://www.public.navy.mil/surfor/ddg112/Pages/default.aspx
For more news from Commander, U.S. 3rd Fleet, visit www.navy.mil/local/c3f/.
Comments
comments