Over the course of the political campaign season there are many candidates who which the seat they are running for don't get enough attention from the main stream media. Former Marine Lt. Col. Paul Ware is unfortunately one of those candidates. Running for the Superior Court for the County of San Diego Seat 19, Ware brings a skill set learned while serving in the Marine Corps that lends itself perfectly for the office he is running for.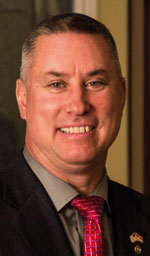 MP: Lt. Col. Ware, you have had a long and distinguished career during your 20 years of active duty in the Marine Corps. Give us some details.

PW: I am the son of a career Air Force enlisted man, but found my way into the Marine Corps through the Naval Reserve Officer Training Program. Upon graduating from the University of Southern California in 1989, I was commissioned a Second Lieutenant and my first assignment was with Third Tank Battalion, 7th MEB where I served as the Communications Officer and Air Liaison Officer during operation Desert Shield/Storm. After returning from the Gulf War, I served with 2nd Battalion, 7th Marines and then Marine Wing Communications Squadron 48 Det B. During this time I completed my Masters in Organizational Management matriculating from the University of Phoenix and was later accepted into the Excess Leave Program (Law) and attended the University of San Diego, School of Law. My assignments as a Judge Advocate include four years as a prosecutor at Marine Corps Air Station Miramar and seven years as a Military Judge at both the Western and Western Pacific Judicial circuits. As a judge I deployed to Operation Iraqi Freedom presiding over 14 trials in the theater of operation. My last assignment was Senior Military Judge, Western Pacific Judicial Circuit which encompasses Hawaii, Okinawa, Guam and Japan.
MP: How many cases have you in participated during your time in the Marine Corps?

PW: As a prosecutor I was lead or sole counsel on over 220 trials and as a Judge I presided over more than 600 trials.
MP: Tell us about some of your most memorable trial(s).

PW: As a Judge there two cases stand out in my memories — one for what happened during the trial, the other for the nature of the offenses and the amount of pressure and work. The first was a simple trial of drug use, but the location was Iraq at a base just outside of Fallujah. We held the trial in a wooden building normally used for showing movies to the Marines during evenings. In the middle of the trial we heard two loud explosions and quickly realized we were under mortar and rocket attack. I hit my gavel and we went into recess — moving out of the building to a safer location. Oddly, all I keep thinking was "no one talk" because I didn't have a way to record it. So there we were, accused, jury, court reporter, counsel and myself, sitting there silently wondering if some random round would hit us. After we received the all clear — we went back into the building and finished the trial — and yes unbelievably the accused was convicted!
Presiding over the Haditha murder Article 32 hearings was the most difficult and rewarding experience I had as a judge. The events were tragic, several women and children were killed, but the government was blinded by political motives ignoring that they didn't have the evidence to convict these Marines. There was national and international media coverage and everything I said and every expression I made was under scrutiny by one side or the other. The case pitted the real tragedy of such a loss of life against our justice system and the rules of engagement. I presided over three hearings, lasting several weeks each and containing over 10,000 documents of transcripts, video and photographs. I wrote lengthy and detailed recommendations to the General explaining how the government case had no merit. Many didn't like my recommendations, and in two cases the government continued to bring charges to trial, but in the end, all my conclusions played out and as I recommended, only the squad leader was held accountable for a dereliction of duty.
MP: San Diego has one of the largest military populations with approximately 380,000 active duty and retirees. Due to that, San Diego is one of the few counties that have special Veteran's Courts, how important are these courts to our Veterans?
PW: Our service members have made great sacrifices and are suffering from injuries from their combat experiences that are not always visible. Two new generations of combat veterans are returning and many will be diagnosed with PTSD. PTSD is nothing to be ashamed of — it is a natural human response to dealing with stress. Movies have done a great disservice to service members suffering PTSD — giving some in society the impression that these service members are violent and untreatable. That isn't the case. What is the case is that they are not the same as before they went into combat. They need help working through the pain and the stress, to help reestablish their moral compass and beginning to feel "human" again when they have done things that would be unspeakable in a normal society. Veteran's courts recognize that these men and women can be helped, and that incarceration for minor offenses does not serve to rehabilitate. I hope to be a part of the system that holds veterans accountable for their actions, but provides understanding and a means to get help so that they can return to being productive members of society. We have asked so much from these men and women we owe it to them to try to help them, not ostracize them as they suffer and attempt to adjust back to a "normal" society.
Paul Ware is a man we should all be proud as citizens and Veterans to have sitting on our county bench. Please remember the absentee ballots are mailed out on May 6th or to vote at your polling place on June 3rd. To learn more about Lt. Col. Ware, go to www.wareforjudge.com.
Comments
comments